With Olympic Champion Shooter Matt Emmons' Help, The U.S. Biathlon Team Is On Target For 2018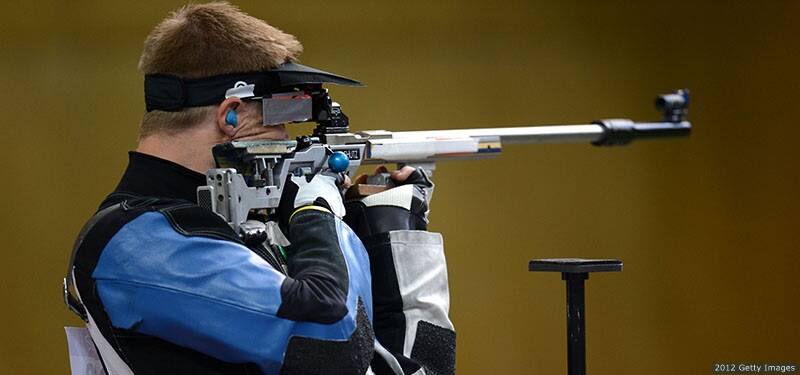 Matt Emmons competes in the men's 50-meter rifle 3 positions shooting final at the London 2012 Olympic Games at the Royal Artillery Barracks on Aug. 6, 2012 in London.
Matt Emmons has been a fixture on the international shooting scene for years, and now he's beginning to leave his mark on another Olympic sport.
Since 2015, the four-time Olympian and three-time Olympic medalist has been working with the U.S. biathlon team as a consultant. It's a role in which he will continue as the team prepares for next year's PyeongChang 2018 Olympic Winter Games.
"I've always loved coaching," said Emmons, a native of Mount Holly, New Jersey, who makes his home in the Czech Republic. "I enjoy teaching and love sharing things I've learned over the years to help others. Watching someone learn and grow, then achieve their dreams, is incredibly rewarding, often more so than any medal I could win myself."
Download the Team USA app today for breaking news, Olympic and Paralympic team bios, videos and more.
Emmons' involvement with the biathlon team came about through Sean McCann, the longtime United States Olympic Committee sports psychologist with whom he's worked for most of his career. Emmons, 35, always had a great deal of respect for biathlon athletes, who combine cross-country skiing with rifle marksmanship. So when McCann began working with the team several years ago, Emmons offered his services should the team ever be in need of help with shooting.
In the spring of 2015, McCann mentioned to Emmons at a shooting competition that the US Biathlon chief of sport, Bernd Eisenbichler, would like to speak to him about possibly helping out. The two began emailing; Emmons met with Bernd and men's coach Jonas Johansson, and the partnership was born.
Emmons' level of involvement varies, in part because he's still an active international athlete himself and has his own training and competition schedule. However, he said he's always available to the senior team if they need him, linking up through Skype or FaceTime to talk about aspects of their training or competition. In the coming year as the team prepares for the Winter Games, Emmons said he plans to be with the athletes through at least three training camps and a couple of world cup competitions.
The U.S. team has already made history this year leading into the last world cup event of the season.
Up until last month, biathlon was the only winter Olympic sport in which the United States had never won a world or Olympic title, but Lowell Bailey ended that drought when he won gold in the 20-kilometer individual at the world championships. Then Susan Dunklee became the first American woman to win an individual world or Olympic medal when she got silver in the 12.5K mass start. They became the first two American athletes to qualify for PyeongChang and next year hope to earn Team USA's first Olympic biathlon medal.
Three-time Olympic biathlete Tim Burke has praised Emmons' involvement with the team, saying that being able to pick his brain and work on minute technical details has helped a great deal.
Dunklee said that Emmons has brought to the team a wealth of knowledge.
"I think that traditionally the shooting has been one of the weaker aspects of the U.S. biathlon program, and our staff has worked the past few years trying to fix that by bringing in people like Matt, who are the best in the world at what they do," she said.
The style of shooting that Emmons practices is different than what they do in biathlon, Dunklee said. Instead of taking minutes to set up a shot, biathletes take their rifles off their backs, fire off five shots, and put their rifles back on their backs in under 30 seconds. And while biathletes might not have to hit the 10-ring every time the way Emmons does, she said, it doesn't hurt to start thinking about it.
Dunklee said she's looking forward to working with Emmons in the spring, when it's easier to implement technical changes versus midseason. He already has helped her positioning in the past, she said, and it made a difference this year.
"Last year he helped a lot in my standing position getting more stable," she said. "I always had a position where I leaned forward on my toes a little, and it put me a little off-balance. He had a couple small suggestions, very simple things, but things that coaches had never thought to point out before, and it really changed things for me."
In addition to Emmons' advice on technical matters, Dunklee said he's been a great help on the mental aspect of the sport.
Emmons said the mental game is probably the No. 1 skill he brings to the table as a consultant.
"I have a long competition history behind me with a lot of success, but I've also had to overcome and deal with some pretty tough stuff throughout my career," he said. "From my experience, being mentally tough and simply doing the right things psychologically to be successful doesn't depend much on the sport. Those skills carry over regardless of the sport, and even in life or business."
In addition to help with the mental game and the experience he brings with both standing and prone positioning, Emmons also has worked in a number of different shooting disciplines and has friends who are among the best in the world in areas such as smallbore rifle, high power rifle and shotgun to whom he turns for advice. All that, he said, helps him to help the biathlon team.
He's also having fun.
"There is truly a very good chemistry between all of the personalities, from the athletes to wax techs, coaches, massage and PT staff, sports psychologists, etc., which is a testament to what Bernd and the coaches are doing leadership-wise to foster a winning environment," Emmons said. "It's seriously exciting and fun to be a part of."
Karen Price is a reporter from Pittsburgh who has covered Olympic sports for various publications. She is a freelance contributor to TeamUSA.org on behalf of Red Line Editorial, Inc.