IBU/ USBA SoHo Site Visit
Midway, Utah - The Soldier Hollow Organizing Committee, together with US Biathlon, hosted IBU Junior Cup Race Director Arne Eidam last week for a site visit ahead of this winter's Youth/Junior World Championships to be held at Soldier Hollow. The visit was an opportunity for the Soldier Hollow Organizing Committee to show off updates to the trails and venue and for the Competition Committee to meet with the IBU Race Director and begin planning for the busy week February 23-March 2, 2022.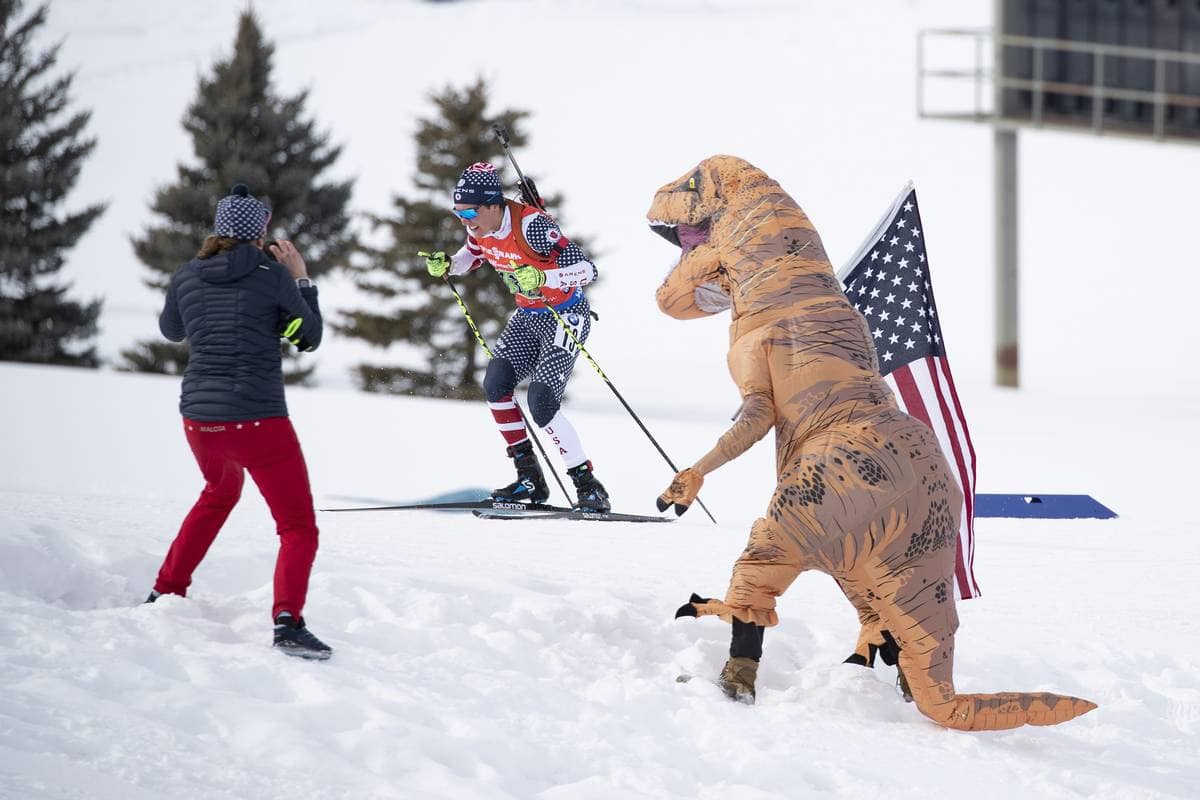 (Jake Brown competes during the 2019 Soldier Hollow IBU World Cup. Photo Credit: NordicFocus)

Soldier Hollow last hosted the IBU in 2019 for the World Cup circuit and looks forward to hosting the Youth and Junior categories this winter. Notably new since the 2019 World Cup is an updated 3.3km loop and improved snow making systems allowing for some automated snow production.

"Soldier Hollow looks forward to hosting the biathlon world again this winter," said Organizing Committee Co-Chair Zach Hall. "The opportunity to be a part of this event is awesome - both for those athletes who will have a chance to compete and for those who will be spectating. It's always a great thing for US Biathlon to be able to host events on home soil, and the Utah Olympic Legacy Foundation is pleased to be able to provide that opportunity again this season."

In addition to the races, US Biathlon is excited to announce the event will play host to a reunion for the 1972 Olympic Team and the 2022 Hall of Fame induction ceremony. Stay tuned for more on Hall of Fame inductees and information about the reunion event from US Biathlon!

"The 1972 Olympic Biathlon Team has been very active," said Max Cobb, USBA President and CEO. "We are so happy they are planning a reunion at the 2022 Youth and Junior World Championships. If other Olympic Teams (1992, 2002) would like to join please contact Sara Studebaker-Hall and we can add to the festivities. And of course everyone is welcome to come and cheer on our top youth and junior athletes at the World Championships, you don't need a formal reunion to come and be a part of the event."

Highlighted by all events held in the US, but especially this large-scale race week, is the dedication and importance of our volunteers. The Soldier Hollow Competition Committee is staffed almost entirely by volunteers. While US Biathlon Director of Operations, Sara Studebaker-Hall, will serve as Chief of Competition for the event, all other Chief and Assistant Chief roles are held by USBA Officials who are volunteering their time to help make this event a success. Additionally, each day the venue will need over 170 volunteers to make the races happen. USBA and Soldier Hollow would like to thank those who have volunteered already and we hope to see many more of our biathlon community in volunteer jackets come February!


Click here for more info or to volunteer!
https://utaholympiclegacy.org/event/2022-ibu-youth-junior-world-championships-biathlon/
Cover photo: Part of the Soldier Hollow Competition Crew: Standing L-R: Zach Hall, Sara Studebaker-Hall, Arne Eidam, Max Cobb, Shawn Robison, Bob Hayes, Dave Smith. Front Row L-R: Curtis Lupo, John Barrick. Photo credit: Tom Kelly