Top-30 Finish for Jake Brown in Olympic Debut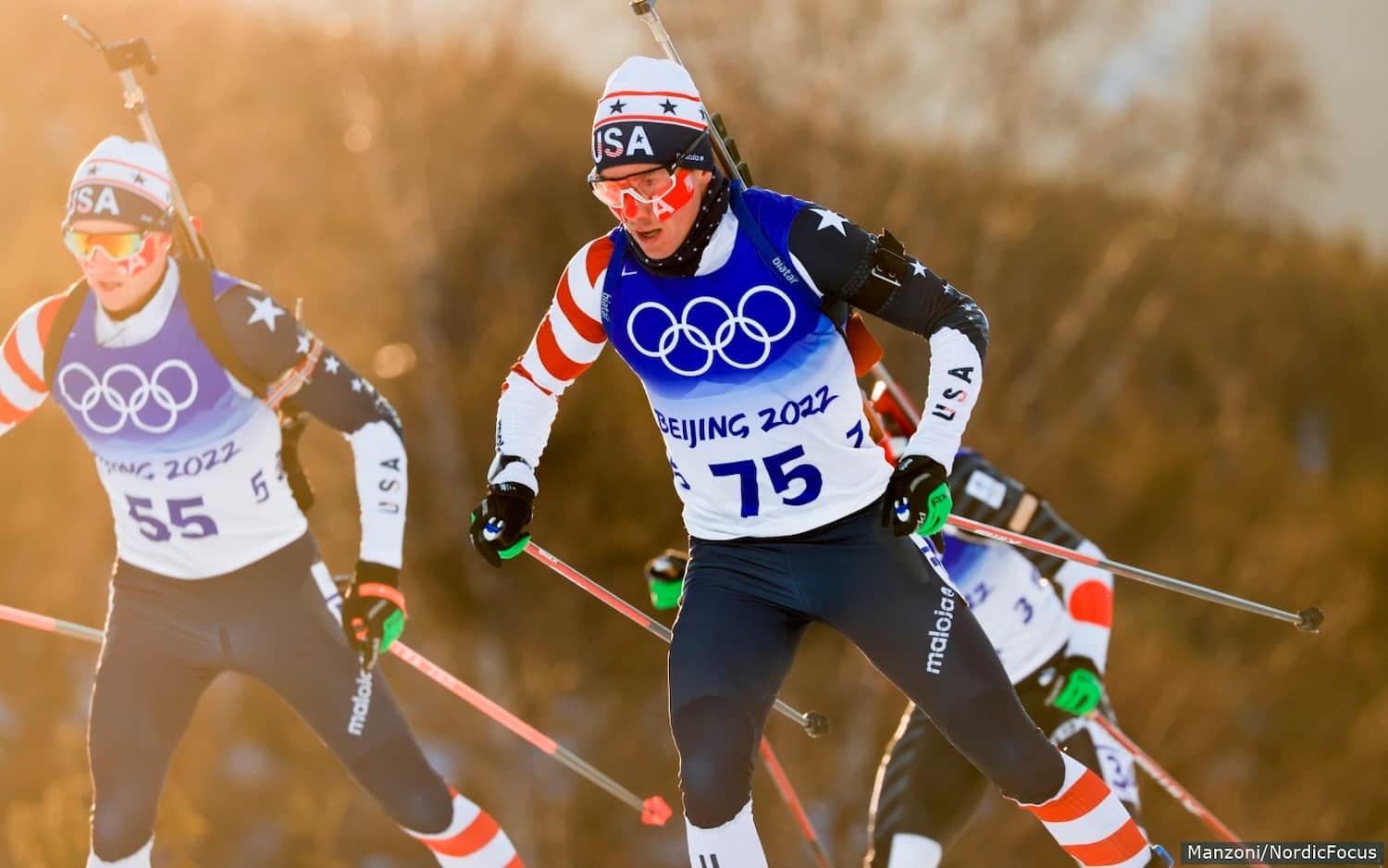 Jake Brown (r) skis with teammate Sean Doherty during the men's 20k individual on Feb. 8, 2022 (photo by Nordic Focus)
BEIJING, China (Feb. 8, 2022) – American Jake Brown (St. Paul, Minn./Craftsbury Green Racing Project & USABA) wasted no time in acclimating himself to the Olympic stage. In the first race of his Olympic career on Tuesday, the 29-year-old Minnesotan turned in the best performance of the U.S. team in the men's 20-kilometer individual at the Zhangjiakou National Biathlon Center, finishing 28th in the field of 92.
"It was surreal to race in China under the lights of the Great Wall, let alone at the Olympics for my first time," Brown said. "Amid the pain of the race, I tried to appreciate that for a moment and then get back to focusing on embracing the challenge of pushing, pushing, pushing. Because at the end of the day, we choose not to do these things because they are easy but because they are hard. We choose to race biathlon."
Brown went clean in the opening prone shooting stage as well as both standing stages. His only hiccup was in the second prone stage where he incurred two penalties. His finishing time was 3 minutes, 58 seconds back of gold medalist Quentin Fillon Maillet of France.
Brown's teammate Paul Schommer (Appleton, Wis./Team Crosscut & USBA), also competing in his first Olympic Games, placed 35th (+4:40.2) with three penalties on the range. Sean Doherty (Center Conway, N.H./National Guard Biathlon & USBA) had four penalties to finish 42nd and Leif Nordgren (Hinesburg, Vt./National Guard Biathlon & USBA), who became a first-time father on Monday, was 87th.
Fillon Maillet used a fast and clean last standing stage to win the gold in 48:47.4 with two penalties. Belarusian Anton Smolski shot clean to claim the silver medal while defending Olympic champion Johannes Thingnes Boe of Norway took the bronze.
The biathletes will enjoy two days of rest before the competition continues on Friday with the women's 7.5-kilometer sprint beginning at 4:00 a.m. EST.
Men's 20k individual results
| | | |
| --- | --- | --- |
| 1. | Quentin Fillon Maillet (FRA) | 48:47.4/+2 |
| 2. | Anton Smolski (BLR) | +14.8/+0 |
| 3. | Johannes Thingnes Boe (NOR) | +31.1/+2 |
| 28. | Jake Brown (St. Paul, Minn.) | +3:58.0/+2 |
| 35. | Paul Schommer (Appleton, Wis.) | +4:40.2/+3 |
| 42. | Sean Doherty (Center Conway, N.H.) | +5:08.4/+4 |
| 87. | Leif Nordgren (Hinesburg, Vt.) | +10:4204/+7 |
Check out the Watch Olympic Biathlon schedule for viewing options of all the races from Beijing. You can also follow all the action on the IBU app - download it today!
https://apps.apple.com/app/official-ibu-app/id1581415457?l=en
https://play.google.com/store/apps/details?id=at.ibu.app
Biathlon Event Schedule for Beijing 2022 Olympic Games (all times EST)
Saturday, Feb. 5
4:00 am – Mixed relay
Monday, Feb. 7
4:00 am – Women's 15km individual
Tuesday, Feb. 8
3:30 am – Men's 20km individual
Friday, Feb. 11
4:00 am – Women's 7.5km sprint
Saturday, Feb. 12
4:00 am – Men's 10km sprint
Sunday, Feb. 13
4:00 am – Women's 10km pursuit
5:45 am – Men's 12.5km pursuit
Tuesday, Feb. 15
4:00 am – Men's 4x7.5km relay
Wednesday, Feb. 16
2:45 am – Women's 4x6km relay
Friday, Feb. 18
4:00 am – Men's 15km mass start
Saturday, Feb. 19
4:00 am – Women's 12.5km mass start