Reid, Irwin and Nordgren Round Out U.S. Olympic Biathlon Team Nominations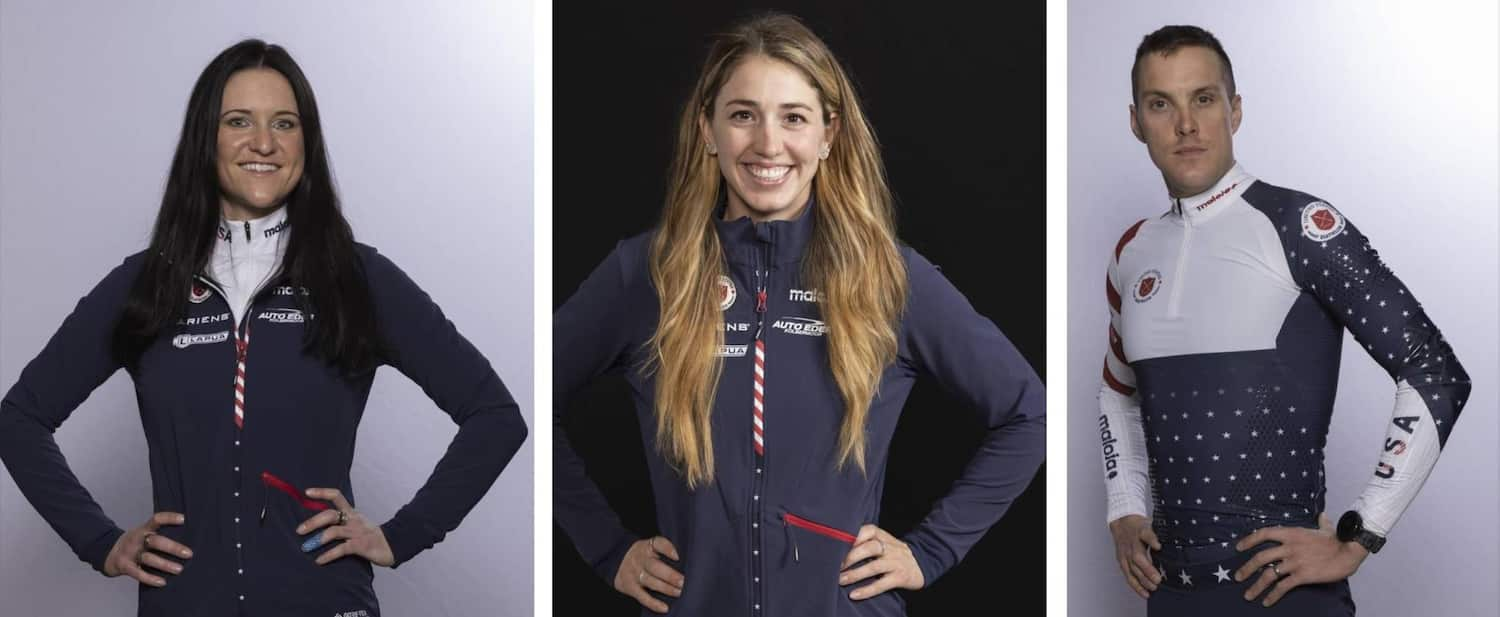 (l to r) Joanne Reid, Deedra Irwin and Leif Nordgren (photo by Nordic Focus)
The U.S. Biathlon International Competition Committee nominated the final three athletes for the 2022 U.S. Olympic Team roster on Sunday following completion of the final trials events at the IBU Cup competition in Brezno-Osrblie, Slovakia. Nominated were Olympic veterans Leif Nordgren (Hinesburg, Vt./National Guard Biathlon & USBA) and Joanne Reid (Grand Junction, Colo.), along with Olympic newcomer Deedra Irwin (Pulaski, Wis./National Guard Biathlon & USBA).
The trio joins previously nominated athletes Jake Brown (St. Paul, Minn./Craftsbury Green Racing Project & USBA), Sean Doherty (Center Conway, N.H./National Guard Biathlon & USBA), Susan Dunklee (Craftsbury, Vt./Craftsbury Green Racing Project & USBA), Clare Egan (Cape Elizabeth, Maine/Craftsbury Green Racing Project & USBA) and Paul Schommer (Appleton, Wis./Team Crosscut & USBA).
Nordgren, 32, qualified for his third straight Olympic Winter Games in Beijing. He competed in three individual events at both the 2014 Sochi and 2018 PyeongChang Games, with a best finish of 44th place in the sprint in Sochi. He was the top American at both of this weekend's IBU Cup sprint races and has also competed on nine world championship teams for the U.S., with a career-best eighth place in 2020 in the 20km individual race.
Reid, 29, qualified for second straight appearance on the U.S. Olympic Team. She finished 22nd in the women's 15km individual at the PyeongChang Games and followed that up with a career-best 10th in the mass start at the 2019 IBU World Championships. Reid was an NCAA champion cross-country skier at the University of Colorado-Boulder before taking up biathlon in 2015. She is the daughter of 1980 Olympic speedskating bronze medalist Beth (Heiden) Reid, and the niece of Eric Heiden, a five-time Olympic gold medalist in speedskating.
The lone Olympic newcomer on the U.S. women's team is Irwin. The 29-year-old Wisconsin native has turned in the top three performances of her career this season on the IBU World Cup circuit, topped by a 36th-place finish in last month's sprint in Hochfilzen, Austria. She is also fresh off a 15th-place finish in the 110-woman field in Sunday's 7.5km sprint at the IBU Cup. Irwin competed in Nordic skiing as well as cross country and track as an undergraduate at Michigan Technological University. She made the switch to biathlon after attending a U.S. Biathlon talent ID camp in Lake Placid in 2017.
Named as first alternates for the U.S. team were Vasek Cervenka (Grand Rapids, Minn./National Guard Biathlon & USBA) on the men's team and Hallie Grossman (South Burlington, Vt./Craftsbury Green Racing Project) for the women's team. The biathlon competition at the Beijing 2022 Olympic Winter Games begins Feb. 5.
All selections to the 2022 U.S. Olympic Team are subject to approval by the United States Olympic & Paralympic Committee.