Calendar Year Concludes with Annecy World Cup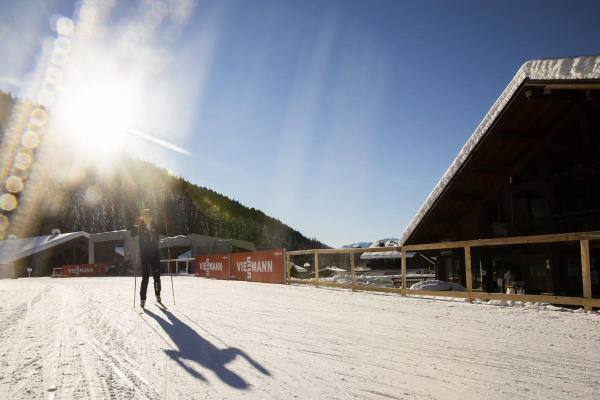 (NordicFocus/USBA)
New Gloucester, Maine - The fourth BMW IBU World Cup of the season will also mark the final World Cup competition of the 2021 calendar year as Annecy-Le Grand Bornand, France, plays host to four days of racing starting Dec. 16. The week's schedule includes men's and women's sprints, pursuits and mass starts.
"I'm approaching this last World Cup with the usual nerves and excitement," said Deedra Irwin (Pulaski, Wis./National Guard Biathlon & USBA). "It's a new venue for me so I'm excited to experience everything that comes with that."
Irwin should feel excited as she's posted her four personal-best finishes in recent weeks in the sprint and pursuit.
"I attribute my recent improvements and personal bests to just smart, patient, hard work," she added. "There is so much that goes into this sport from skiing technique to shooting precision and speed, to nutrition and strength training. Finding the right balance in all of the different aspects has really helped me improve."
Sean Doherty (Center Conway, N.H./National Guard Biathlon & USBA) has raced on the Annecy course before, most recently during the 2019-20 season, and he's coming off a strong performance at the Hochfilzen World Cup on Sunday where he led off the men's relay with perfect shooting and was just 23 second off the lead at the first exchange.
"I am looking forward to the next race Friday and bringing the momentum from the relay into the sprint," Doherty said. "I like the course here. It is very unique in that it goes through a small neighborhood. We will have fans as well which always helps push you a little harder. I'm just hoping to execute a good race and go into the break tired but with the satisfaction of leaving it all on the course."
Following this week's events in France, the BMW IBU World Cup circuit will take a break for the holiday season before resuming in Oberhof, Germany, on Jan. 6. The pause in racing will be a welcome respite for the athletes who have raced for four straight weeks.
"I've felt really strong so far this season, but I'm definitely not used to racing this much, so I'm a little tired and ready for some time off during the holiday break," admitted Irwin.
Competition at the Annecy-Le Grand Bornand World Cup begins Thursday, Dec. 16. Check out the Watch Biathlon schedule for viewing options.
BMW IBU World Cup – Annecy-Le Grand Bornand, France (all times EST)
Thursday, Dec. 16
8:15 am – Women's 7.5km sprint
Friday, Dec. 17
8:15 am – Men's 10km sprint


Saturday, Dec. 18
7:00 am – Women's 10km pursuit
9:00 am – Men's 12.5km pursuit
Sunday, Dec. 19
6:45 am – Women's 12.5km mass start
8:45 am – Men's 15km mass start