Jake Brown Sprints to Career-Best 12th at World Championships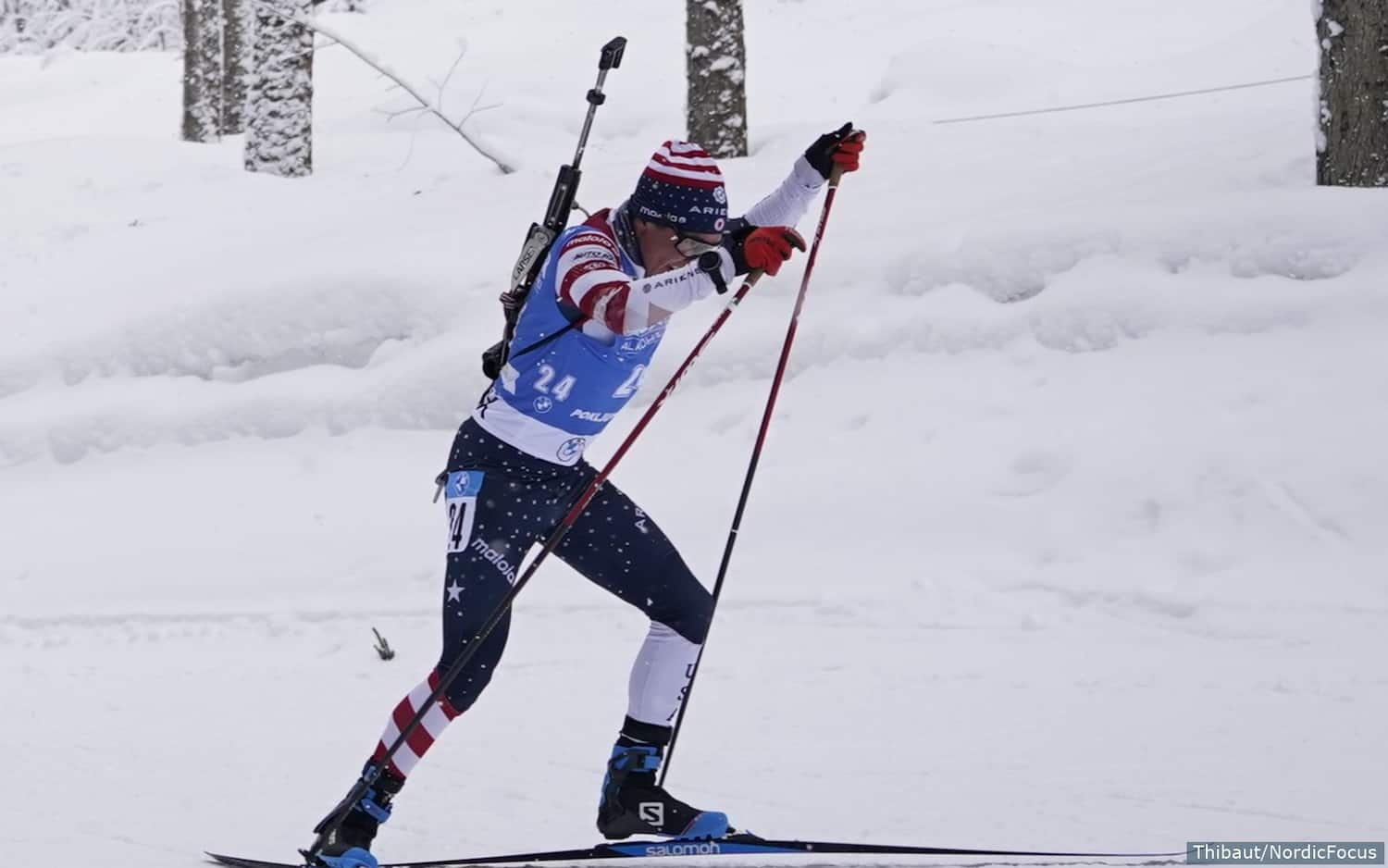 Jake Brown races in the men's sprint at the IBU Biathlon World Championships in Pokljuka, Slovenia, on Feb. 12, 2021 (photo by Nordic Focus)
POKLJUKA, Slovenia (Feb. 12, 2021) – Earlier this season, Jake Brown (Saint Paul, Minn.) raced to a career-best 30th-place finish in the men's 10-kilometer sprint at the BMW IBU World Cup in Kontiolahti, Finland. On Friday, in biathlon's biggest event on the 2020-21 calendar, the 28-year-old Brown smashed his personal best with clean shooting and a 12th-place finish at the IBU Biathlon World Championships in Pokljuka. His time was just 44.8 seconds back of winner Martin Ponsiluoma of Sweden.
"I'm very thankful to have my best race of the season so far come at world champs," said Brown. "Biathlon is such a tough sport for everything to go right. Sometimes the shooting is there and the skiing isn't, and usually, for me, it's the case that the skiing is there but the shooting is elusive. Today I was able to find enough excellence in both to have the best race of my career to date."
Of course, behind every successful performance is a team of coaches and support staff that largely go unnoticed, but Brown was quick to praise those who helped him to the best day of his biathlon career.
"God gave me peace on the range today and I was able to follow the words of my shooting coach Matt Emmons and simply 'attack'. My work with coach Vegard Bitnes has been helping me improve my skiing technique and therefore my skiing times. My ski techs Gio, Fede, and the whole crew selected a great pair of Salomon skis for me today that were flying out there. On the last lap, I thought of everyone who has supported me and all the people rooting for me, and I knew I had to give everything I had to make my clean shooting count. I don't expect my future races to always go this way, but I'm happy to see progress and hope I can build on this performance going forward."
Brown will look to build on today's performance and will certainly be in the mix with the front-runners during Sunday's men's 12.5km pursuit as he starts within 45 seconds of Ponsiluoma. Joining Brown in the pursuit for the U.S. team will be Leif Nordgren (Hinesburg, Vt.) who finished 46th in today's sprint, with one penalty, 1:59.1 off the pace. Paul Schommer (Appleton, Wis.) was 72nd in Friday's sprint while Sean Doherty (Center Conway, N.H.) placed 79th.
Ponsiluoma was joined on the men's sprint podium by French teammates Simon Desthieux (+11.2/+0) and Emilien Jacquelin (+12.9/+1).
On Saturday, the women's 7.5km sprint takes center stage at the world championships with Team USA represented by Clare Egan (Cape Elizabeth, Maine), Susan Dunklee (Barton, Vt.), Joanne Reid (Grand Junction, Colo.) and Deedra Irwin (Pulaski, Wis.).
All events will air live on Peacock and the Olympic Channel with same-day or next-day coverage available on the NBC Sports Network (NBCSN). For a full broadcast schedule click HERE.

Men's 10km sprint results
| | | |
| --- | --- | --- |
| 1. | Martin Ponsiluoma (SWE) | 24:42.1/+0 |
| 2. | Simon Desthieux (FRA) | +11.2/+0 |
| 3. | Emilien Jacquelin (FRA) | +12.9/+1 |
| 12. | Jake Brown (Saint Paul, Minn) | +44.8/+0 |
| 46. | Leif Nordgren (Hinesburg, Vt.) | +1:59.1/+1 |
| 72. | Paul Schommer (Appleton, Wis.) | +2:41.5/+2 |
| 79. | Sean Doherty (Center Conway, N.H.) | +3:01.8/+4 |