Soldier Hollow Nordic Center in Midway, Utah Announced as 2024 IBU Biathlon World Cup Host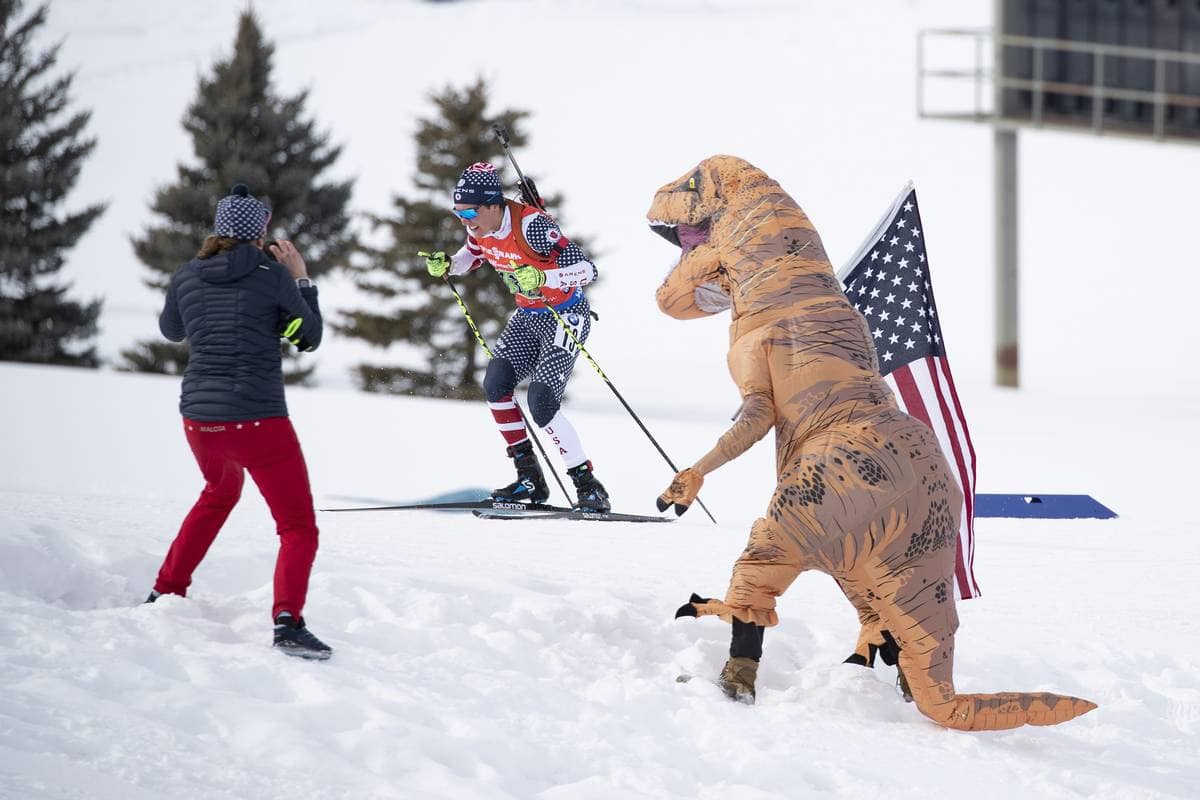 Jake Brown of the United States competes at the 2019 IBU World Cup held at the Soldier Hollow Nordic Center.
Midway, Utah (February 24, 2021) – The Utah Olympic Legacy Foundation in partnership with The United States Biathlon Association is proud to announce Soldier Hollow Nordic Center will host an IBU Biathlon World Cup event from March 4 through March 10, 2024.
This is the first major senior international Biathlon World Cup competition at Soldier Hollow since February 2019 and only the second Biathlon World Cup event to be held at the venue since 2001.
"After such a successful event at Soldier Hollow in 2019, we're looking forward to again bringing the biathlon world to Utah," said U.S. Biathlon President & CEO Max Cobb. "It's always an advantage to have big races at home and hosting another World Cup at Soldier Hollow where our National Team regularly trains and where so much development is happening is very exciting."
Soldier Hollow will also host the IBU Youth & Junior World Championships Biathlon from February 21 through March 2, 2022.
"The Utah Olympic Legacy Foundation is proud to welcome an IBU World Cup back to Utah after a successful event in 2019 and so soon after an IBU Junior World Championship in 2022," added Colin Hilton, President & CEO of the Utah Olympic Legacy Foundation. "We look forward to showcasing Soldier Hollow and the Heber Valley as a destination for world-class biathlon and relish the opportunity to grow winter sport participation in Utah with international events like this one."
With a total cumulative TV viewership approaching one billion, biathlon is one of the most popular winter sports in Europe. The 2019 Biathlon World Cup at Soldier Hollow featured over 180 athletes from 29 countries - drawing over 4,200 spectators and over 50 million viewers worldwide.
"The Biathlon World Cup in 2024 will be another terrific opportunity to showcase winter sport in Utah at one of our world-class Olympic venues," said Utah Sports Commission President & CEO Jeff Robbins. "This event will drive economic impact to the state and provide exposure to Utah through its international popularity and remarkable broadcast reach."
Soldier Hollow hosted biathlon competition during the Salt Lake 2002 Olympic and Paralympic Winter Games and remains a world-class facility for biathlon and cross-country skiing.
Soldier Hollow offers several options to introduce participants of all ages and abilities to winter sport including Team Soldier Hollow youth skiing programs, the Tuesday Night Lights Cross-Country Race Series and more.
"This is wonderful news for Soldier Hollow and the athletes and families of Team Soldier Hollow," Soldier Hollow Nordic Center Biathlon Program Manager Zach Hall added. "When we set out to rebuild the venue beginning just five years ago, it was hard to imagine the transformation that hosting multiple international events would have on our venue. With Soldier Hollow hosting the 2022 IBU Youth/Jr World Championships and another IBU World Cup just two years later, our athletes have an incredible opportunity to watch and potentially compete with the best athletes in the world on the same snow where we train as a team."
For more information on Soldier Hollow skiing programs, click here.
For more information on US Biathlon, click here.
For more information on IBU Biathlon, click here.
Media Contact: Melanie Welch, mwelch@uolf.org, 435.658.4212
###
About Utah Olympic Legacy Foundation
Utah Olympic Legacy Foundation is a Utah non-profit 501(c)(3) organization responsible for managing and maintaining world-class facilities and providing opportunities for people of all ages and abilities to participate and excel in winter sports. Inspired by the success and momentum of the Salt Lake 2002 Olympic Winter Games, the Foundation has turned its focus toward embracing, engaging and involving Utah's youth in winter sport. The Foundation supports national sport organizations and community recreational winter sport programs, as well as subsidizes the operation of three Olympic legacy venues – Utah Olympic Oval, Utah Olympic Park and Soldier Hollow Nordic Center. For more information, please visit UtahOlympicLegacy.org or call 435-658-4200.
About US Biathlon
The US Biathlon Association exists to support and encourage the development of biathlon in the United States and to prepare athletes for international competition, including the Olympic Winter Games. Founded in 1980, USBA works with Biathlon Clubs and Regional Centers around the country to organize training and competition at the grass roots level and staffs and finances the US Biathlon National Team, Development Team and Junior Team.