Sixteen Americans Set to Compete at IBU Youth/Junior World Championships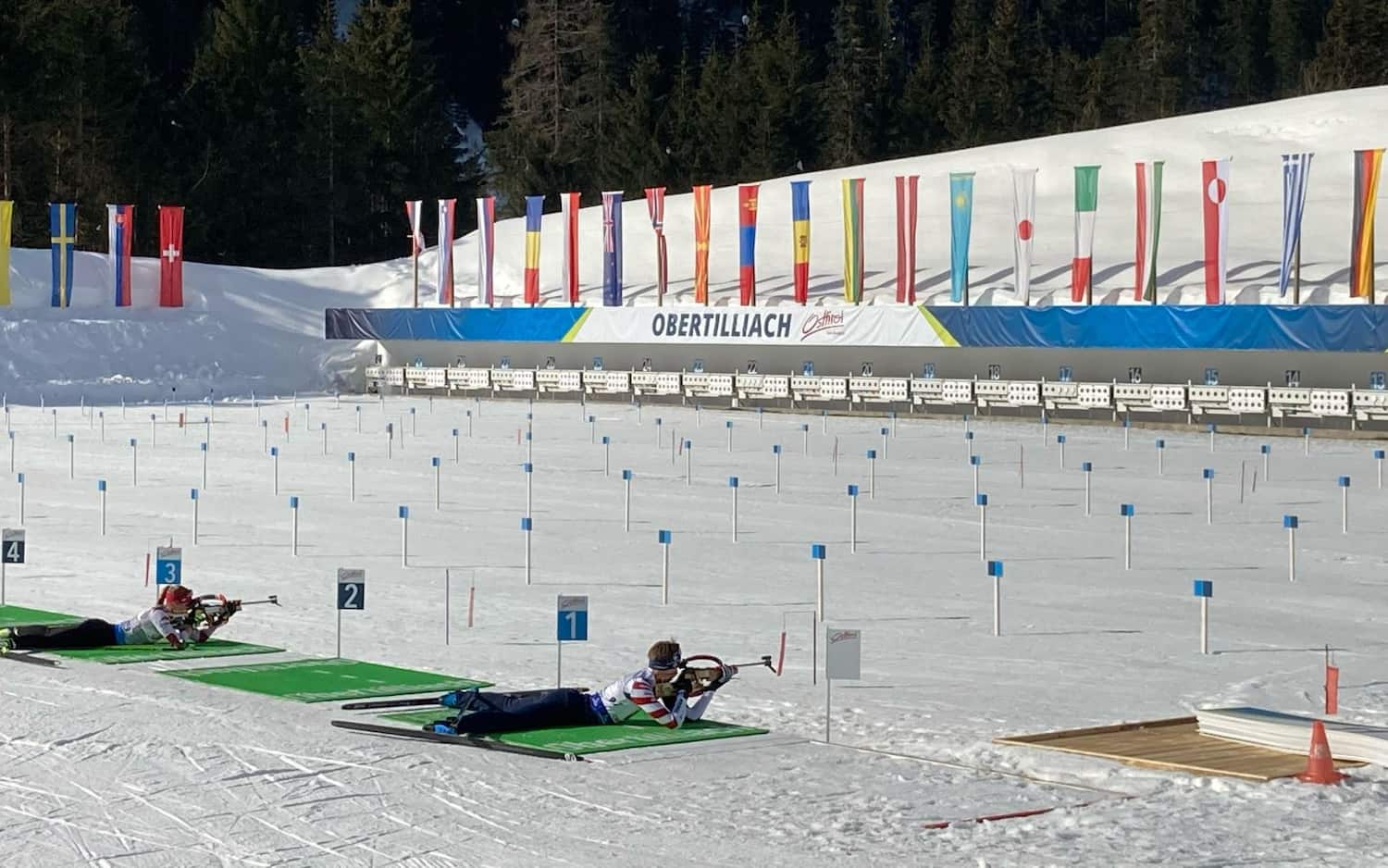 The shooting range during practice in Obertilliach (photo by Zach Hall)
OBERTILLIACH, Austria (Feb. 26, 2021) – US Biathlon will be represented by 16 athletes at the IBU Youth/Junior World Championships set to open Saturday in Obertilliach, Austria. The eight-day annual championships will run from Feb. 27-March 6.
"Everyone is excited and ready to get racing, and that includes the staff," said U.S. Biathlon Director of Athlete Development Tim Burke. "I look forward to watching some of our 'veteran' junior athletes compete in their final junior world championships and also to see some of our up-and-coming athletes experience international competition for the first time. The team is healthy and motivated to make the most out of this great opportunity."
The U.S. team arrived in the snow-covered Austrian town earlier this week and were greeted by spring-like weather which is expected to continue for the next week.
"Obertilliach is beautiful," said first-time junior athlete Sarah Beaulieu of Fort Fairfield, Maine, who trains in Truckee, Calif. "The first few days have been very warm and sunny. There is quite a bit of snow, but with heat warming up the track, it becomes very slushy in the afternoon. The courses remind me a lot of Soldier Hollow (Utah) and some of the ski trails at Auburn Ski Club in Truckee."
A veteran of the IBU Youth/Junior World Championships is Maja Lapkass, a youth athlete from Anchorage, Alaska.
"Compared to last worlds, this year is most definitely sunnier and warmer," Lapkass noted. "The courses here are awesome, a little mix of everything…up, down, flat, shade, sun, turns…the perfect combination. I'm super excited to get to race. These are my first real races all season, but, that definitely comes with some nerves."
Another veteran competing on the U.S. team is Lexie Madigan (Truckee, Calif.), who also has endured an abbreviated season due to the pandemic.
"Since this is my last year as a youth I'm super excited to race," Madigan said. "With the onset of COVID my season has been local to the western U.S., so just being in Europe at all is amazing and I'm super lucky to get the opportunity."
"I am feeling very excited to be able to race at all this year, let alone at world juniors in an amazing place," added Ariana Woods of Bozeman, Mont., poised to compete in her fourth and final IBU Youth/Junior World Championships. "This is my last year racing as a junior and I feel like I need to soak up every second of it. Racing so many talented athletes from all corners of the world is very challenging and I feel so lucky to be able to race during a pandemic!
Obviously, the biggest changes from what returning athletes encountered at last year's event compared to the 2021 version are the COVID protocols in place to ensure a safe environment for athletes and staff at every turn.
"As far as COVID goes, I would have to say that the main effect was the added hassle during travel," said Lapkass. "Now that we're here, it's mostly all about keeping masks on, hands clean, and staying close to roommates and away from everybody else. But considering that the goal before races is to stay healthy anyhow, I can't say that it's a huge difference. The USBA and Austria have been amazing at making protocols and putting restrictions in place to keep everybody safe as well."
Echoing Lapkass' sentiments was Helen Wilson (Eagle River, Alaska), who will be competing in her fifth IBU Youth/Junior World Championships this year.
"Four COVID tests had to take place in the last week," Wilson said of the necessary precautions the athletes went through. "Although much stress, organization and paperwork were filled out before this trip, it was most definitely worth it all."
Beaulieu is appreciative of the team behind the team as she gears up for the biggest week of racing in her career so far.
"As this is my first international racing experience, I am feeling both nervous and excited," admitted Beaulieu. "Having a supportive and knowledgeable team and staff makes everything much easier. My biggest goal this next week and a half is to focus on what is most in my control and to enjoy this exciting event."
Joining Beaulieu on the youth team and also competing at their first IBU Youth/Junior World Championships are Sidney Bennion (Midway, Utah) and Hannah Chipman (Norwich, Vt.).
"I'm feeling both excited and scared," noted Bennion. "I'm excited to race but then to think that I am racing against people from all over the world is the scary thing. The atmosphere is different from any other race I've been to. Not necessarily in a bad way but the level of professionalism is very different. Everyone knows what they are doing and has some kind of plan in mind."
Added Chipman: "I'm super excited to have the opportunity and I'm very much looking forward to seeing what I can do in the races coming up. On the first day of training, I was definitely overwhelmed by all the chaos and busy traffic of skiers in the range, but after some encouragement from coaches and more training time, I've started feeling pretty comfortable."
Summing up the thoughts of the U.S. team was Vincent Bonacci (Salt Lake City, Utah), who competed in his first IBU Youth/Junior World Championship in 2019.
"This year's race series seems to have hit the money for perfect weather in a perfect venue," Bonacci said. "I am super happy to be at some altitude here as well as having a great coaching and waxing staff, as well as a great group of teammates. The only thing to worry about is maybe getting a tiny bit too much sun. All in all, the psych levels are off the charts and I am super excited to race here."
The following is the U.S. squad that will look to build on the bronze medal earned at last year's IBU Youth/Junior World Championships:
Junior Women
Sarah Beaulieu (Fort Fairfield, Maine/Sugar Bowl Academy)
Helen Wilson (Eagle River, Alaska/Anchorage Biathlon Club)
Jackie Garso (Lake Clear, N.Y./Auburn Ski Club)
Ariana Woods (Bozeman, Mont./Crosscut Mountain Sports)
Junior Men
Vincent Bonacci (Salt Lake City, Utah/Crosscut Mountain Sports)
Vaclav Cervenka (Grand Rapids, Minn./National Guard Biathlon/Mt. Itasca)
Lars Hammernes Leopold (Truckee, Calif./Asker Ski Club)
Bjorn Westervelt (Stowe, Vt./Craftsbury Biathlon Club/UVM)
Youth Women
Sidney Bennion (Midway, Utah/Team Soldier Hollow/PCSS)
Maja Lapkass (Anchorage, Alaska/Anchorage Biathlon Club/APU)
Lexie Madigan (Truckee, Calif./Auburn Ski Club)
Hannah Chipman (Norwich, Vt./Fort Kent Outdoor Center)
Youth Men
Etienne Bordes (Tahoe City, Calif./Auburn Ski Club)
Wes Campbell (Park City, Utah/Team Soldier Hollow/PCSS)
Sam Stertz (Grand Rapids, Minn./Mt. Itasca Biathlon Club)
Cale Woods (Bozeman, Mont./Crosscut Mountain Sports)
2021 IBU Youth/Junior World Championships Schedule (all times Eastern):
Saturday, Feb. 27
4:30 a.m. – Youth Women's 10km Individual
7:30 a.m. – Youth Men's 12.5km Individual
Sunday, Feb. 28
4:30 a.m. – Junior Women's 12.5km Individual
7:30 a.m. – Junior Men's 15km Individual
Monday, March 1
5:00 a.m. – Youth Women's 6km Sprint
8:00 a.m. – Youth Men's 7.5km Sprint
Tuesday, March 2
5:00 a.m. – Junior Women's 7.5km Sprint
8:15 a.m. – Junior Men's 10km Sprint
Wednesday, March 3
4:00 a.m. – Youth Women's 7.5km Pursuit
5:00 a.m. – Junior Women's 10km Pursuit
8:00 a.m. – Youth Men's 10km Pursuit
9:00 a.m. – Junior Men's 12.5km Pursuit
Friday, March 5
5:00 a.m. – Youth Women's 3x6km Relay
8:00 a.m. – Youth Men's 3x7.5km Relay
Saturday, March 6
5:00 a.m. – Junior Women's 4x6km Relay
8:00 a.m. – Junior Men's 4x7.5km Relay