U.S. Women's Biathlon Races to Best Relay Finish Since 1994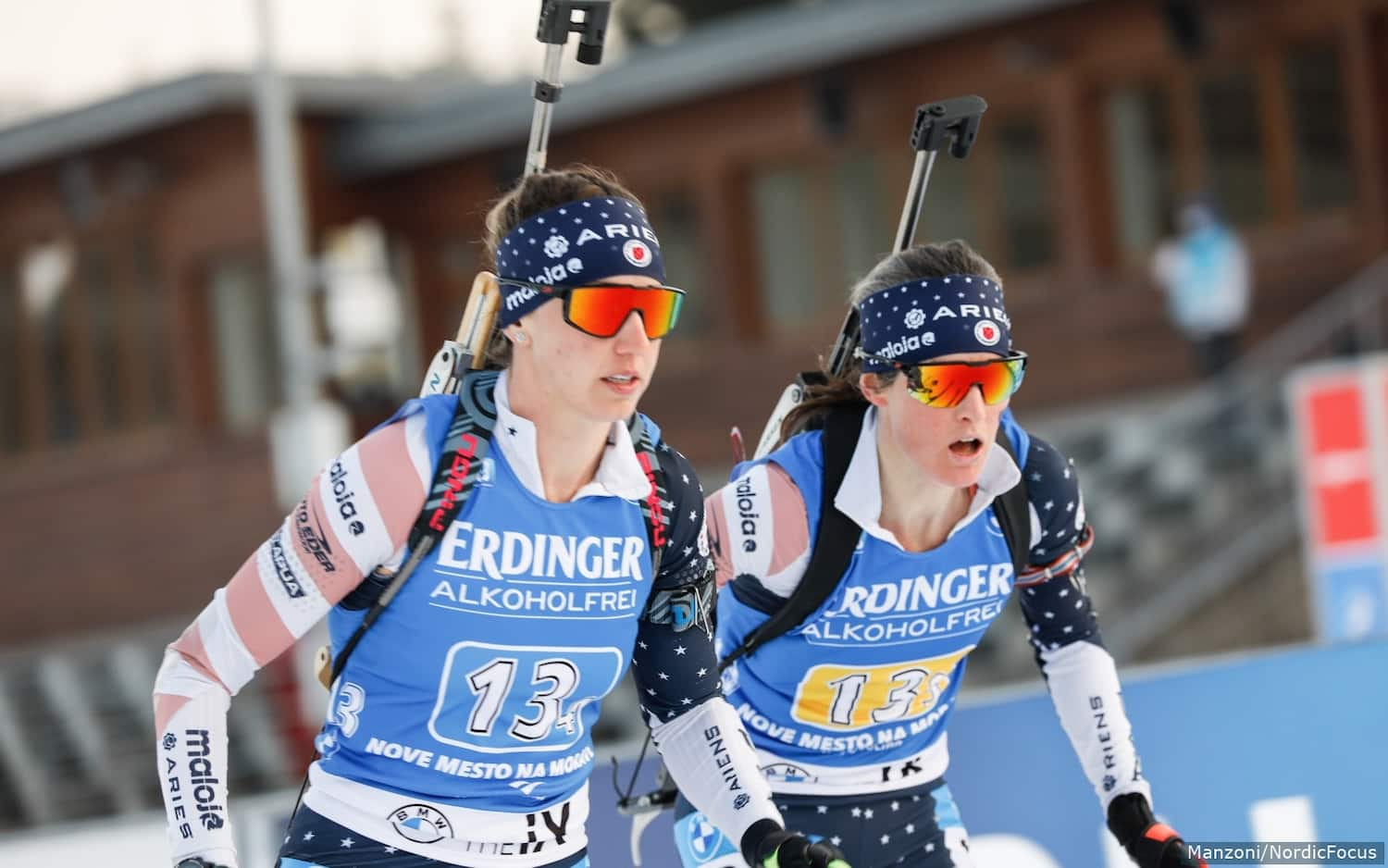 Clare Egan (r) tags off to Deedra Irwin for the final leg of the 4x6km women's relay at the BMW IBU World Cup in Nove Mesto on March 4, 2021 (photo by Nordic Focus)
NOVE MESTO, Czech Republic (March 4, 2021) – In the final women's 4x6-kilometer relay of the BMW IBU World Cup season, Team USA turned in a performance for the ages. The team's sixth-place finish in the field of 21 teams on Thursday was the best since 1994 and just 40.1 seconds off the winning time turned in by Sweden. The U.S. quartet's time was also a mere 12.3 seconds from the bronze medal. By comparison, the United States' 1994 silver-medal performance at a World Cup was over 57 seconds back of the winning time.
Susan Dunklee (Barton, Vt.) opened the race with fast and clean prone shooting, needing just 22.6 seconds and leaving the range in the lead, 1.8 seconds ahead of Switzerland's Irene Cadurisch. Dunklee held the lead into the standing shoot but fell back fifth place after needing two spare rounds. She tagged off to Joanne Reid (Grand Junction, Colo.) in sixth position, just 11.5 seconds from first place.
Reid needed just one spare round in prone and another in standing and matched Sweden's Hanna Oeberg stride-for-stride over the final lap to keep the American squad in sixth position as she tagged off to Clare Egan (Cape Elizabeth, Maine), 41.7 seconds back of the lead.
"Just wanted to go out there and have one last good relay, hold onto the momentum Susan gave me, and gift it forward to Clare and Deeda," said Reid. "Recently, relays have gone from making me extra nervous to making me less nervous, since I know my team has my back and they're giving me an opportunity, not a burden of stress. Happy to hang onto the back of Hanna Oeberg's skis the last lap."
Egan proceeded to move the team into medal contention with a clean round from prone, exiting the range in second place, just 31.9 seconds back of leader Norway. She kept the medal hopes alive with just one spare in standing and skied the U.S. team into second place at the final exchange with Deedra Irwin (Pulaski, Wis.), 6.6 seconds back of leader Sweden and just seconds ahead of both Italy and Belarus.
"Today's race was great from start to finish, which is what it takes for a World Cup relay top-6," Egan said. "There are so many pieces...four fit and focused athletes, eight perfectly prepped skis, 24 kilometers of fast skiing, 40 shots which need to be fast and almost all hits, plus many coaches and support staff working behind the scenes. It was really satisfying to put together a total team effort today."
Irwin, competing in her first full World Cup season, was spectacular in the final leg. She used just one spare in prone and another in standing, then raced to a photo finish at the line with Norway and Italy. Noway's Marte Olsbu Roeiseland was credited with fifth place, while Irwin nipped Italy's Michela Carrara for sixth.
"I just wanted to make the team proud," said Irwin who collapsed to the snow at the finish after giving it everything she had. "I've believed for years that this team could get a top-6 and I wanted to be a part of that. The team gave me an amazing handoff and I just tried to do my best with it. I'm glad everything came together today. It was really a 'trust the process' and 'don't do anything special' kind of day for me. Being so new to this sport, the pressure sometimes gets to me on the World Cup and I've learned so much this season from my teammates and coaches. I'm grateful for their patience and I'm happy we were able to make this last one really count."
The Swedish team of Mona Brorsson, Hanna Oeberg, Linn Persson and Elvira Oeberg claimed the gold medal with a winning time of 1 hour, 3 minutes, 26.6 seconds, using six spare rounds. Belarus, with nine spares, finished second, 1.2 seconds back. France, with a penalty and eight spares, placed third, 27.8 seconds back.
The BMW IBU World Cup in Nove Mesto continues Friday with the men's 4x7.5-kilometer relay featuring the U.S. team of Sean Doherty (Center Conway, N.H.), Jake Brown (Saint Paul, Minn.), Paul Schommer (Appleton, Wis.) ad Leif Nordgren (Hinesburg, Vt.). The race can be seen live on Peacock TV starting at 9:20 a.m. EST.
Women's 4x6km Relay Top-6:
| | | |
| --- | --- | --- |
| 1. | Sweden | 1:03:26.6/0+6 |
| 2. | Belarus | +1.2/0+9 |
| 3. | France | +27.8/1+8 |
| 4. | Ukraine | +28.7/1+10 |
| 5. | Norway | +40.0/1+10 |
| 6. | USA | +40.1/0+7 |