Dunklee in reach of Olympic Qualification After Nove Mesto World Cup Performance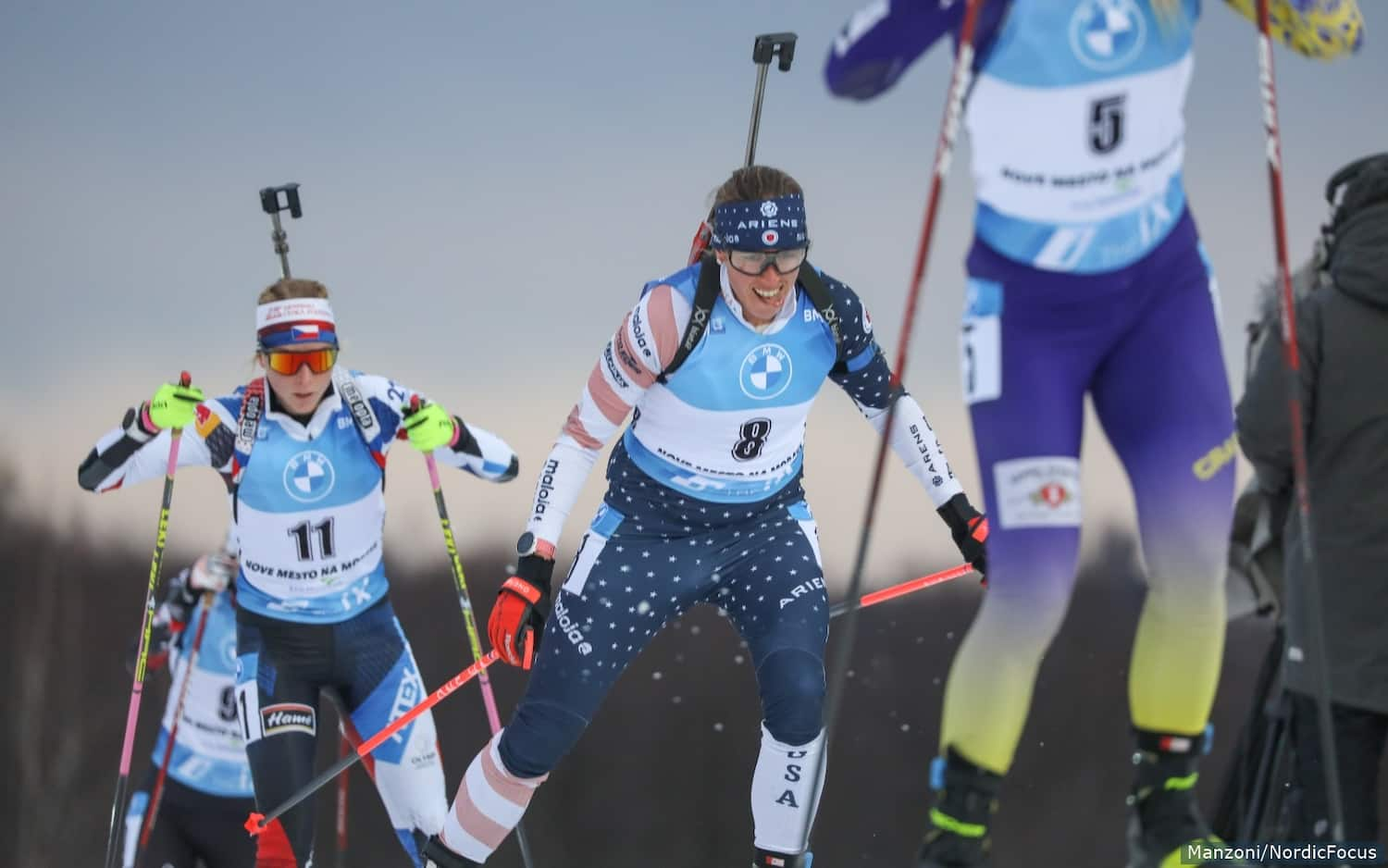 Susan Dunklee races among her competitors during the women's pursuit at the BMW IBU World Cup in Nove Mesto, Czech Republic, on March 13, 2021 (photo by Nordic Focus)
NOVE MESTO, Czech Republic (March 13, 2021) – Susan Dunklee (Barton, Vt.) has become the second U.S. female biathlete to meet the standards set for early qualification to the 2022 U.S. Olympic team at the end of the season. Early qualification is available for up to two athletes who meet the standards of the U.S. Biathlon selection procedures, in this case, two top-12 finishes at an IBU World Cup race during the 2020-21 season. With her second eighth-place finish in as many days at the BMW IBU World Cup in Nove Mesto on Saturday, Dunklee joined teammate Clare Egan (Cape Elizabeth, Maine) who met the standards with two top-10 performances in December.
A day after finishing eighth in the women's 7.5-kilometer sprint, Dunklee again came in eighth in the 10km pursuit, with one penalty on the shooting range and a time that was 1 minute, 12.9 seconds behind winner Tiril Eckhoff of Norway.
"I've been struggling most of the winter with my ski speed and for the first time in my career I've felt like I'm out of my league on the World Cup," said Dunklee. "I really missed the feeling of being 'in the mix' on any given day. This week I feel good and able to hang on near the front. I'm not sure why my ski speed is coming into form so late in the season, but I am very happy about it. Nove Mesto has many special memories for me, and the amazing women's relay last week added some positive energy. Of course, we all miss the amazing spectators this year."
Egan, Dunklee's Olympic teammate in 2018, finished 42nd in Saturday's pursuit, 3:53.1 back with four penalties. Dzinara Alimbekava of Belarus was runner-up to Eckhoff as she shot clean and was 34.6 seconds back. The bronze medalist in the women's pursuit was Germany's Franziska Preuss who was 40.2 seconds behind Eckhoff with two penalties.
In the men's 12.5km pursuit, Sean Doherty (Center Conway, N.H.) came in 35th (+4:14.0/+4) and Jake Brown (Saint Paul, Minn.) finished 53rd (+4:21.1/+5). Quentin Fillon Maillet of France took the gold in 28:46.7 with two penalties, followed by Norway's Johannes Thingnes Boe (+8.0/+2) and France's Emilien Jacquelin (+14.6/+1).
The penultimate IBU World Cup of the season wraps up Sunday in Nove Mesto with the mixed relay events. Egan, Brown, Joanne Reid (Grand Junction, Colo.) and Leif Nordgren (Hinesburg, Vt.) will represent the U.S. in the mixed relay starting at 5:25 a.m. EDT, while Dunklee and Doherty will team up for the single mixed relay at 8:45 a.m. EDT. Both races will be live on Peacock. Full broadcast schedule.


Women's 10km pursuit results
| | | |
| --- | --- | --- |
| 1. | Tiril Eckhoff (NOR) | 27:13.6/+1 |
| 2. | Dzinara Alimbekava (BLR) | +34.6/+0 |
| 3. | Franziska Preuss (GER) | +40.2/+2 |
| 8. | Susan Dunklee(Barton, Vt.) | +1:12.9/+1 |
| 42. | Clare Egan(Cape Elizabeth, Maine) | +3:53.1/+4 |
Men's 12.5km pursuit results
| | | |
| --- | --- | --- |
| 1. | Quentin Fillon Maillet (FRA) | 28:46.7/+2 |
| 2. | Johannes Thingnes Boe (NOR) | +8.0/+2 |
| 3. | Emilien Jacquelin (FRA) | +14.6/+1 |
| 35. | Sean Doherty(Center Conway, N.H.) | +4:14.0/+4 |
| 53. | Jake Brown(Saint Paul, Minn.) | +4:21.1/+5 |