Bronze for Dunklee/Doherty Caps Strong Mixed Relay Day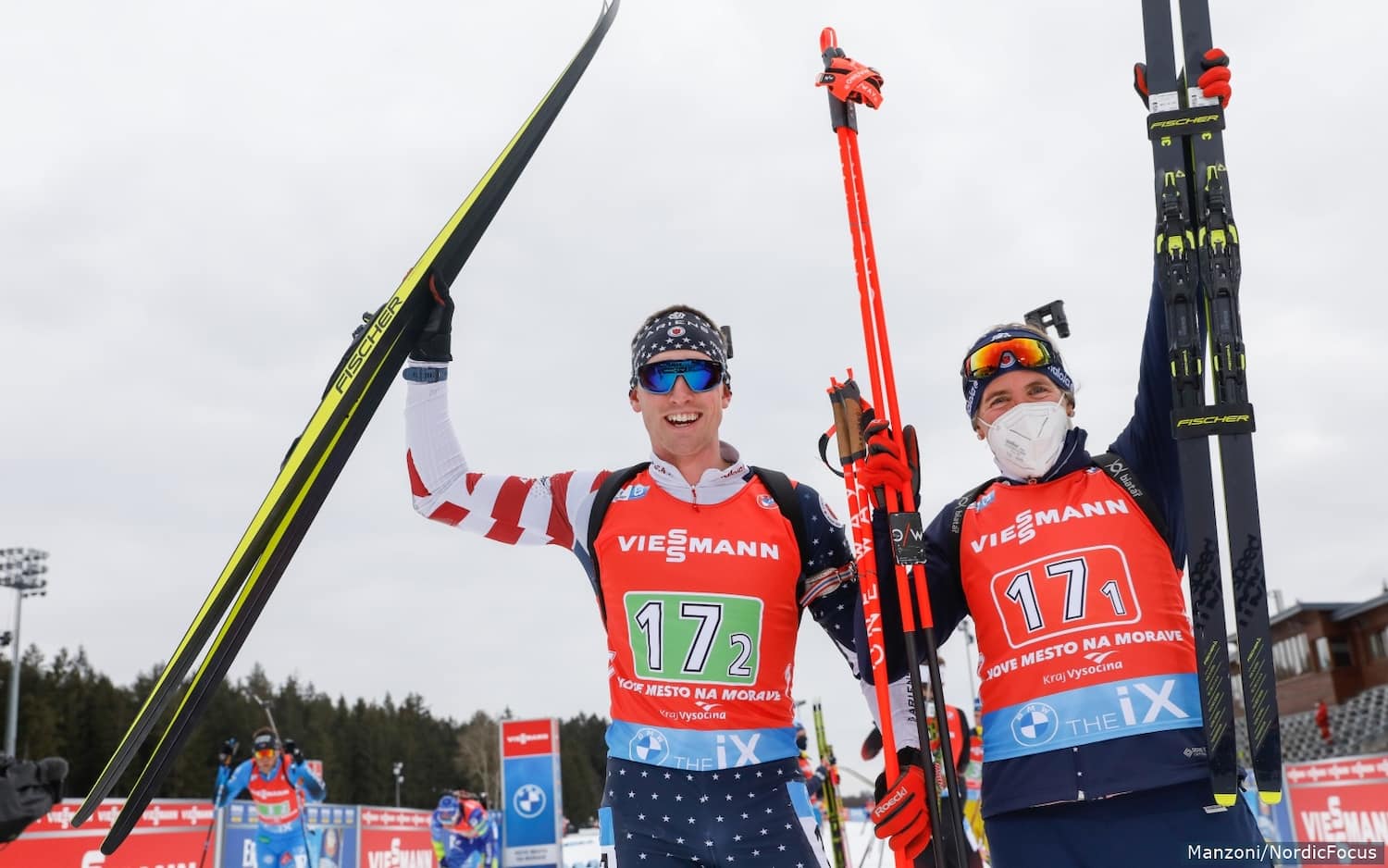 Sean Doherty and Susan Dunklee gave the U.S. its first single mixed relay medal in four years on Sunday (photo by Nordic Focus)
NOVE MESTO, Czech Republic (March 14, 2021) - Susan Dunklee (Barton, Vt.) and Sean Doherty (Center Conway, N.H.) combined to give the United States its first medal in the single mixed relay since 2017 as the BMW IBU World Cup wrapped up two weeks of competition in Nove Mesto on Sunday. Dunklee was part of the previous podium appearance as well when she teamed up with Lowell Bailey for a silver medal four years ago.
Dunklee led the pack after a perfect first prone stage with Switzerland's Elisa Gasparin and Sweden's Linn Persson right behind. With the wind swirling, Dunklee needed three spares to get through the standing stage of the opening leg and made the first exchange with Doherty in sixth place, but just 11.8 seconds off the lead.
"My single mixed relay strategy is to take some risk on the shooting range," Dunklee said. "I think that's the only way to create an opportunity in this race format."
Doherty brought the team back with just one spare used on the second leg and tagged off to Dunklee in third position, 16.6 seconds off the pace. Dunklee went clean again from prone and needed one spare in standing to bring the team neck-and-neck with Norway at the final exchange.
On the anchor leg, Doherty used one spare round in prone and another spare in standing to secure the bronze medal for Team USA, as he crossed the line 26.1 seconds back of winner Sweden., who edged Norway by 1.5 seconds at the finish.
"Sean performed under very high pressure in that last standing stage," added Dunklee. "He did an amazing job keeping his focus on his own task and not thinking about the top guys who were breathing down his neck."
"I am incredibly happy to be third today," said Doherty. "We were able to shoot well and keep ourselves in contention. I just tried to stick to my own plan and not get over-excited. But I will say when I left the range, then I got excited. I am very proud to share the podium with Susan and proud of the team effort it took to put us there today."
Earlier in the day, the U.S. mixed relay foursome of Clare Egan (Cape Elizabeth, Maine), Joanne Reid (Grand Junction, Colo.), Jake Brown (Saint Paul, Minn.) and Leif Nordgren (Hinesburg, Vt.) finished sixth in the 25-team field with seven spare rounds and 2:26.4 off the winning pace set by Norway.
"Clare gave me a great starting spot with a lot of teams within striking distance," said Reid of her second leg. "I tried to play to my strengths, which are climbs, and just hold onto the group on flats. That let me pass quite a few people on the first lap in the climb and come into prone fairly high up."
Reid's fast and clean shooting from prone launched the team up to fifth position.
"From there I just tried to hold fast, power through standing, and hold onto the teams in front to give Jake, who has been on fire this week on skis, someone to ski with," added Reid. "Both Jake and Leif came through in their legs in spades. Not an easy feat up front with great skiers and solid shooters."
Norway won the mixed relay event with just four spare rounds and more than a minute ahead of both Italy and Sweden.
The final IBU World Cup event begins Friday in Oestersund, Sweden, with sprints, pursuit and mass start events on the docket.
Single Mixed Relay Results
| | | |
| --- | --- | --- |
| 1. | Sweden | 37:41.4 |
| 2. | Norway | +1.5/0+6 |
| 3. | USA (Dunklee, Doherty) | +26.1/0+7 |
Mixed Relay Results
| | | |
| --- | --- | --- |
| 1. | Norway | 1:01:24.1/0+4 |
| 2. | Italy | +1:08.7/0+10 |
| 3. | Sweden | +1:22.7/0+10 |
| 6. | USA (Egan, Reid, Brown, Nordgren | +2:26.4/0+7 |