Jake Brown: Perseverance Towards a Goal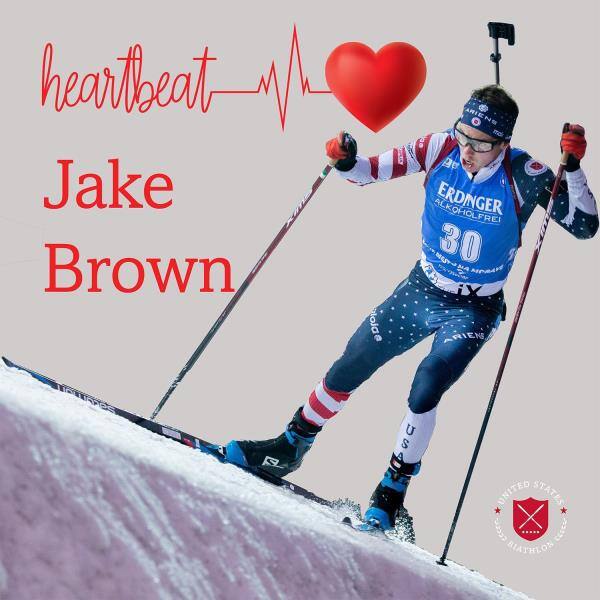 Athletes need to be methodical, with the virtue of patience guiding their careers. Minnesota native Jake Brown's career best 12th at World Championships was just another step for the soon-to-be 29-year old biathlete who discovered biathlon after a successful collegiate career at St. Olaf's and Northern Michigan University. He speaks to Heartbeat about his pathway and where it's headed next.
Brown's parents moved to Minneapolis for his father's job. "I think he kind of felt like he was moving out to the wilderness," laughed Jake. But colleagues introduced him to cross country skiing and he took it on with a passion. That passion transferred to Jake. "I remember as a kid being downstairs while he would just pour sweat under the NordicTrack and have tapes of like the '94 and the '98 Olympics on television with Bjørn Dæhlie and Thomas Alsgaard leading the way."
He hopped around for college, first as a runner at Princeton, then moving back to ski and run at St. Olaf's, helping the Ole's to an NCAA cross country running title. After graduation, he found himself with a year of ski eligibility left, and headed to Northern Michigan University for one more year under Sten Fjeldheim, becoming an NCAA All America selection in cross country skiing;
Biathlon had been on his radar after college. And eventually he went to a talent ID camp in Lake Placid and began to forge his path. His early days were challenging. He remembers one race in Lake Placid where he missed nine of 10 standing targets. "It's not fun to do nine penalty loops at the end of the race." But he hammered on his skiing, eventually earning next level trips, eventually getting to Europe and seeing a whole different level.
Over time, patience began to pay off. In the podcast, Jake speaks to his philosophies and how perseverance continued to lead him to a national title, stepping stone international results, and a series of career bests this past season that were not the penultimate goal, but more steps along the way.
Listen to Heartbeat with Jake Brown to learn more including:
His childhood sport hero?

Favorite biathlon venue? (and it's not Antholz)

His favorite dream adventure?

Craziest thing he's ever done? (yes, it was on a bet, and, yes, it's on YouTube)

Outside of pizza and ice cream day at Craftsbury, his favorite place to get pizza?

What it's like to ski with the big boys in the lead pack at the Birkie.
"Relationships ultimately are more valuable than any single result."
With the proliferation of the pandemic, did you think a full season was possible?
"Yes, of course, cases were ramping up over the fall and so that kind of put in more doubt. But I'm a sports fan and watching the Tour de France occur successfully with no positive cases among the athletes, that gave me kind of a thought that maybe we will have a season. I was hopeful, maybe more so than most and maybe naively. But I'm glad it's worked out."
Was elite sport on your radar in high school?
"No, not at all. It was always a dream. To watch the Olympics was so cool - I was so into it as a fan. My big goal in high school was to do well in the Minnesota State High School meet and to make junior nationals. Those are the two things that drove me. I wanted to ski in college, too, but I didn't know if I was good enough."
What motivated you to try biathlon?
"It always intrigued me - to be totally honest, because I was always a great skate skier and not a very good classic skier. I was a decent skier, but not a very good sprinter. And so I was like, 'hey, biathlon, there's an event where if I could ever learn how to shoot, maybe I could compete."
What's your advice for a developing biathlete?
"Have an open mind and just go to these races, compete and enjoy it. Try to execute your best. But just don't don't expect too much. Even for me on the World Cup, I'm still pretty new to it. I like having this mindset of 'I'm just learning, I'm just experiencing.' It's a growth mindset. That's important to have when you're going through a sport like the ups and downs."
You had a season of career bests. What will you most remember?
"I just had the best result I've ever had in my life getting out of Worlds. When I look back on this season, I'm going to remember that - sure. But I'm going to remember the other five months that I was on the road with my teammates playing football during the downtime and having all these crazy challenges and making jokes with our coach. Relationships ultimately are more valuable than any single result."
Subscribe to Heartbeat
Heartbeat: The U.S. Biathlon Podcast is available on all major podcast platforms including Apple, Google, Spotify, Stitcher and more. Using your favorite podcast app, simply click on the subscribe button to have Heartbeat delivered directly to your podcast player as soon as it's released.