Sean Doherty Named to Third Olympic Team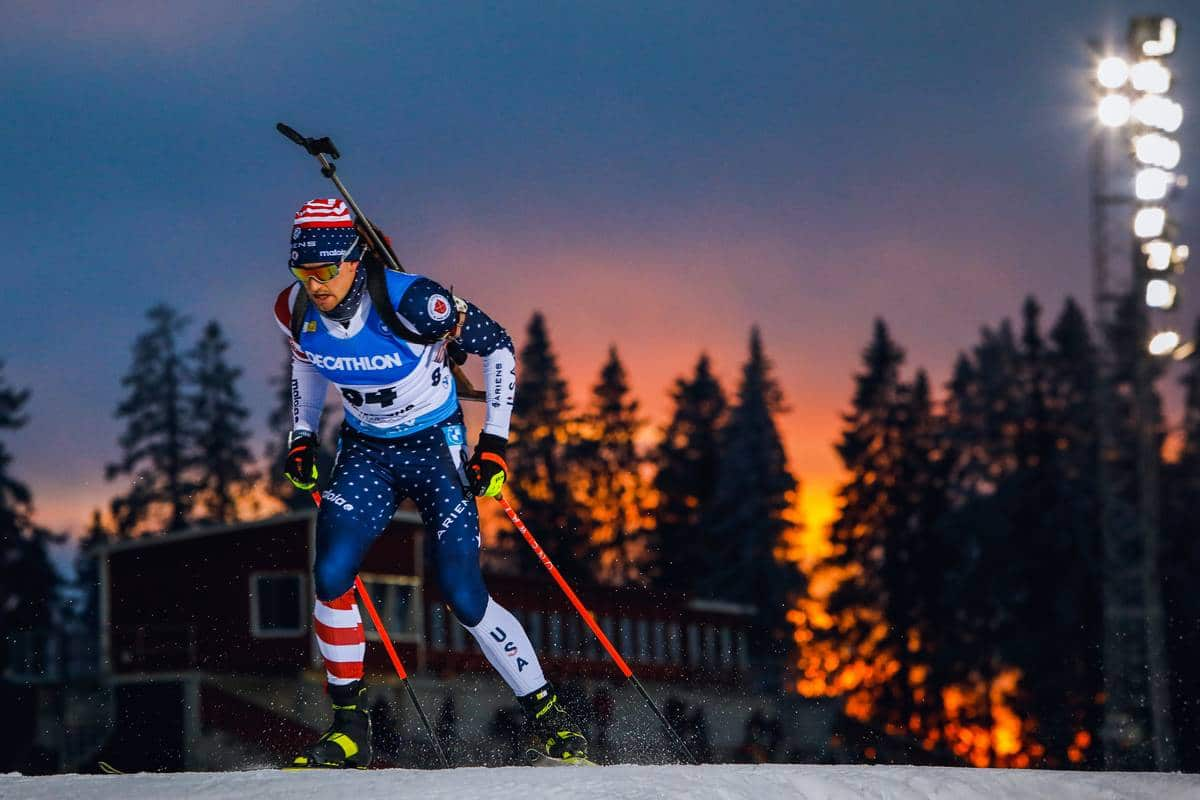 Sean Doherty races in a recent World Cup event (photo by Nordic Focus)
Sean Doherty (Center Conway, N.H./National Guard Biathlon & USBA) became the fifth biathlete to qualify for the Olympic Winter Games Beijing 2022. The discretionary selection was announced by the U.S. Biathlon International Competition Committee on Monday following Doherty's dominating performance in the sprint and pursuit races at the U.S. Biathlon Olympic Trials held in Arber, Germany, Jan. 2-3.
"Sean performed really well and kept his focus during two really challenging races," said U.S. Biathlon Director of High Performance Lowell Bailey. "The weather has been windy and warm, making for tricky racing. He clearly showed he deserves the spot and will be a great addition to the U.S. team in Beijing."
Doherty, 26, will be competing in his third straight Olympic Games in Beijing. He is the all-time leader in individual medals at the IBU Youth/Junior World Championships and became the first American biathlete to reach the podium three times at a single world championship when he did so at the Youth/Junior Worlds in 2016, bringing his career medal total to 10. Doherty was the youngest member of the 2014 U.S. Olympic Biathlon Team at the age of 18 and last season teamed with fellow three-time Olympian Susan Dunklee (Craftsbury, Vt./Craftsbury Green Racing Project & USABA) to win the bronze medal in the single mixed relay at the IBU World Cup in Nove Mesto, Czech Republic.
"I am very happy to be named to the Olympic Team," Doherty said. "I am looking forward to representing Team USA. I think the previous Games have prepared me well for more cold and windy night races, so we will see what I can make of the opportunity."
Doherty joins Jake Brown (Saint Paul, Minn./Craftsbury Green Racing Project & USBA), Paul Schommer (Appleton, Wis./Team Crosscut & USBA), Dunklee and Clare Egan (Cape Elizabeth, Maine/Craftsbury Green Racing Project & USBA) as early qualifiers for the 2022 U.S. Olympic Biathlon Team.
The final team selection for biathlon will be announced on Jan. 9 following completion of the IBU Cup event in Brezno-Osrblie, Slovakia, and will include one additional selection for the men's team and two additional selections for the women's team. All selections to the 2022 U.S. Olympic Team are subject to approval by the United States Olympic & Paralympic Committee.