Schommer 9th in Antholz
by By Sara Studebaker-Hall & Tom Kelly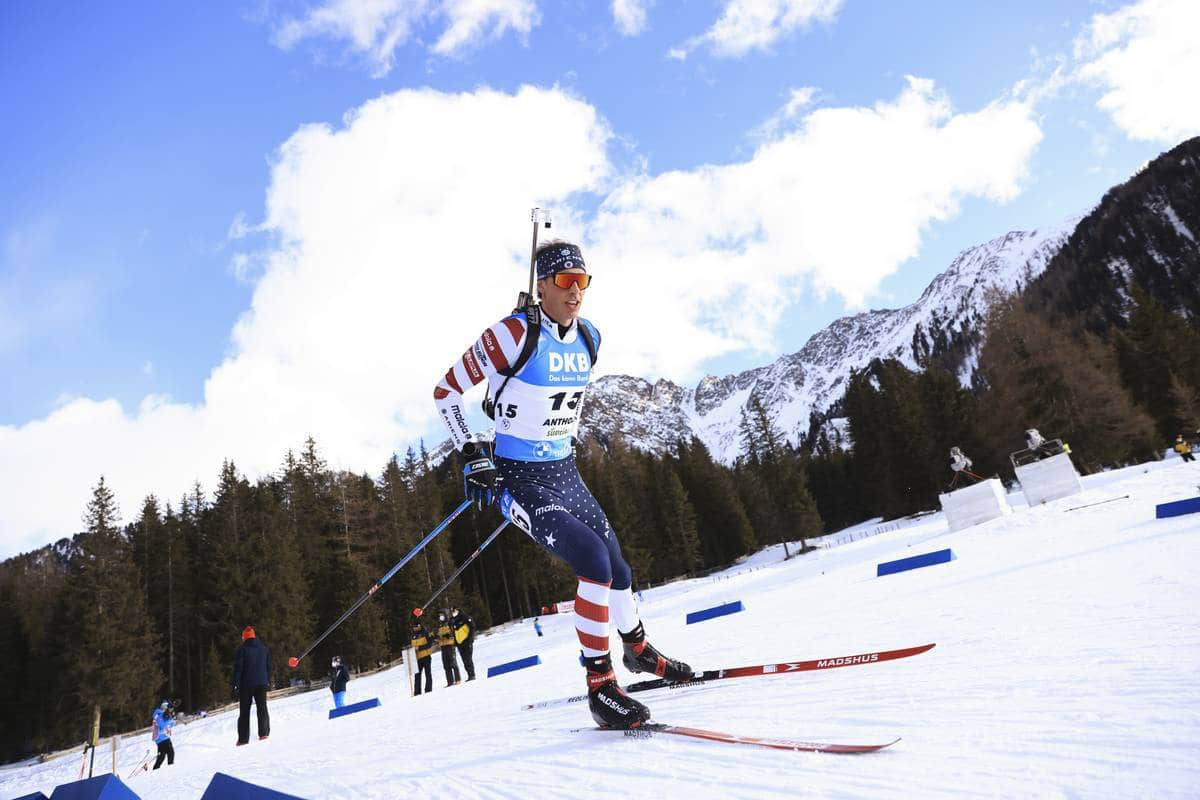 Paul Schommer races in the men's individual at the BMW IBU World Cup in Antholz, Italy, on Jan. 20, 2022. (photo by Nordic Focus)
Antholz, ITA - U.S. Biathlon Team and Team Crosscut athlete Paul Schommer (Appleton, WI) on Thursday added to his already stellar season with the first top-10 performance of his career. Schommer, who earlier this season qualified for his first Olympic Winter Games, placed ninth in the 20km Men's Individual race in Antholz, Italy under gusting conditions and on one of the more challenging 20km courses on the IBU World Cup.
"Today's approach was the same as it's been all year - don't do anything special," said Schommer. "We have had great preparations this year and I believe we don't have to do anything differently to get our best."
The last time the US had a man place in the top-10 was Leif Nordgren's 8th place in the 2020 World Championships 20km Individual, also in Antholz. Before that was Sean Doherty's 10th place at the 2019 Soldier Hollow, Utah World Cup. Antholz is the final World Cup ahead of the Beijing Olympic Games and, as such, is an important tune-up for athletes as they head to China next week.
"There are many ways to achieve good individual performances, but consistent good team performances are built through a team culture," said Men's Head Coach Vegard Bitnes. "We have a team that is pushing each other everyday…Paul had a good biathlon race, from beginning to end. The whole team worked so hard today and I'm proud and humbled to be a part of that."
With his ninth place finish, Schommer has qualified for the Men's Mass Start event on Saturday - an invaluable experience for any athlete will be Schommer's first World Cup Mass Start.
"It feels great [to qualify for the Mass Start]! I can't wait!" said Schommer.
Also today, Jake Brown finished 34th, Leif Nordgren was 54th and Sean Doherty placed 70th. The Women's Individual race is next up on Friday at 8:15am ET. Catch the action live on Peacock with Chad Salmela commentating live from Antholz. Download the IBU App to keep track of all your favorite athletes!
https://www.teamusa.org/US-Biathlon/Events/2022/January/19/Watch-IBU-Biathlon
https://apps.apple.com/app/official-ibu-app/id1581415457?l=en