U.S. Women's Relay Heads into Beijing with Best Finish in 28 Years

Joanne Reid lets out a joyous scream after crossing the finish line in 5th place in the relay (photo by Nordic Focus)
ANTHOLZ-ANTERSELVA, Italy (Jan. 22, 2022) – In the final women's relay competition before the Beijing 2022 Olympic Games, the 14th ranked U.S. Women's Biathlon Team raced to a fifth-place finish in Saturday's 4x6-kilometer event at the BMW IBU World Cup in Antholz. It marked the best relay finish for the women's team in a World Cup since 1994 when the U.S. took the silver medal in Canmore, Alberta, Canada. However, today's performance bettered that race 28 years ago in terms of time behind as they finished 50.1 seconds back of first place today compared to 57.3 seconds behind in 1994.
"I've dreamed of a top-5 women's relay for over a decade," three-time Olympian Susan Dunklee (Craftsbury, Vt./Craftsbury Green Racing Project & USBA) said after the race.
Dunklee kicked off the relay using one spare round in prone and two spares in standing. She made the first exchange with 2018 Olympian Clare Egan (Cape Elizabeth, Maine/Craftsbury Green Racing Project & USBA) with the U.S. team in 12th place, 41.6 seconds back of the leader.
Egan, heading into her second Olympic Games, brought the American squad up to 10th place after needing three spares in prone and two in standing on her second leg.
"It's great to improve on our sixth-place from last winter as we head into the Olympics," said Egan, referring to last season's World Cup relay performance in Nove Mesto, Czech Republic.
Deedra Irwin (Pulaski, Wis./National Guard Biathlon & USBA), the lone rookie on this year's Olympic team, went clean in prone and used three spare rounds in standing to vault the team into medal contention at the final exchange. Irwin tagged off the anchor leg to Joanne Reid (Grand Junction, Colo.) in seventh place, a mere 27.6 seconds out of first.
Reid, a 2018 Olympian, was solid on the range needing just one spare in prone and another in standing. She brought the team home in fifth place, 50.1 seconds back of gold-medal winning Norway. Russia took second and France edged Italy for third in a photo finish.
"I think it's really encouraging that we were within 20 seconds of Italy and France – two of the top teams – with the same shooting," added Egan.
Earlier in the day, Paul Schommer (Appleton, Wis./Team Crosscut & USBA) finished 22nd in the men's 15km mass start, the first mass start of his career.
The World Cup in Antholz wraps up Sunday with the men's 4x7.5km relay followed by Egan competing in the women's 12.5km mass start on the heels of her fourth-place finish in Friday's 15km individual.
Catch the action live on Peacock with Chad Salmela and USBA President & CEO Max Cobb commentating live from Antholz. Download the IBU App to keep track of all your favorite athletes!
BMW IBU World Cup - Antholz, Italy (all times Eastern)
Sunday, Jan. 23
6:15 am – Men's 4x7.5km relay
9:15 am – Women's 12.5km mass start
https://www.teamusa.org/US-Biathlon/Events/2022/January/19/Watch-IBU-Biathlon
https://apps.apple.com/app/official-ibu-app/id1581415457?l=en
https://play.google.com/store/apps/details?id=at.ibu.app

Women's 4x6km relay results
1. Norway (1:12:54.1/1+10)
2. Russia (+24.6/3+12)
3. France (+32.6/0+13)
4. Italy (+32.6/0+13)
5. USA (+50.1/0+13)
Men's 15km mass start results
1. Benedikt Doll (GER) 37:14.9/+1
2. Johannes Thingnes Boe (NOR) +31.3/+3
3. Sturla Holm Lagreid (NOR) +1:28.8/+3
22. Paul Schommer (USA) +3:36.5/+6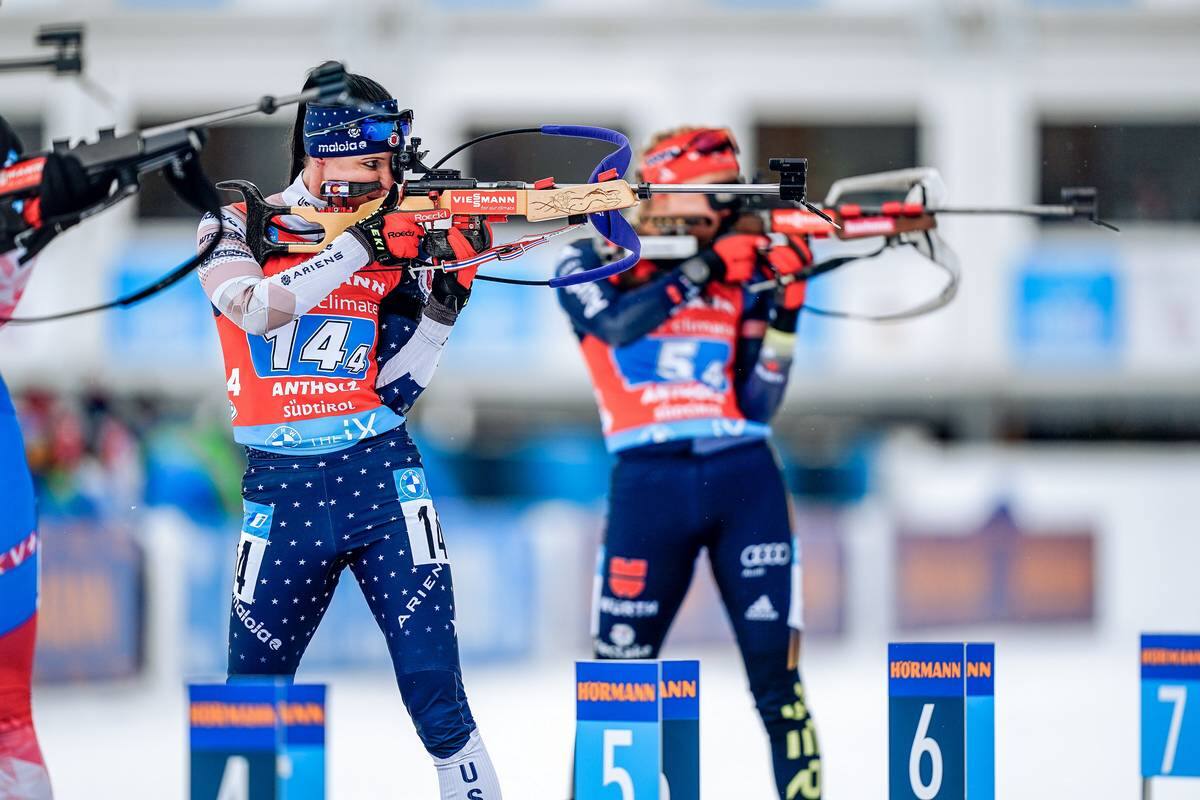 Joanne Reid (l) takes aim on the shooting range during the final standing stage of the women's relay (photo by Nordic Focus)