U.S. Biathletes Set to Compete at Open European Championships in Germany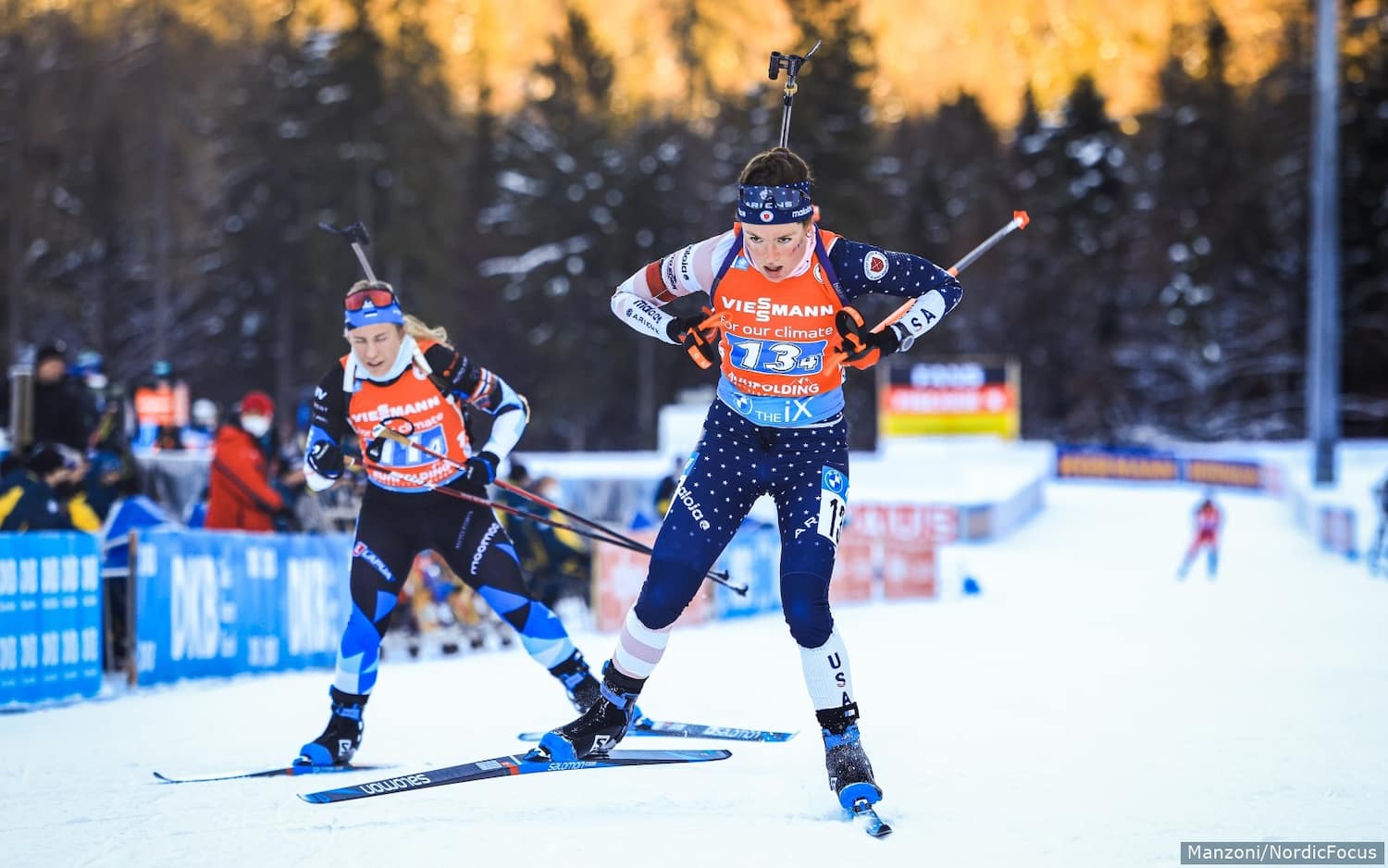 Olympic Team alternate Hallie Grossman races in the women's relay at the IBU World Cup in Ruhpolding, Germany, on Jan. 14, 2022 (photo by Nordic Focus)
A group of 11 Americans, including 2022 U.S. Olympic Team alternates Vasek Cervenka (Grand Rapids, Minn./National Guard Biathlon & USBA) and Hallie Grossman (South Burlington, Vt./Craftsbury Green Racing Project), will race in the IBU Open European Championships in Arber, Germany, beginning Wednesday, Jan. 26 and running through Sunday, Jan. 30.
For Cervenka and Grossman, the event provides high-level competition to keep them fine-tuned and prepared to compete in Beijing if needed.
Cervenka will be joined on the men's team by Luke Brown (St. Paul, Minn./Craftsbury Green Racing Project), Max Durtschi (Ketchum, Idaho/Team Crosscut & USBA), Raleigh Goessling (Duluth, Minn./Craftsbury Green Racing Project) and Scott Lacy (Aspen, Colo./Team Crosscut).
Competing with Grossman in the women's events will be Kelsey Dickinson (Winthrop, Wash./Craftsbury Green Racing Project), Jackie Garso (Lake Clear, N.Y./Auburn Ski Club), Tara Geraghty-Moats (West Fairlee, Vt./Craftsbury Green Racing Project), Lucy Hochschartner (Lake Placid, N.Y./Team Crosscut) and Amanda Kautzer (Plymouth, Minn./Team Crosscut).
For Geraghty-Moats it's a return to the sport of biathlon after capturing the Overall Crystal Globe last season in the inaugural FIS Nordic Combined World Cup circuit.
"I'm really enjoying my return to biathlon," Geraghty-Moats said ahead of this week's competition in Germany. "It's amazing to see just the first few months of hard work paying off so quickly. This is thanks to the high-level support I receive from USBA and the Craftsbury Green Racing Project."
Geraghty-Moats competed in biathlon prior to her transition to ski jumping and Nordic combined.
"I'm excited for the week," she added. "The course here is definitely a style I like. There are many sustained hills, not much flat, and technical transitions. The range is prone to being very windy, but I've had some time here to train so hopefully I can use my experience at this venue to make good decisions have high-quality shooting stages. I'm just going to try and get all the puzzle pieces of a good race together this week, but this early on in my comeback that's a lot to ask for."
The competition schedule in Arber includes individual, sprint, pursuit and mixed relay races. Follow all the action on the IBU app - download it today!
https://apps.apple.com/app/official-ibu-app/id1581415457?l=en
https://play.google.com/store/apps/details?id=at.ibu.app
IBU Open European Championships – Arber, Germany (all times EST)
Wednesday, Jan. 26
4:15 am – Men's 20km individual
8:00 am – Women's 15km individual
Friday, Jan. 28
4:30 am – Men's 10km sprint
8:00 am – Women's 7.5km sprint
Saturday, Jan. 29
4:30 am – Men's 12.5km pursuit
7:30 am – Women's 10km pursuit


Sunday, Jan. 30
4:30 am – Mixed relay
7:30 am – Single mixed relay