US Biathlon Athletes Find Success in Ruhpolding
photo credit: Nordic Focus
Ruhpolding, GER - Eight U.S. Biathlon athletes hit the start line in Ruhpolding over the weekend at the IBU Summer World Championships. It was the first time Team USA had attended the event since 2008, and the trip did not disappoint. With four trips to the flower ceremony, including one podium finish, three athletes came away with some hardware for their efforts. Maxime Germain (USBA & National Guard Biathlon Team) was first to snag a podium spot in the Junior Men's Super Sprint on Thursday, where he placed 3rd.
"It feels good to be back on the podium," said Germain, "it's what I needed! Seeing fans and getting cheered on was a first, I loved it. I'm stocked on my performances but also the team's. It shows that what we're doing is working."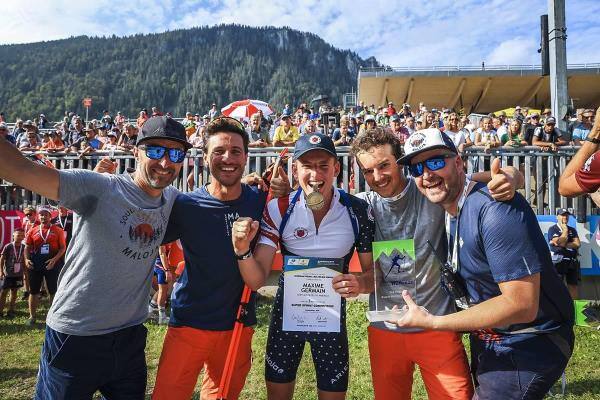 photo credit: Nordic Focus
On Friday, the seniors took on the Super Sprint format, with both Deedra Irwin (USBA & National Guard Biathlon Team) and Sean Doherty (USBA & National Guard Biathlon Team) qualifying for the finals with top-30 results in the qualification. Doherty would eventually finish 9th for the day, while Irwin took 23rd place.
photo credit: Nordic Focus
Saturday's Sprints started off with a bang, with Vincent Bonacci (USBA & Team Crosscut) snagging sixth place and his first ever trip to the flower ceremony. Maxime Germain again had a solid day, placing 9th and setting both Team USA athletes up for great starts in Sunday's Pursuit race.
Later in the day, Doherty took 10th place, easily qualifying for Sunday's Gala Mass Start along with teammate Jake Brown (USBA & Craftsbury GRP) who placed 11th, less than one second behind Doherty. Also for Team USA, Vaclav Cervenka (USBA & National Guard Biathlon Team) placed 22nd and Paul Schommer (USBA & Team Crosscut) was 54th. On the women's side, Irwin took a solid 26th place, good enough to grab her own start spot in the Gala Mass Start, while Chloe Levins placed 55th.
Sunday was an excellent day to cap off the Championships for Team USA. Maxime Germain again headed to the flower ceremony with a 5th place finish, while teammate Bonacci wasn't far behind in 10th. In the Gala Mass Start, Irwin put in a strong effort to finish 29th. For the men, Sean Doherty kept things interesting until the final lap, leaving the final shooting in 3rd position and eventually finishing in 6th for Team USA's second trip to the flower ceremony of the day. Jake Brown rounded out the day for the team in 27th position.
"I really enjoyed the competitions here in Ruhpolding," said Doherty. "It is very fun to be in the fight for podium positions and I think it is motivating for everyone to see how close we are to being in the mix!"
The team's solid performance was indicative of how the feeling has been on the team so far this season, according to head coach Armin Auchentaller.
"In general this season so far is showing that the more experienced athletes and the young athletes can work well together in one team," said Auchentaller. "They share experiences and they push each other in different ways. From a performance standpoint, we had some good things happening this past weekend; everybody is motivated to push and work hard. And we also learned some new things that we will work on in the next couple of weeks/month. It never stops, development is a continuous process! But, everybody is motivated to push and work hard and we will continue to try to improve things together."
Next up, the team heads to Oberhof for training and ski testing in the ski tunnel. Teammates Sean Doherty and Deedra Irwin are also off to France to compete in the Martin Fourcade Festival, where they were invited after strong performances at Summer World Champs.
"I was very surprised, excited and nervous when I got invited to the Martin Fourcade Festival in France this weekend," said Irwin. "But, it's another fun opportunity to gain more experience with some amazing athletes before the winter season. I'm really looking forward to the Festival!"
The team returns to the US in mid-September and will then head to Utah for final IBU Cup/World Cup team selection races and fall training preparations.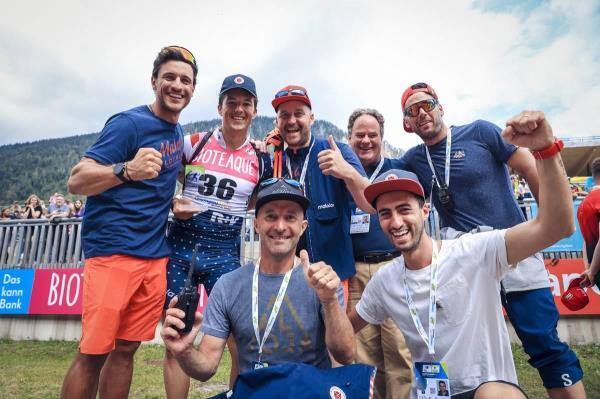 photo credit: Nordic Focus