U.S. Team Readies for Back-to-Back IBU Cups in Canmore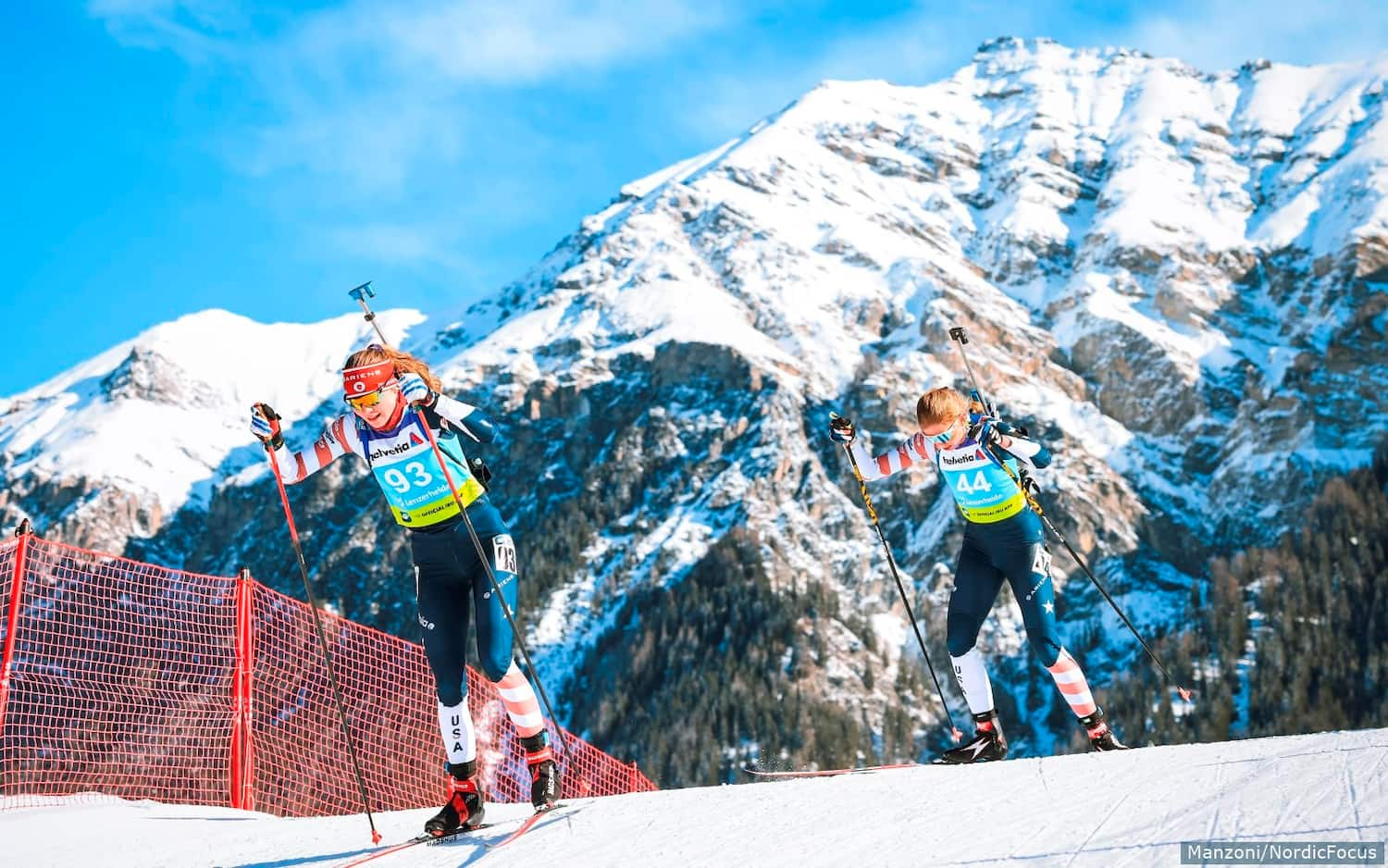 Margie Freed and Amanda Kautzer race at the 2023 IBU Open European Championships in Lenzerheide, Switzerland (photo by Nordic Focus)
The IBU Cup comes to North America the next two weekends with the tracks at Canmore, Alberta, playing host to the final two competitions of the season, February 24-28 and March 1-4. The first weekend will include sprints, super sprints and mass starts, while the second week will see sprints, pursuits and mixed relays. A strong cold front that passed through the eastern slope of the Canadian Rockies earlier in the week altered the first event's original Thursday, Saturday and Sunday schedule to Saturday, Sunday and Tuesday.
"We are looking forward to competing on our own continent and ending the IBU Cup tour in Canmore this season," said U.S. Biathlon Director of High Performance Lowell Bailey. "It is always nice to compete on courses closer to home and although it's north of our border, it does feel like a bit of a 'home course' to us."
The U.S. women's team for Canmore includes Amanda Kautzer (Plymouth, Minn./Crosscut Mountain Sports Center Elite Team), Jacquelyn Garso (Lake Clear, N.Y./Craftsbury Green Racing Project), Anna French (Bozeman, Mont./Team Altius) and Margie Freed (Apple Valley, Minn./Craftsbury Green Racing Project).
"I'm super excited for the races coming up in Canmore," said Kautzer. "With the weather delaying the first race, we basically will have a mini tour just about as close to our backyard as you can get. With being on the same continent, I'll have more family and friends in the crowd, which always makes for some fun racing. And on the personal side, it is super nice to be within driving distance from home. The little things, like packing my pillow and an extra cozy sweater, make all the difference at the end of a long season on the road."
The U.S. men's team selected to compete in Canmore is comprised of Luke Brown (St. Paul, Minn./Craftsbury Green Racing Project), Eli Nielsen (Stehekin, Wash./National Guard Biathlon), Tim Cunningham (Georges Mills, N.H./NYSEF) and Scott Lacy (Aspen, Colo./Crosscut Mountain Sports Center Elite Team).
IBU Cup 7 – Canmore, Alberta, Canada

Sat., Feb. 25 – Women's 7.5km sprint (2:30 p.m. EST); Men's 10km sprint (5:00 p.m. EST)
Sun., Feb. 26 – Women's 4.5km super sprint qualifier (12:30 p.m. EST); Women's 7.5km super sprint final (2:20 p.m. EST); Men's 4.5km super sprint qualifier (4:10 p.m. EST); Men's 7.5km super sprint final (5:50 p.m. EST)
Tue., Feb. 28 – Women's 12km mass start 60 (1:00 p.m. EST); Men's 15km mass start 60 (3:45 p.m. EST)
IBU Cup 8 – Canmore, Alberta, Canada

Wed., Mar. 1 – Men's 10km sprint (1:00 p.m. EST); Women's 7.5km sprint (2:30 p.m. EST)
Fri., Mar. 3 – Men's 12.5km pursuit (1:00 p.m. EST); Women's 10km pursuit (3:30 p.m. EST)
Sat., Mar. 4 – Mixed relay (12:30 p.m. EST); Single mixed relay (3:30 p.m. EST)