Maddie Phaneuf Wins First IBU Cup Medal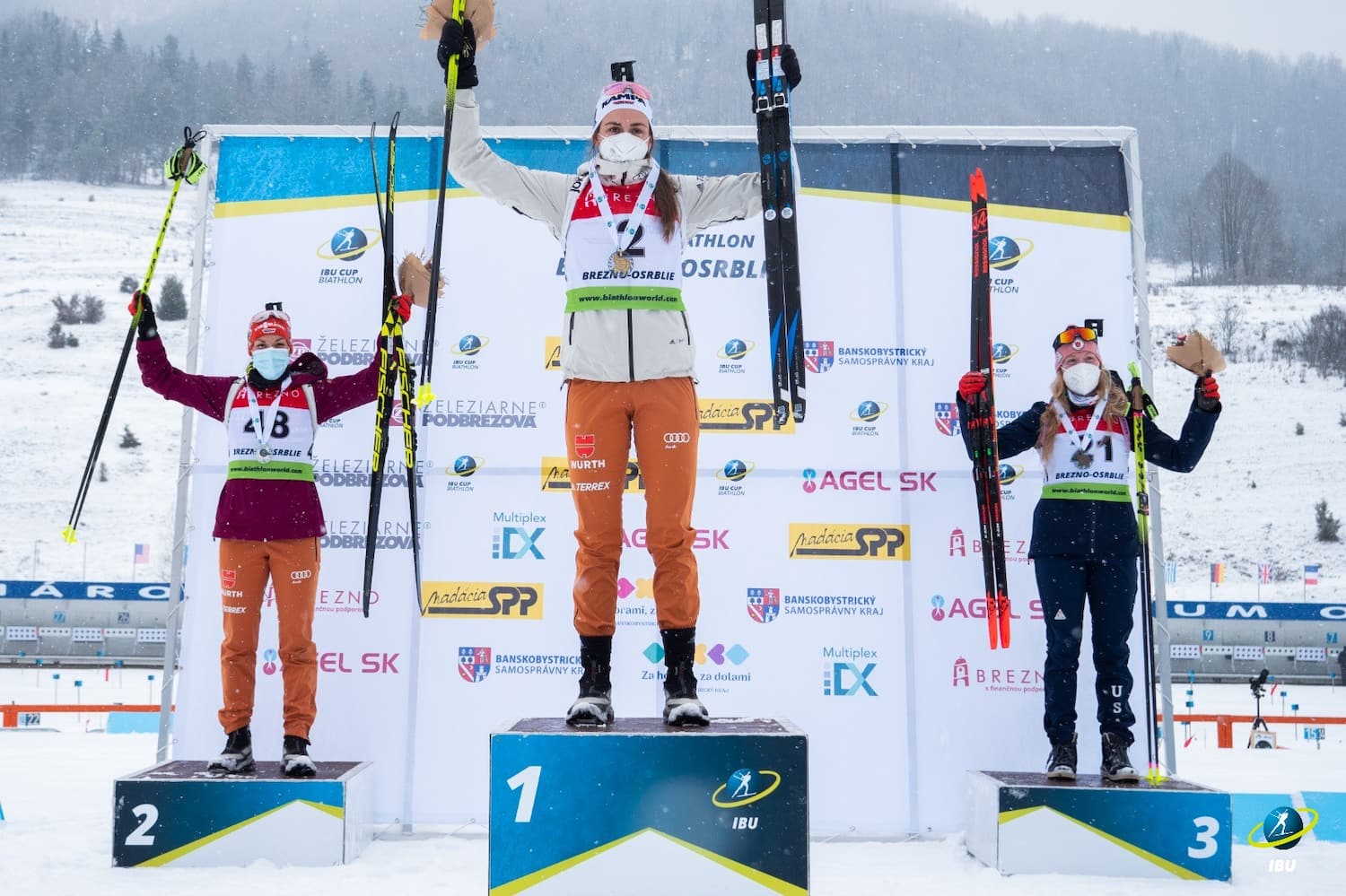 Maddie Phaneuf (right) of the USA stands on the bronze-medal podium following the women's short individual at the IBU Cup in Brezno-Osrblie, Slovakia, on Feb. 17, 2021.
BREZNO-OSRBLIE, Slovakia (Feb. 17, 2021) - In January, Maddie Phaneuf (Old Forge, N.Y.) came within four seconds of reaching the podium at the IBU Cup's women's sprint in Arber, Germany. Today, less than four weeks removed from that close call, Phaneuf stood on the podium with a bronze medal around her neck after a career race in the women's 12.5-kilometer short individual at the IBU Cup in Brezno-Osrblie, Slovakia.
"Today was awesome," Phaneuf said following the race. "I'm more than excited to have landed my first podium finish. This has always been a goal of mine, and I knew this season it could be possible after my fourth place in Arber. In years past, I've never done well on the course here in Osrblie. It has some tough climbs and a lot of working sections...so I'm happy to finally feel strong on the skis here."
Not only was Phaneuf strong on the skis, but she was also dynamite on the shooting range too, knocking down 19 of her 20 targets on the day.
"The shooting was nearly perfect, and I'm lucky I shoot fast because that's what kept me on the podium today," added Phaneuf. "So grateful for our incredible wax team here...our skis were flying. Thanks Clause, Tomas, and Luca."
Phaneuf was joined on the podium by gold medalist Vanessa Voigt of Germany and her teammate Hanna Kebinger, who both shot clean. Voigt's winning time was 38 minutes, 52.3 seconds, with Kebinger 6.9 seconds back and Phaneuf 26.2 seconds off the winning pace.
Other Americans in the women's short individual were Hallie Grossman (Craftsbury, Vt.) in 46th (+4:26.6/+6), Kelsey Dickinson (Winthrop, Wash.) in 48th (+4:54.2/+2), Lucy Hochschartner (Lake Placid, N.Y.) in 66th (+7:04.2/+6) and Mikayla Maier (Bozeman, Mont.) in 78th (+11:04.1/+9).
In the men's 15km short individual later in the day, Raleigh Goessling (Duluth, Minn.) was the top American in 45th place with three penalties on the range, 3:37.9 back of winner Viktar Kryuko of Belarus who shot clean. Goessling was followed by Vasek Cervenka (Grand Rapids, Minn.) in 54th (+4:18.7/+5), Carsen Campbell (Bozeman, Mont.) in 61st (+4:41.1/+3), Vincent Bonacci (Salt Lake City, Utah) in 63rd (+4:58.2/+3) and Luke Brown (Saint Paul, Minn.) in 77th (+6:58.4/+7.