U.S. Biathletes Come Full Circle This Week at Nove Mesto World Cup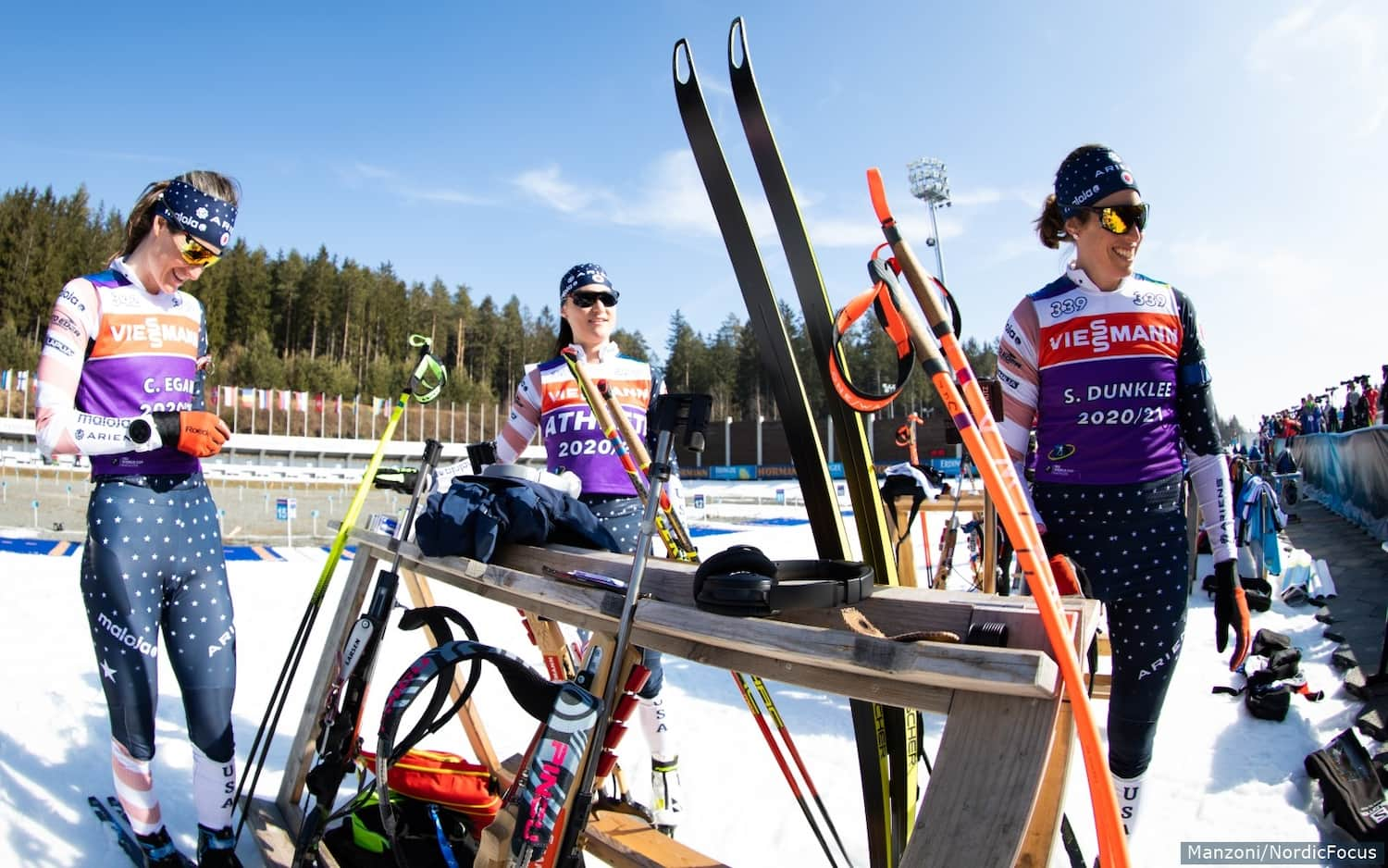 Clare Egan, Joanne Reid and Susan Dunklee get ready for a training session in Nove Mesto, Czech Republic, on March 3, 2021 (photo by Nordic Focus)
NOVE MESTO, Czech Republic (March 3, 2021) – One year ago this week, as the spread of the COVID-19 virus was surging in Europe, the International Biathlon Union announced spectators would be barred from attending the pending BMW IBU World Cup in Nove Mesto, Czech Republic. That week early in 2020 is firmly etched in the memories of all the athletes that raced in front of the eerily silent grandstands in Nove Mesto, a sight that has sadly become commonplace during the 2020-21 World Cup season that is heading into its final stretch with, ironically, Nove Mesto playing host to two World Cup events over the next two weeks.
"Last year while in Antholz for World Championships we first started hearing whisperings of how a virus called COVID was spreading fast," said American Jake Brown of Saint Paul, Minn. "Little did we know how the world would flip upside-down. We went from experiencing a totally normal World Championships in Northern Italy where we had no idea that COVID was breaking out beneath our noses to a ghost World Cup in Nove Mesto the following week. Now we are back a year later and the no-fans races are the norm. It definitely is strange to think of all that this virus has changed in the past year for so many."
Still, some athletes like Clare Egan (Elizabeth, Maine) can find a silver lining in the new normal.
"Last year at this time there was so much uncertainty," Egan said. "COVID is obviously still a major problem, but now it's in the 'known' column. I have worried less about getting sick this winter than any other winter on the road, by far. We always took precautions; now everyone does, so we've never been healthier. I missed the fans last year and I miss them still today. The difference is that it's not eerie anymore -- now we know what's going on."
Egan is not the only U.S. biathlete longing for support from the crowds.
"It feels strange to be here a year later and have it still be so impacted by COVID," added Sean Doherty of Center Conway, N.H. "Nove Mesto has some of the best crowds and I miss that, especially when we are out on course. It feels like a piece of the World Cup atmosphere is missing."
Shortly before the 2020-21 season began, the IBU altered the World Cup schedule to cut down on athlete travel throughout the season, combining back-to-back events in the same location. One of those locations originally slated for the early months of 2021 was Beijing, China, in what would have been a sneak peek for the athletes at next year's Olympic venue.
"I don't think I'm alone when I say that I'm happy I'm not flying to Asia for six days right now," said Egan. "It's an extremely exhausting experience even without a pandemic. Next winter, everyone, except maybe the Chinese, will be in the same situation in terms of race-course experience, so I don't see this as a performance factor. I just see the positive side that we are limiting travel this year."
"As nice as it was to reduce the travel, it is a bummer to not be able to see the venue and get a feel for the course," noted Doherty who, like Egan is an Olympic veteran. "It will be interesting as it will be new for everyone when we get there for the Olympics next year."
Even for Brown, who is hoping to qualify for his first Olympic Games next February, the benefits of getting a glimpse of the Olympic venue are not lost on him.
"As a third-year World Cup skier I'm starting to understand the value of having experience racing at a venue in previous years," Brown said. "There would be benefit to skiing the course in Beijing, understanding the range approach, and having an idea of what to expect in terms of weather. But if there's one thing I've learned that's necessary for biathlon, it's to be mentally prepared for the unexpected -- sudden wind, an errant miss, a crash, or an unexpected shot at success. We'll just need to take that mindset into next year, for whoever goes to the Games."
The upcoming World Cups in Nove Mesto will also feature the final relay events of the season and a chance for Team USA to build on the cohesiveness they've worked on all season.
"We've had some top-10 relays this year and I think we can do even better," said Egan.
"It's often a bit of a mystery how the body responds at the end of the season," Brown added. "A lot can happen. Some racers can fall apart from the fatigue of the season. Some racers might get a post-World Championships fitness bump if they recovered well from the intense race schedule in Pokljuka. I hope I'm one of the latter, but you never know until you race."
Said Doherty: "I am feeling good, and I am looking forward to making the final push here. There are still a lot of good opportunities to be had and I am looking forward to them."
For the March 4-7 World Cup in Nove Mesto, Brown and Doherty will team with Leif Nordgren (Hinesburg, Vt.) and Paul Schommer (Appleton, Wis.) in the men's events, while Egan will join Susan Dunklee (Barton, Vt.), Deedra Irwin (Pulaski, Wis.) and Joanne Reid (Grand Junction, Colo.) in the women's races. Rosters for the final two World Cup competitions, in Nove Mesto (March 11-14) and Ostersund, Sweden (March 19-21) will be released following this weekend's competition in Nove Mesto.
BMW IBU World Cup #8 Schedule – Nove Mesto, Czech Republic (all times Eastern):
Thursday, March 4
10:05 am – Women's 4x6km Relay
Friday, March 5
9:20 am – Men's 4x7.5km Relay
Saturday, March 6
5:00 am – Women's 7.5km Sprint
9:40 am – Men's 10km Sprint
Sunday, March 7
6:00 am – Women's 10km Pursuit
10:00 am – Men's 12.5km Pursuit
BMW IBU World Cup #9 Schedule – Nove Mesto, Czech Republic (all times Eastern):
Thursday, March 11
11:30 am – Men's 10km Sprint
Friday, March 12
11:30 am – Women's 7.5km Sprint
Saturday, March 13
8:45 am – Men's 12.5km Pursuit
11:30 am – Women's 10km Pursuit
Sunday, March 14
5:25 am – Mixed Relay
8:45 am – Single Mixed Relay
All events will be streamed live on Peacock. Find full schedule HERE.