Soldier Hollow Hosts First Annual Schutzenski Festival
Midway, Utah – Biathletes and Cross-Country skiers from around the country descended on Soldier Hollow this past weekend for a rare opportunity to race side-by-side. While US Biathlon hosted the second round of World Cup and IBU Cup trials at Soldier Hollow, the organizers kicked the event into the next gear by hosting elite XC races, a running race, and a beer garden for spectators. And spectators were in for a treat with many Olympians, Paralympians and World Championships medalists in attendance including Biathlon World Championships Silver medalist Susan Dunklee, Nordic Combined Olympic Bronze medalist Taylor Fletcher, Olympic Gold medalist Jessie Diggins, Paralympians Grace Miller, Dani Aravich, and Ruslan Reiter, and Nordic Combined Crystal Globe winner Tara Geraghty-Moats (this time strapping a rifle on to compete in biathlon!).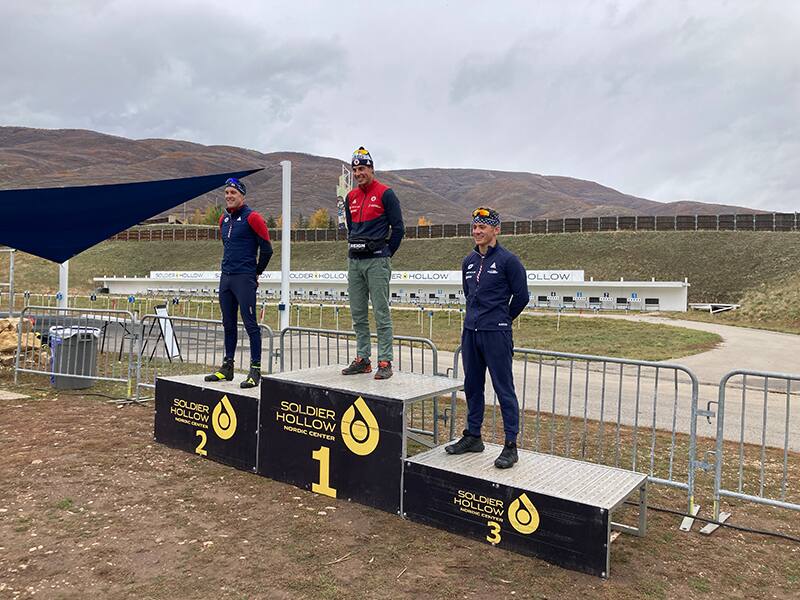 Soldier Hollow Head Biathlon Coach and Sport Program Manager, Zach Hall, was excited to have so many athletes on venue. "Hosting the first annual Schutzenski Festival with athletes from XC, Biathlon, and Nordic Combined competing was exciting for Soldier Hollow and the community" Hall said. "It is an honor to be part of the final fall preparations for many of the nation's top Nordic athletes!" Indeed, Soldier Hollow was the last stop for many athletes before they head to Europe or begin final preparations for the Olympic season ahead.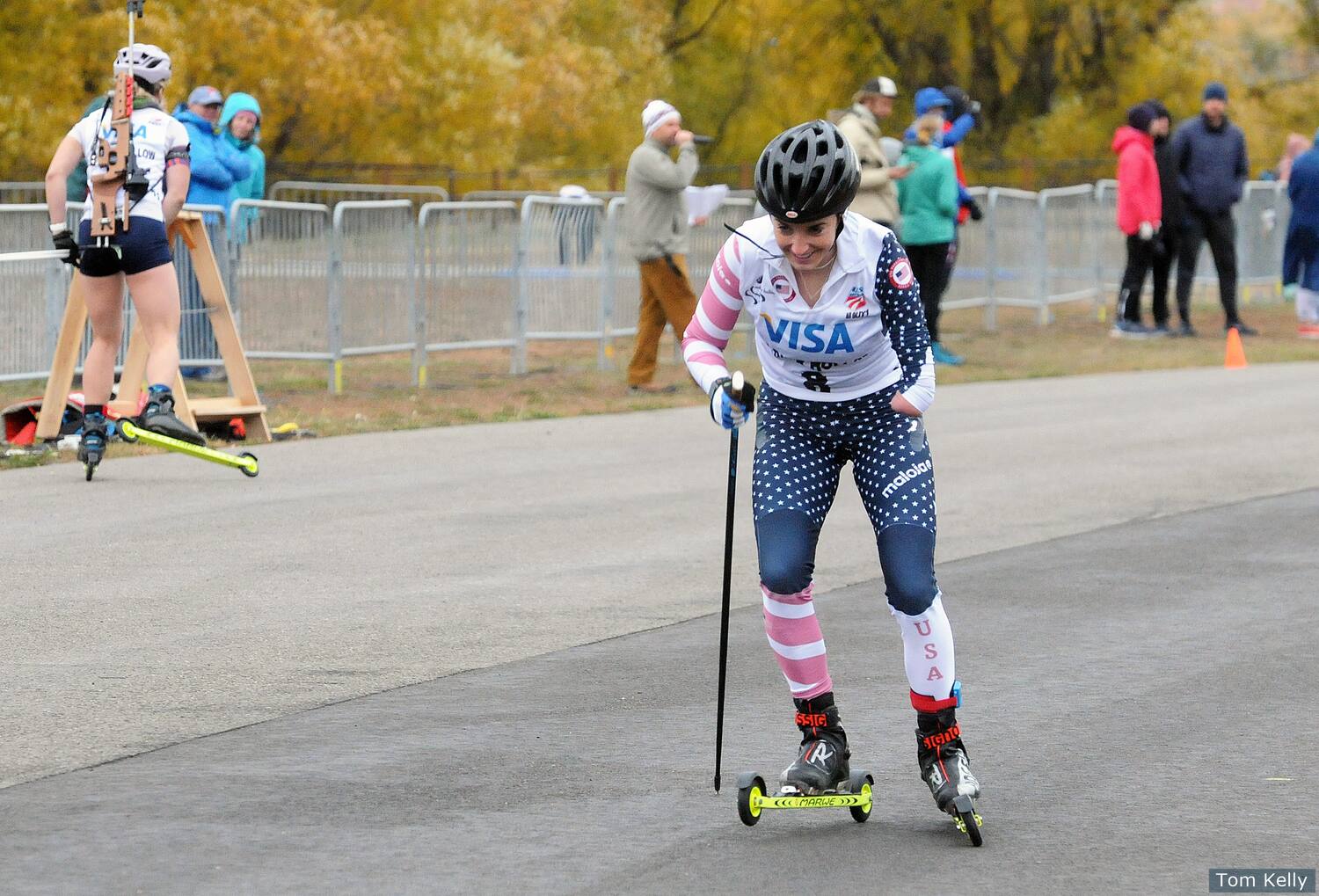 (photo:Tom Kelly)
Saturday kicked off with Biathlon Sprint races. Craftsbury GRP and USBA National Team member, Susan Dunklee, led the women's field, while National Guard Biathlon and USBA National Team athlete, Sean Doherty, took home the men's title, each shooting 9/10 on the day. Four US Para athletes also competed in the elite division, as they set their sights on Beijing 2022. The elite cross-country mass start skate races were next. University of Utah had a strong showing on both the men's and women's side, with Luke Jager taking the men's 10km win. But despite valiant efforts by the Ute women, SMS's Jessie Diggins won the day for the women's 10km.
Weather wasn't the typical Utah October sunny skies, but that did not stop nearly 50 biathletes from competing in the Wild West Shootout midday. With $100 gift cards to the top-three competitors on the line, National Team athletes went head-to-head with local kids and youth from around the country for the top shooter. Vasek Cervenka took home the win, with Paul Schommer and Clare Egan rounding out the top spots.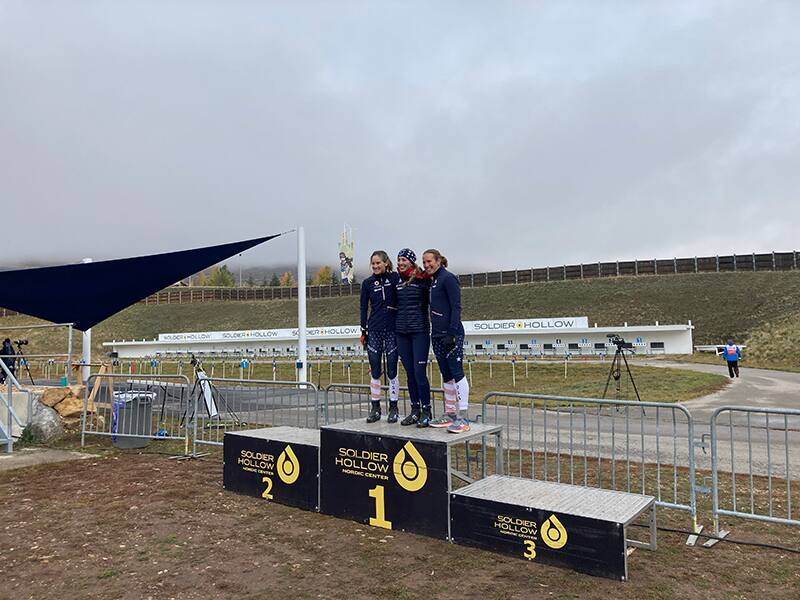 Saturday afternoon saw open race categories for both XC and Biathlon, with teams from around the west and as far as Alaska and Minnesota competing at the site of the 2022 Youth/Junior World Championships. On the Nordic side, Woody West of Bridger Ski Foundation and Kiera Stabile of Summit Nordic took home wins in the 6km skate. In the biathlon races, Brian Halligan of ASC took the open men's win, while local Team Soldier Hollow athlete Sarah Hottle took the win for the open women.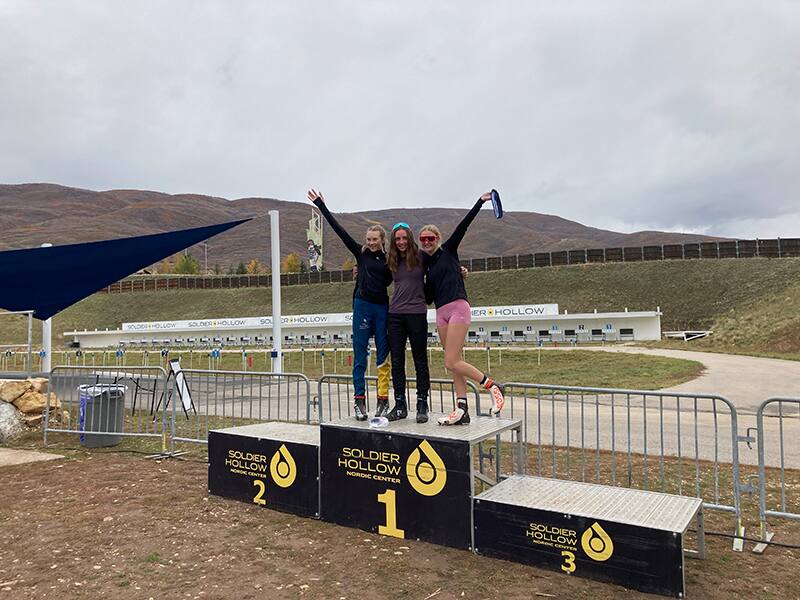 Sunday was mass start day for the biathletes and individual classic racing for the cross-country skiers. Cross country was up first, and Luke Jager squeaked out a repeat victory over his Utah teammate, Bjorn Rikaasen. On the women's side, with Diggins on a plane heading east the field was wide open. Mariah Bredal of the BSF Pro team took advantage and came home with a sizable victory in the women's 7.5km.
The mass start biathlon races had the advantage of a slightly later start on Sunday, and, as often happens, the women's race came down to an important last shooting stage. National Guard Biathlon and USBA National Team member Deedra Irwin cleaned and was able to hold off USBA teammate Clare Egan for the win with only 2 penalties on the day. On the men's side, USBA and Team Crosscut's Paul Schommer overcame three penalties to take the win over National Guard/USBA's Leif Nordgren.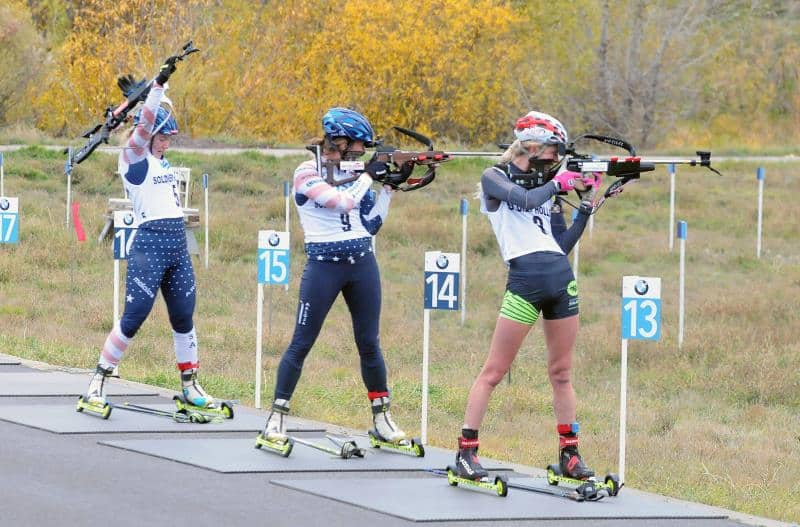 The open racers were able to watch their heroes race again and then test themselves against the same venue. Mt. Itasca's Matej Cervenka shot 90% over his four stages to blow the biathlon open men's field away, while Bogus Basin's Molly Maybach took the biathlon women's open race with consistent shooting and solid skiing. On the cross-country side, Clara Wyatt of Bridger Ski Foundation and teammate Woody West walked home with victories.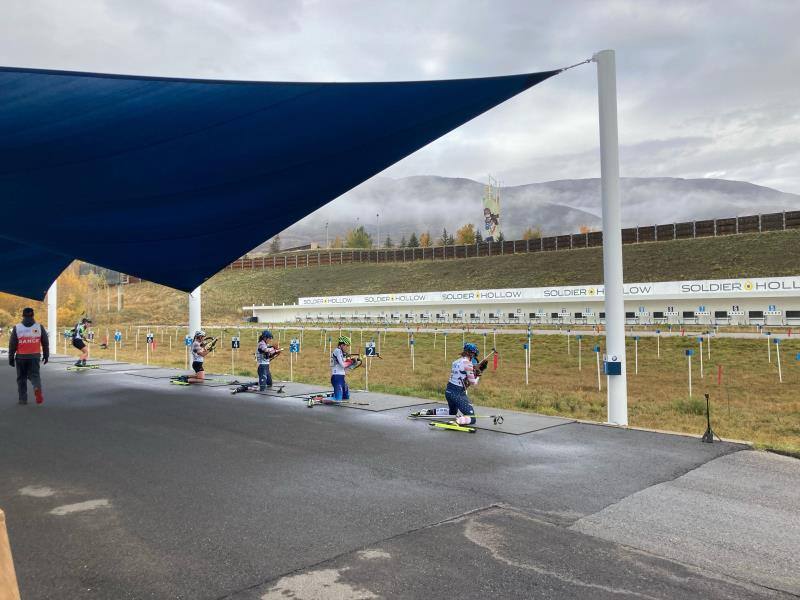 Having so much action on one venue was an advantage for young skiers and elites alike. "This weekend we had biathletes and cross-country skiers, including athletes from the Paralympic team, all training in the same place and mixing it up in races with each other" said US Biathlon National Team athlete, Clare Egan. "I love when an event can bring our Nordic community together like that" she continued. "We all share so much and can learn from each other – it just makes sense that we should get together whenever we can. I had a blast!" Soldier Hollow looks forward to continuing to host and expand the event in future years, and coaches and athletes alike are looking forward to being back for the annual event.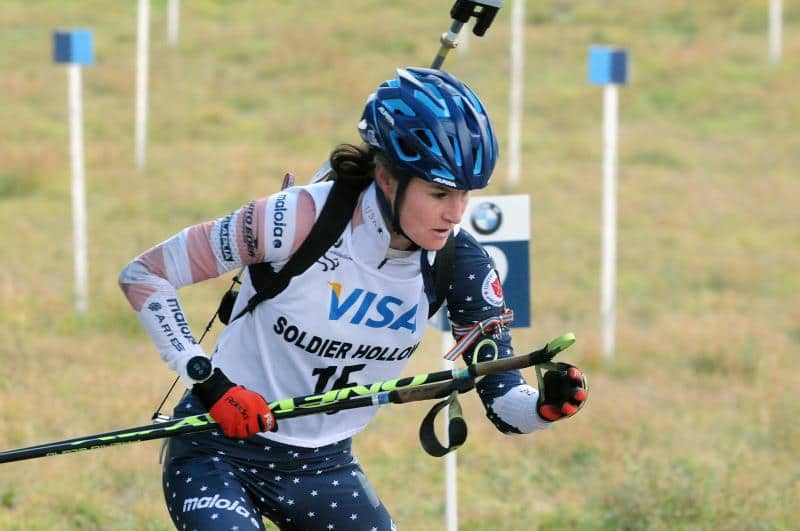 Biathletes were back in action in the rain and snow on Tuesday for the final races of World Cup and IBU Cup trials. While not part of the Schützenski Festival, the racers were just as focused without the prize money on the line. Clare Egan worked her way from third place on day one to take home the final win with only a single penalty. On the men's side, Paul Schommer walked away with his second victory of the series with two penalties.
USBA will name the World Cup and IBU Cup teams shortly based on qualifications from these races and the Summer Rollerski Biathlon Nationals in Jericho in August. Teams will depart for Scandinavia in just a few short weeks. We look forward to following these athletes on their journey towards Beijing!