Olympians to race at Oberhof World Cup this weekend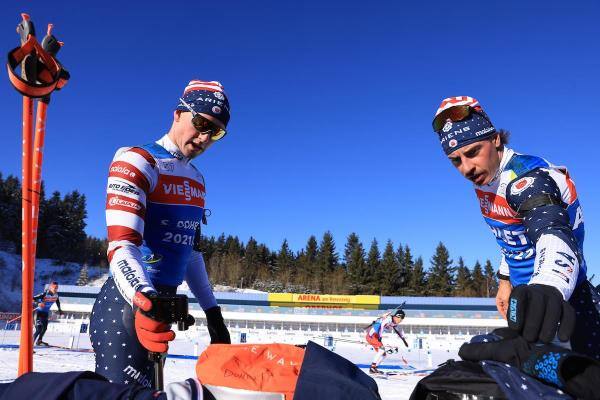 Sean Doherty (USA), Paul Schommer (USA) - IBU World Cup Biathlon, training, Oberhof (GER) Manzoni/NordicFocus
New Gloucester, ME - Four of the five pre-qualified members of the 2022 U.S. Olympic Team will compete Jan. 7-9 at the BMW IBU World Cup in Oberhof, Germany. The event will be the first of three World Cups held prior to the Beijing 2022 Olympic Games which begin Feb. 4.
Slated to compete for Team USA are Susan Dunklee (Craftsbury, Vt./Craftsbury Green Racing Project & USBA), Jake Brown (St. Paul, Minn./Craftsbury Green Racing Project & USBA), Sean Doherty (Center Conway, N.H./National Guard Biathlon & USBA) and Paul Schommer (Appleton, Wis./Team Crosscut & USBA).
Doherty was recently nominated for his third U.S. Olympic Team on Monday after winning both the sprint and pursuit races at the U.S. Biathlon Olympic Trials in Arber, Germany, last weekend.
"After a few days to recover I think I will be ready to scrap it out in some crazy conditions here in Oberhof," said Doherty.
The crazy conditions referenced by Doherty are the recent unseasonably warm temperatures in the Oberhof area which have led to the men's sprint being moved from Thursday to Friday. The balmy conditions have also led organizers to use stored snow from their snow depot to restore the track. Snow and colder temperatures are expected to be in place for the weekend races, which consist of sprints on Friday, mixed relays on Saturday and pursuits on Sunday. However, due to stricter COVID-19 protocols put in place, no spectators will be on the course to cheer the athletes.
Dunklee, competing in her final year of biathlon competition, is hungry to race again after opting to skip the final World Cup in December to take advantage of a longer training block at home in Vermont, but her trip back to Europe was more than she bargained for due to weather delays and COVID-impacted flight crews.
"I don't think I'd be in Germany racing this week if it wasn't for one particularly dedicated airline customer service agent," Dunklee said. "It really does take an incredible number of people supporting an athlete in all different areas for them to be successful, whether that is logistic and travel support, ski preparation, or coaching."
The fifth pre-qualified member of the U.S. Olympic Team, Clare Egan (Cape Elizabeth, Maine/Craftsbury Green Racing Project & USBA) is participating in an altitude camp in Antholz, Italy, this week in preparation for the Beijing Games.
The final roster nominations to the U.S. Olympic Team will be announced on Sunday, Jan. 9, at the conclusion of competition at the IBU Cup in Brezno-Osrblie, Slovakia. That event serves as the final Olympic trials event for U.S. Biathlon.
Following the Oberhof competition, the BMW IBU World Cup circuit will move to Ruhpolding, Germany (Jan. 12-16), and then Antholz-Anterselva, Italy (Jan. 20-23), as the final tune-up before the Olympic Games.
Check out the Watch Biathlonschedule for viewing options of this weekend's races. You can also follow all the action on the IBU app - download it today!
https://apps.apple.com/app/official-ibu-app/id1581415457?l=en