Eight Athletes Prepare for Junior Open European Championships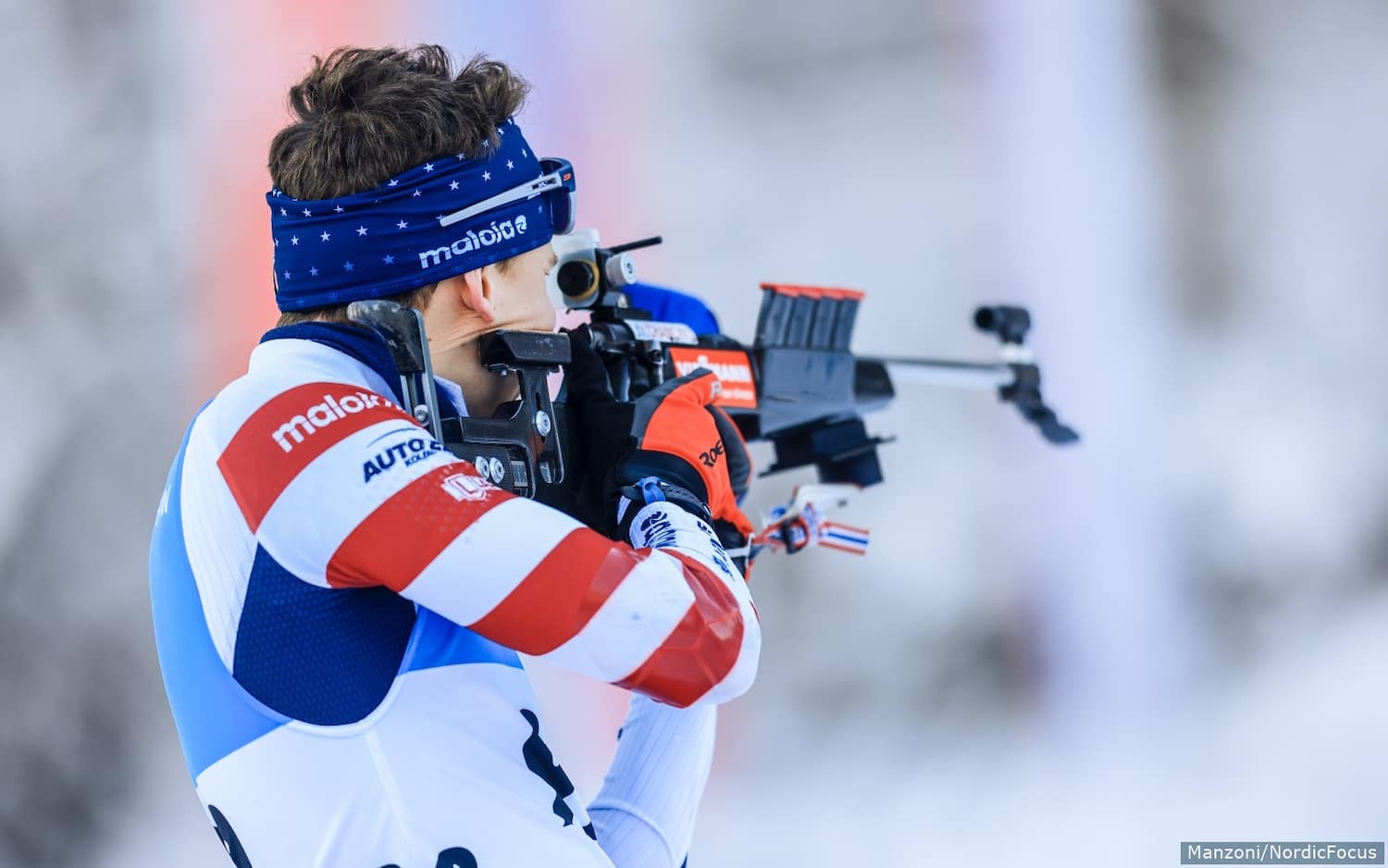 Maxime Germain takes aim on the range during the BMW IBU World Cup in Ruhpolding, Germany, on Jan. 13, 2022.
As the 2022 IBU Junior Open European Championships get underway Wednesday in Pokljuka, Slovenia, eight biathletes will take to the tracks representing Team USA. Four days of racing over the span of five days will include competition in the individual, relay, sprint and pursuit.
The U.S. team tuned up for the event at last week's IBU Junior Cup on the same Pokljuka tracks with some impressive results. Wes Campbell (Park City, Utah/Team Soldier Hollow) finished 19th in the men's 10km sprint on Jan. 13, while Aurora Cramer (Boise, Idaho/Sun Valley Ski Education Foundation), competing in her first international event, placed 25th and 36th in her two sprint races.
"I knew that international competition was going to be a very distinct and different experience from racing domestically," said Cramer. "I was expecting to be the youngest athlete there, and finish in the back to middle of the pack. In Europe, a single miss can drop you 10 to 20 places with such a dense field, whereas back home I could afford to miss upwards of three times and still be on the podium."
Campbell and Cramer also teamed with Nikolas Burkhart (Olympic Valley, Calif./Team Crosscut) and Cheresa Bouley (Zimmerman, Minn./Minnesota Biathlon) to finish ninth in the mixed relay.
"Last week, the team got off to a great start at the Junior IBU Cup," added U.S. Biathlon Director of Athlete Development Tim Burke. "We had many personal bests throughout the week, and I look forward to watching the team build off that success this week at the Junior Open European Championships."
Rounding out the U.S. men's team at this week's competition are Vincent Bonacci (Salt Lake City, Utah/Team Crosscut), Maxime Germain (Anchorage, Alaska/National Guard Biathlon) and Thor Sheppard (West Yellowstone, Mont./Altius Biathlon). Joining Cramer and Bouley on the women's squad is Lexie Madigan (Truckee, Calif./Team Crosscut).
The U.S. biathletes will use this week's event as a measuring stick and final tune-up for next month's IBU Youth/Junior World Championships on home soil at Soldier Hollow, Utah.
"Racing these juniors as a youth can be intimidating, however, I know that I qualified to be here so I know that I can race the older competitors and still do well," Campbell said. "Racing these older athletes and being able to do fairly well does give me a slight confidence boost for the Youth/Junior World Championships because doing well against juniors implies that I will hopefully have some good races at the youth level.
IBU Junior Open European Championships – Pokljuka, Slovenia (all times EST)
Wednesday, Jan. 19
4:30 am – Women's 12.5km individual
8:00 am – Men's 15km individual
Thursday, Jan. 20
4:30 am – Single mixed relay
8:00 am – Mixed relay
Saturday, Jan. 22
4:30 am – Women's 7.5km sprint
8:00 am – Men's 10km sprint


Sunday, Jan. 23
4:30 am – Women's 10km pursuit
8:00 am – Men's 12.5km pursuit