U.S. Biathletes Post 13 Top-20 Results During IBU Cup Season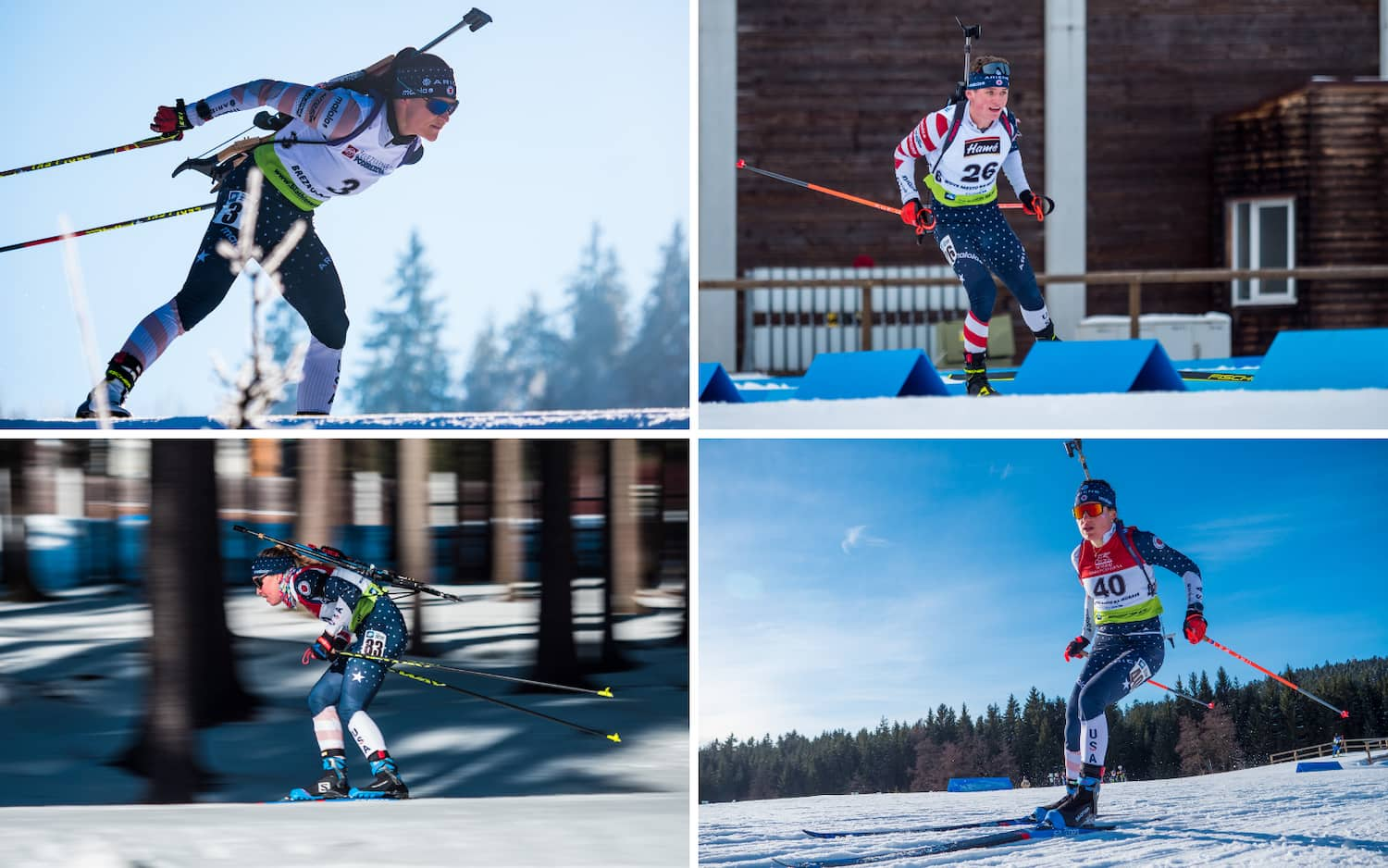 Clockwise from top left: Joanne Reid, Vasek Cervenka, Hallie Grossman and Kelsey Dickinson (photos by Igor Stancik)
A strong showing by U.S. biathletes on the IBU Cup circuit resulted in 13 top-20 finishes during the 2021-22 season, including three top-10s.
Olympic Team member Joanne Reid (Grand Junction, Colo.) turned in the best performance with a seventh-place finish in the women's sprint in Brezno-Osrblie, Slovakia, on Jan. 14, followed closely by Vasek Cervenka's (Grand Rapids, Minn./National Guard Biathlon & USBA) ninth place in the men's super sprint final in Sjusjoen, Norway, on Dec. 1.
"A fun race where between the qualifying round and the final I had only missed one shot," said Cervenka of the Sjusjoen IBU Cup. "This race may only be a ninth in the results book, but it proved to me I had what it takes to get legitimate results at some of the highest levels of international competition, which led to a season of races I was proud of."
Reid also finished 11th in the women's pursuit in Brezno-Osrblie and Cervenka added a 12th-place finish in the men's sprint in Arber, Germany, on Jan. 28.
The third top-10 result of the season for the U.S. team was recorded by Kelsey Dickinson (Winthrop, Wash./Craftsbury Green Racing Project) with her 10th-place finish in the women's mass start 60 in Lenzerheide, Switzerland, on March 6.
"The Mass Start 60 is an awesome format of race," Dickinson said. "I like it more than the pursuit format because not starting with a time deficit from a previous race makes it easier to take advantage of opportunities that arise. I had amazing skis and was riding some confidence from the super sprint, where I had qualified 10th and ended up 20th in the final, which helped motivate me to go for it and not worry so much about possible failure."
Some of the newcomers to the IBU Cup races who found success on the international stage included Amanda Kautzer (Plymouth, Minn./Team Crosscut), Tara Geraghty-Moats (West Fairlee, Vt./Craftsbury Green Racing Project) and Scott Lacy (Aspen, Colo./Team Crosscut).
Kautzer finished 28th in the women's pursuit in Brezno-Osrblie on Jan. 15, Geraghty-Moats was 43rd in the women's sprint in Nove Mesto, Czech Republic, on Feb. 5, and Lacy enjoyed a 27th-place finish in the men's sprint (March 3) and a 40th-place finish in the men's mass start 60 (March 6) in Lenzerheide.
"The funny thing about the sprint where I placed top American and 27th overall was a day I wasn't sure I was going to make it to the start line," said Lacy. "I slept terribly, was exhausted, banged my shin to the point of limping while getting into the van and wasn't mentally present. During zero and warm-up I decided I had nothing to lose and could pull myself together for a solid effort at the very least. Then boom, it was an incredible race results-wise."
More great IBU Cup performances were turned in by Hallie Grossman (Craftsbury, Vt./Craftsbury Green Racing Project) at the final stop in Ridnaun-Val Ridanna, Italy, where she posted a pair of 23rd-place finishes in the women's sprint and women's pursuit, the final individual races of her career.
"My season was a lot of fun this year, mostly because I was able to see significant progress in both my shooting and skiing," Cervenka said. "I had a good training year going into the season. It was my first year training fully with the Senior National Team and they took me right under their wings. The men's team was a group of awesome, hard-working guys and we had productive time playing off each other's strengths over the summer which led into my best season yet."
"The season was incredible," added Lacy. "I had set my goals on qualifying for the IBU Cup after strong results at Summer Nationals in Jericho, but then had a rough go in Soldier Hollow resulting in missing the period 1 races in Europe. Finally making it over around New Year's had me find all my expectations were met and beyond. Racing in Europe with USA across your back, seeing national teams from all over and skiing on courses that were fast, technical and fun, I was loving it."
Said Dickinson: "I think that what I will remember the most about this IBU Cup season are the moments where I was able to celebrate the success and resilience of my teammates. There are lots of highs and lows within a season and supporting and being supported by our family on the road made it memorable. I also think that being able to turn my disappointment at not making the Olympic Team into success at the end of the season was a definite high point."