A Bronze Finish for Germain at Junior World Championships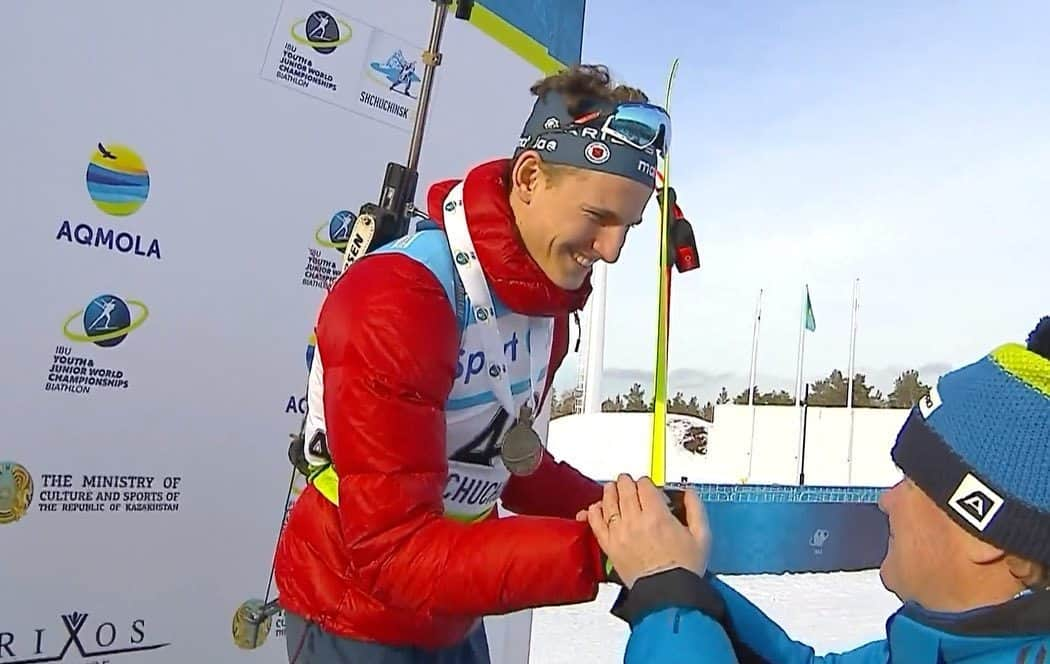 Maxime Germain receives congratulations on the podium after his bronze-medal performance

SHCHUCHINSK, Kazakhstan - Maxime Germain (Chamonix-Mont Blanc, FRA/National Guard Biathlon) raced a career-best third place as a junior in the 10-kilometer sprint on March 11 at the 2023 IBU Youth/Junior World Championships. Germain was able to keep strong ski speed throughout the race and earn himself a spot on the podium after only missing one target and finishing 46.6 seconds back of winner Campbell Wright of New Zealand. A day later, Germain capped off the championships with a fifth-place finish in the 12.5km pursuit.
"Yesterday was one of those special days for the team," said U.S. Biathlon Director of Athlete Development Tim Burke. "We knew coming into these championships that we had multiple athletes with medal potential, but it's a whole other challenge to actually make that happen. Maxime did a fantastic job of attacking right from the start and keeping his composure on the range. He executed a near-perfect race to claim the bronze medal."
The day was successful in all aspects for the U.S. team. In addition to Germain's medal, three of his teammates also placed in the top 40 and qualified for the junior men's 12.5km pursuit. Bjorn Westervelt (Stowe, Vt./University of Vermont & USBA) finished 18th (+1:57.1), Nikolas Burkhart (Olympic Valley, Calif./Crosscut Mountain Sports Center Elite Team) placed 29th (+2:37.3), and clean-shooting Van Ledger (Lake Placid, N.Y./Crosscut Mountain Sports Center Elite Team) was 37th (+2:58.8).
All four of Team USA's female junior competitors…Grace Castonguay (Jackson, N.H./Team Soldier Hollow), Hannah Chipman (Norwich, Vt./Dartmouth College), Dolcie Tanguay (Fort Kent, Maine/Paul Smith's College & NYSEF) and Helen Wilson (Eagle River, Alaska/Crosscut Mountain Sports Center Elite Team)...also qualified for the junior women's 10km pursuit.
"It was a great day for the entire team", Burke added. "We had every junior athlete qualifying for the pursuit competition, which is a first for our team."
The U.S. also placed five youth athletes in the pursuit races with Virginia Cobb (Westford, Vt./Ethan Allen Biathlon Club) turning in the best performance with 26th place in the women's event. Other youth division athletes qualifying for the pursuit were Matej Cervenka (Grand Rapids, Minn./Minnesota Biathlon), Thor Sheppard (West Yellowstone, Mont./Team Altius & BATC), Elias Soule (Anchorage, Alaska/Anchorage Biathlon Club) and Alexandra Rud (Jar, Norway/Duluth Biathlon).