IBU World Championships Begin 11-Day Run in Pokljuka on Feb. 10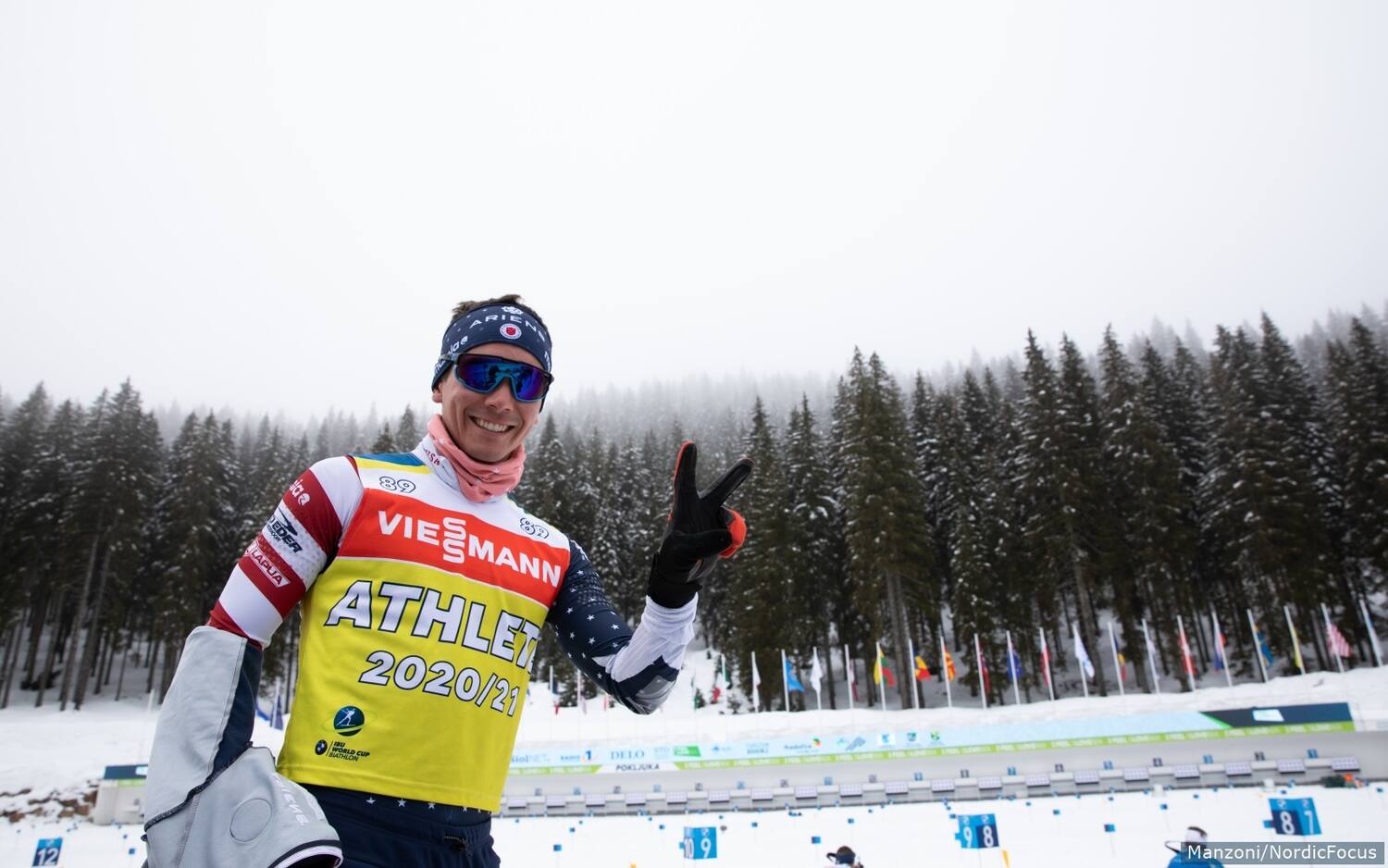 Jake Brown acknowledges the camera during a training session in Pokljuka ahead of this week's IBU Biathlon World Championships (photo by NordicFocus)

On Wednesday, the mixed relay event will open the 11-day IBU Biathlon World Championships in Pokljuka, Slovenia, but the annual highlight of the IBU schedule will, as with most sporting events, look drastically different this year.
As the more than 300 athletes from 38 countries descend on Pokljuka, gone will be the throngs of biathlon-mad fans that fill the stands and line the course, cheering on and propelling athletes from every country to perform at levels they didn't think possible. But with nearly a year of events sans fans under their belts, it's safe to say the athletes are becoming accustomed to the empty stadiums.
"By this point, we have now been racing for a few months and I see world championships as another opportunity to perform," said Paul Schommer (Appleton, Wis.). "I know we keep hearing others say this year is different, but I don't really think it is that different. We still have a championships this year and I think every athlete here doesn't see it differently than any past championships. There is not going to be an asterisk next to any performances this week."
"It feels normal now, although I would still prefer to have the fans," added teammate Jake Brown (Saint Paul, Minn.) who will be racing in his third straight IBU World Championships. "I'm really excited for it. We had a good bit of training in Antholz (Italy) last week and I'm feeling rested and ready to rip."
Echoing Brown's sentiments is 2018 Olympian and veteran of five IBU World Championships, Clare Egan (Cape Elizabeth, Maine): "I am looking forward to racing again in Pokljuka where I've had some of my best results."
Indeed. Although Egan has yet to race in a world championship at the venue located in the Julian Alps, she has conquered the Pokljuka terrain to the tune of two sixth-place IBU World Cup finishes in the individual and the pursuit.
Brown also finds the trails at Pokljuka to his liking.
"I like the track here," he said. "I think the course is creative, challenging, technical and flowy. I like skiing the fast downhills, the quick turns and the short, punchy climbs. I'm hoping that I can race fast on them, too. I think I'd prefer to have a few longer climbs to make this course harder, but as far as ski courses go, I think it is a fun one."
Brown will be joined on the U.S. men's team by two-time Olympians Leif Nordgren (Hinesburg, Vt.) and Sean Doherty (Center Conway, N.H.), as well as Schommer and Max Durtschi (Ketchum, Idaho), both competing in their second world championships.
Nordgren will be racing in his ninth career world championships. At last year's event, he enjoyed the highest finish of his career, placing eighth in the 20km individual. Doherty's best world championship performance also came in the 20km individual when he finished 17th in 2019. This will mark the sixth world championships for the 25-year-old Doherty.
The U.S. women's roster includes Egan and her 2018 Olympic teammates Susan Dunklee (Barton, Vt.) and Joanne Reid (Grand Junction, Colo.), along with Chloe Levins (Rutland, Vt.) and Deedra Irwin (Pulaski, Wis.) who are both competing in their first senior-level world championships.
Dunklee is a two-time silver medalist at worlds, placing second in the mass start in 2017 and second in the sprint last year in Antholz, Italy. Egan came close to two top-10 finishes in 2019 when she placed 11th in the sprint and 12th in the pursuit. She enters this year's event ranked 26th in the IBU World Cup standings. Reid will be competing in her fourth world championships and boasts a career-best 10th-place finish in the 2019 mass start. She also finished 15th in the sprint that year.
Competition at the IBU World Championships gets underway on Wednesday, Feb. 10, with the mixed relay as Doherty, Brown, Reid and Egan team up for the United States. Here is the full IBU World Championships schedule:
Wed., Feb. 10 - Mixed relay (9:00 a.m. EST)
Fri., Feb. 12 - Men's km sprint (8:30 a.m. EST)
Sat., Feb. 13 - Women's 7.5km sprint (8:30 a.m. EST)
Sun., Feb. 14 - Men's 12.5km pursuit (7:15 a.m. EST) & women's 10km pursuit (9:30 a.m. EST)
Tue., Feb. 16 - Women's 15km individual (6:05 a.m. EST)
Wed., Feb. 17 - Men's 20km individual (8:30 a.m. EST)
Thurs., Feb. 18 - Single mixed relay (9:15 a.m. EST)
Sat., Feb. 20 - Women's 4x6km relay (5:45 a.m. EST) & men's 4x7.5km relay (9:00 a.m. EST)
Sun., Feb. 21 - Women's 12.5km mass start (6:30 a.m. EST) & men's 15km mass start (9:15 a.m. EST)
All events will air live on Peacock and the Olympic Channel with same-day or next-day coverage available on the NBC Sports Network (NBCSN). For a full broadcast schedule click HERE.