U.S. Biathlon Riding High Entering Final World Cup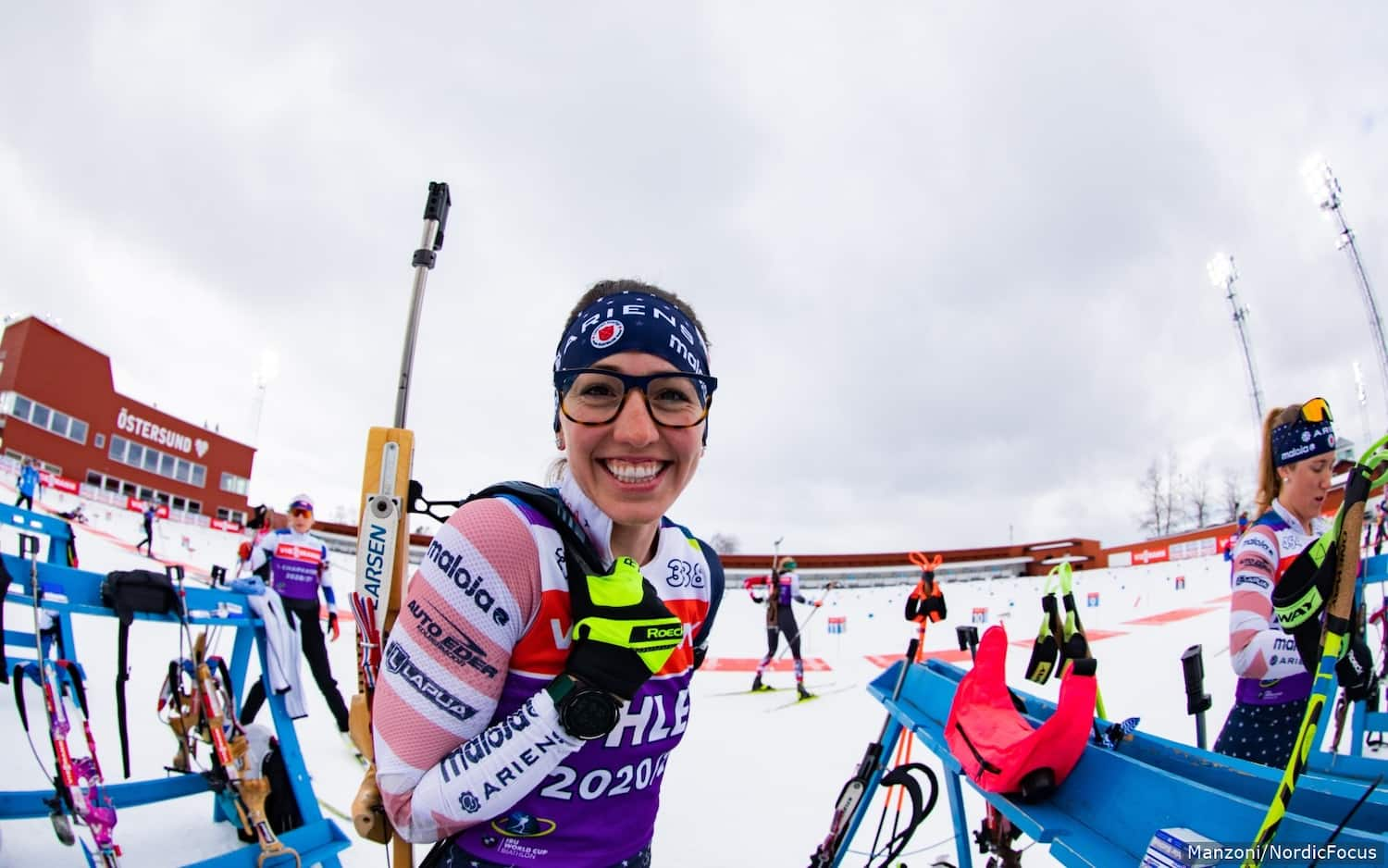 Deedra Irwin smiles for the camera during a U.S. Biathlon training session in Ostersund, Sweden, on March 18, 2021 (photo by Nordic Focus)
OSTERSUND, Sweden (March 18, 2021) – Coming off some great team successes at the most recent BMW IBU World Cup events in Nove Mesto, Czech Republic, the U.S. Biathlon team looks to carry that momentum into the season's final World Cup races this weekend in Ostersund, Sweden.
"Having a good weekend in Nove Mesto gives us confidence that despite it being the end of the season we are still holding onto our fitness well," said Jake Brown (Saint Paul, Minn.). "Hopefully, we can stay focused on doing our tasks this week and have some more great races this weekend."
Over the past two weeks, the U.S. women's relay team posted its best finish (6th) since 1994, Susan Dunklee (Barton, Vt.) met the standards for early qualification to the 2022 U.S. Olympic Team with back-to-back 8th-place finishes on consecutive days, and Dunklee teamed up with Sean Doherty (Center Conway, N.H.) to win the bronze medal in the single mixed relay, the same day the U.S. mixed relay foursome also cracked the top-10 with a 6th-place performance.
"Until our races in Nove Mesto, I had never been part of a relay team which placed better than 8th, and then suddenly we finished 6th twice in as many weeks in the women's relay and mixed relay," noted Clare Egan (Cape Elizabeth, Maine). "I've struggled in my individual races since the beginning of the new year, but I am trying to carry the confidence from my relay performances into Friday's sprint (in Ostersund)."
To veterans like Egan, finishing the World Cup season in Ostersund seems completely backward, as the Swedish venue is usually the opening stop of the World Cup circuit.
"It is a bit strange to be ending the season where we usually start it," Egan noted. "I associate Ostersund with the feelings of hope and excitement I have when the whole season lies ahead. I'm using that energy to reframe this weekend's 'last chance' pressure into another opportunity to practice what I've trained for."
One change for the U.S. team heading into the Ostersund World Cup is Chloe Levins (Rutland, Vt.) replacing Joanne Reid (Grand Junction, Colo.) on the women's roster for the final event.
"I'm beyond excited to get to return to Sweden for the final World Cup races," said Levins, who is finishing up her first season of senior competition. "The level of competition, intensity, and focus at the World Cup provides an atmosphere I crave to take part in. It's a privilege to race and train amongst the best, so I plan to make the most of it and cherish every moment. I'm extremely grateful to U.S. Biathlon for believing in me and filling all the start spots for the World Cup finale. It'll be a great opportunity to keep learning and bring my first season as a full-time biathlete to an end with some motivation for the future."
Levins will join Egan, Dunklee and Deedra Irwin (Pulaski, Wis.) in the women's competitions, while the U.S. men's team will consist of Brown, Doherty, Leif Nordgren (Hinesburg, Vt.) and Paul Schommer (Appleton, Wis.).
Racing begins Friday and all events will be streamed live on Peacock, with Friday's sprints also shown on The Olympic Channel. Find full schedule HERE.
BMW IBU World Cup #10 Schedule – Ostersund, Sweden (all times Eastern):
Friday, March 19
7:30 am – Women's 7.5km Sprint
10:30 am – Men's 10km Sprint
Saturday, March 20
7:15 am – Women's 10km Pursuit
10:15 am – Men's 12.5km Pursuit
Sunday, March 21
8:00 am – Women's 12.5km Mass Start
10:30 am – Men's 15km Mass Start