U.S. Equals Best Mixed Relay Finish at Olympics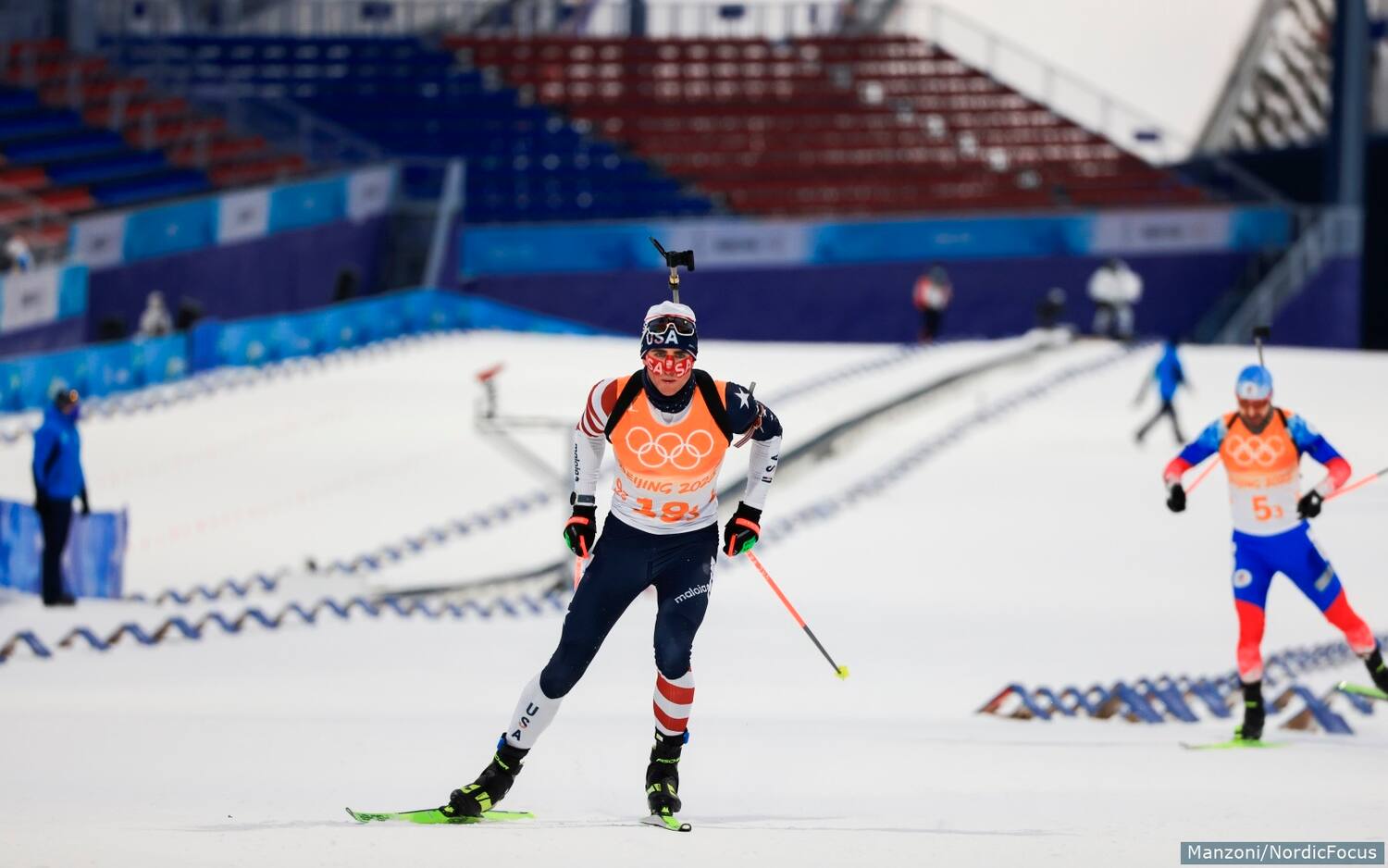 Sean Doherty races the third leg of the mixed relay at the Beijing 2022 Winter Games on Feb. 5.
BEIJING, China (Feb. 5, 2022) – The American quartet of Susan Dunklee Craftsbury, Vt./Craftsbury Green Racing Project & USBA), Clare Egan (Cape Elizabeth, Maine/Craftsbury Green Racing Project & USBA), Sean Doherty (Center Conway, N.H./National Guard Biathlon & USBA) and Paul Schommer (Appleton, Wis./Team Crosscut & USABA) finished seventh in the mixed relay Saturday as the Beijing 2022 Winter Games biathlon competition got underway at the Zhangjiakou National Biathlon Center. The result tied the best-ever finish for Team USA in an Olympic mixed relay, equaling their seventh place at the Sochi 2014 Winter Games. The U.S. finished 15th four years ago in PyeongChang, Korea.
The race began under clear skies but with gusty winds cutting across the shooting range.
Starting toward the back of the field in the 19th position, Dunklee used three spare rounds in prone and another two spares in standing but moved the U.S. into 10th position as she made the first exchange with Egan.
"This is one of the coldest races we've seen in a few years," said Dunklee. "Just keeping your hands warm enough to be able to handle the rifle and magazines is really tough. And we've got some crazy winds and I think that's throwing a lot of people off. The important thing was I stayed out of the penalty loop and I tagged off enough in the mix that Clare was really able to take it and run with it."
Egan turned in the second-fastest second leg with just one spare in prone and clean shooting in standing. She left the range in third place just ahead of Sweden Elvira Oeberg and made the tag for the third leg to Doherty in fourth place, 29 seconds back of the leader France.
"This is certainly a great way for me to start the 2022 Olympics," Egan said. "Our skis were excellent. Our wax techs have really been working hard. They've come here twice in preparation for the Olympics, getting some research done on the snow and how they can best prep our skis, and that really paid off today. I worked really hard to stay with people out on the track to be able to draft which is really important when there's this much wind, and I managed on the shooting range really well so I'm really satisfied with my race."
Doherty mirrored Egan's marksmanship on the range, needing just one spare in prone and cleaning standing in just 53.8 seconds of range time, the fastest time in the field for the third leg. His performance maintained fourth position for the Americans as he made the final exchange to Schommer, just 18.5 seconds back of the lead and a mere 1.2 seconds out of medal contention.
"I wasn't that close to second place when I came into shooting," Doherty said of his standing stage. "The focus was all on the target and I came out there and I was like 'Let's see how fast we can get this last lap done.' It was fun to have made that great stage and make those shots count."
Schommer, in the first Olympic competition of his career, ended up with a penalty in prone but finished strong with two spares in standing to bring the team home in seventh, 2 minutes, 12.7 seconds back.
"It's always a bummer to do loops in the relay," said Schommer of his penalty in prone. "It's always a goal to stay out of the penalty loop but at the end of the day, it's still biathlon. The wind switched on me in the last shooting and it just made it difficult. The same luck for us that we got early on seems like the other teams got at the end. I think we're in a really great spot as a team. I think we're fit. I think our shooting is really good. We've had a lot of good work here in the wind at this venue and there's a lot of chances still to have that success that we're really hoping for."
Norway's Johannes Thingnes Boe sprinted past Russian Olympic Committee's Eduard Latypov in the final 100 meters to give Norway the first biathlon gold medal of the Games. Boe teamed with Marte Olsbu Roeiseland, Tiril Eckhoff and his brother, Tarjei Boe, for a time of 1:06:45.6, with three penalties and 13 spare rounds. France, the 2018 gold medalists, also moved past the ROC team to take silver, just 0.9 seconds back, with the ROC claiming bronze, 1.5 seconds behind Norway.
After a rest day on Sunday, the biathlon competition will resume Monday with the women's 15-kilometer individual beginning at 4:00 a.m. EST.
Mixed Relay results
| | | |
| --- | --- | --- |
| 1. | Norway (Roeiseland, Eckhoff, J.T. Boe, T. Boe) | 1:06:45.6/3+13 |
| 2. | France (Chevalier-Bouchet, Simon, Jacquelin, Fillon Maillet) | +0.9/3+11 |
| 3. | ROC (Nigmatullina, Reztsova, Loginov, Latypov) | +1.5/1+13 |
| 7. | USA (Dunklee, Egan, Doherty, Schommer) | +2:12.7/1+12 |
Check out the Watch Olympic Biathlon schedule for viewing options of all the races from Beijing. You can also follow all the action on the IBU app - download it today!
https://apps.apple.com/app/official-ibu-app/id1581415457?l=en
https://play.google.com/store/apps/details?id=at.ibu.app
Biathlon Event Schedule for Beijing 2022 Olympic Games (all times EST)
Saturday, Feb. 5
4:00 am – Mixed relay
Monday, Feb. 7
4:00 am – Women's 15km individual
Tuesday, Feb. 8
3:30 am – Men's 20km individual
Friday, Feb. 11
4:00 am – Women's 7.5km sprint
Saturday, Feb. 12
4:00 am – Men's 10km sprint
Sunday, Feb. 13
4:00 am – Women's 10km pursuit
5:45 am – Men's 12.5km pursuit
Tuesday, Feb. 15
4:00 am – Men's 4x7.5km relay
Wednesday, Feb. 16
2:45 am – Women's 4x6km relay
Friday, Feb. 18
4:00 am – Men's 15km mass start
Saturday, Feb. 19
4:00 am – Women's 12.5km mass start