A Successful Weekend of Racing at the 2023 Summer National Championships
New Gloucester, ME – Ethan Allen Biathlon Club, three-time host of the Summer US Biathlon National Championships, pulled off yet another successful weekend of racing in Jericho, VT August 4-6. The sun shined for both days of competition, luckily dodging last year's intense humidity.
"This was one of the largest US Rollerski Biathlon events that we have held with 127 international competitors ranging in age from 11 to almost 70 years old," said Race Director John Madigan. "The fields were very competitive with a lot of athletes from across the US and Canada making the trip. The growth in the younger kids categories is a wonderful sign of the progress the sport of biathlon is making in North America. On top of all that, this year's event enjoyed some of the best summer weather we have seen."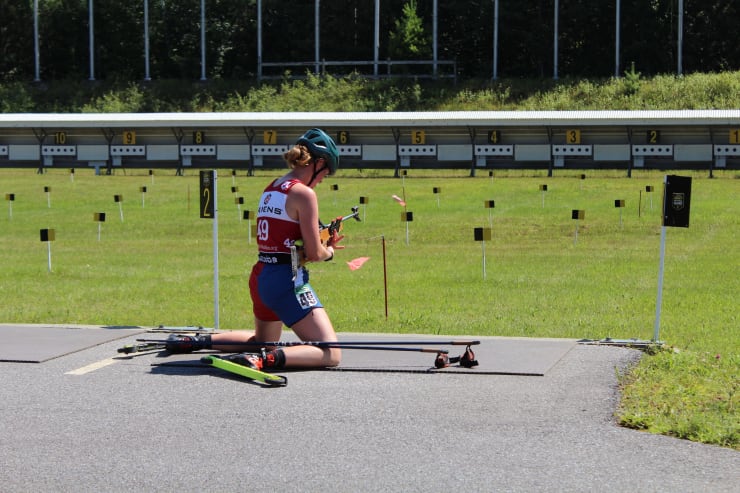 Summer Nationals is a unique opportunity for masters, junior, and young athletes to be together with some of the best senior athletes in the country. Although Summer Nationals is not part of the World Cup or IBU Cup qualification process, a number of national team and junior national team athletes showed up and competed, making for two days of intense competition.
U.S. Biathlon National Team member and National Guard biathlete Deedra Irwin claimed the victory in Saturday's sprint shooting clean with a time of 20:37. Craftsbury Green Racing Project athlete Kelsey Dickinson took second, and NYSEF's Lina Farra took third place, finishing 03:22 behind Irwin. Sunday's mass start saw similar results with Irwin in first and Dickinson in second. U.S. Biathlon Project X and Green Racing Project athlete, Margie Freed, took third with a stellar race.
"It felt really great to race Summer Nationals in Jericho again. I love seeing all the athletes from all over the country coming together to compete," said Deedra Irwin. "Being someone who came to the sport later in life, it excites me for the future of biathlon to have so many young athletes dreaming big and racing hard. I was really happy with my races, but winter is still a few months away and there's still a lot of work to be done. It was a nice check in on my fitness and shooting skills."
On the men's side, U.S. Biathlon National Team member and Crosscut biathlete Paul Schommer found himself on top of the podium in both Saturday's sprint and Sunday's mass start, an impressive feat for Schommer, whose season was cut short due to knee surgery. "Racing in Jericho is a great test during the summer," said Schommer. "You can see where you are at, and what you still need to do before the winter." Sean Doherty and Vaclav Cervenka, both U.S. Biathlon National Team members and National Guard biathletes, took second and third in Saturday's sprint. Cervenka moved up a spot finishing second in Sunday's mass start, while his national team teammate, Vincent Bonacci, finished third.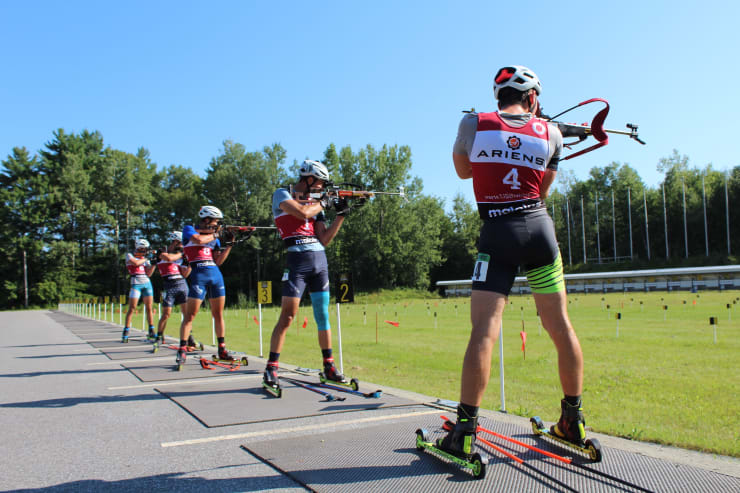 "It is a great festival atmosphere with kids new to the sport getting a chance to be part of a large event that includes our National Team athletes," said Madigan. "The banquet was a wonderful celebration for athletes, coaches, parents and friends coming together for a meal and an inspirational and thoughtful presentation by Susan Dunklee."
Race results from the weekend can be found HERE.
In addition to Summer Nationals, the National Guard biathlon program celebrated 50 years on Saturday. The event happened right at the Ethan Allen Firing Range, home to the program, following the medal presentations for the sprint races. National Guard soldiers, former Olympic athletes, alumni, family and friends all convened to celebrate the program and its accomplishments. Sean Doherty and Deedra Irwin were among those who received plaques for their contributions to the program, as well as their Olympic experiences.
"Getting to hear the amazing history of the National Guard biathlon program was inspiring," said Irwin. "It's important to celebrate the people in the program that paved the way for biathlon in the US. I had a great time meeting past athletes, coaches, administrators, and Olympians. I was honored to be among those who have served our nation and shaped US Biathlon history."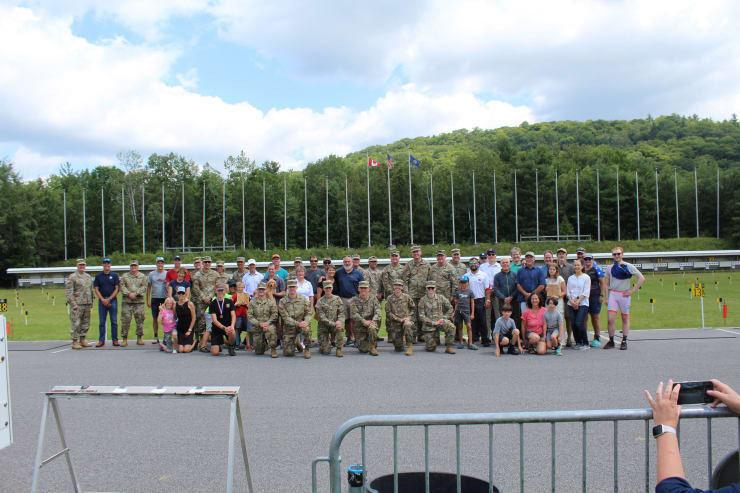 The US biathlon community will head west for the annual Schützenski Festival and World Cup/IBU Cup trials races at Soldier Hollow, Utah Oct. 12-15. On top of biathlon races, the festival will include an array of activities including running and walking races, biathlon Officials training, XC races and social events. Check out their website for more information.
Additional photos from the event: