Clean Shooting Propels Dunklee to World Cup Top-10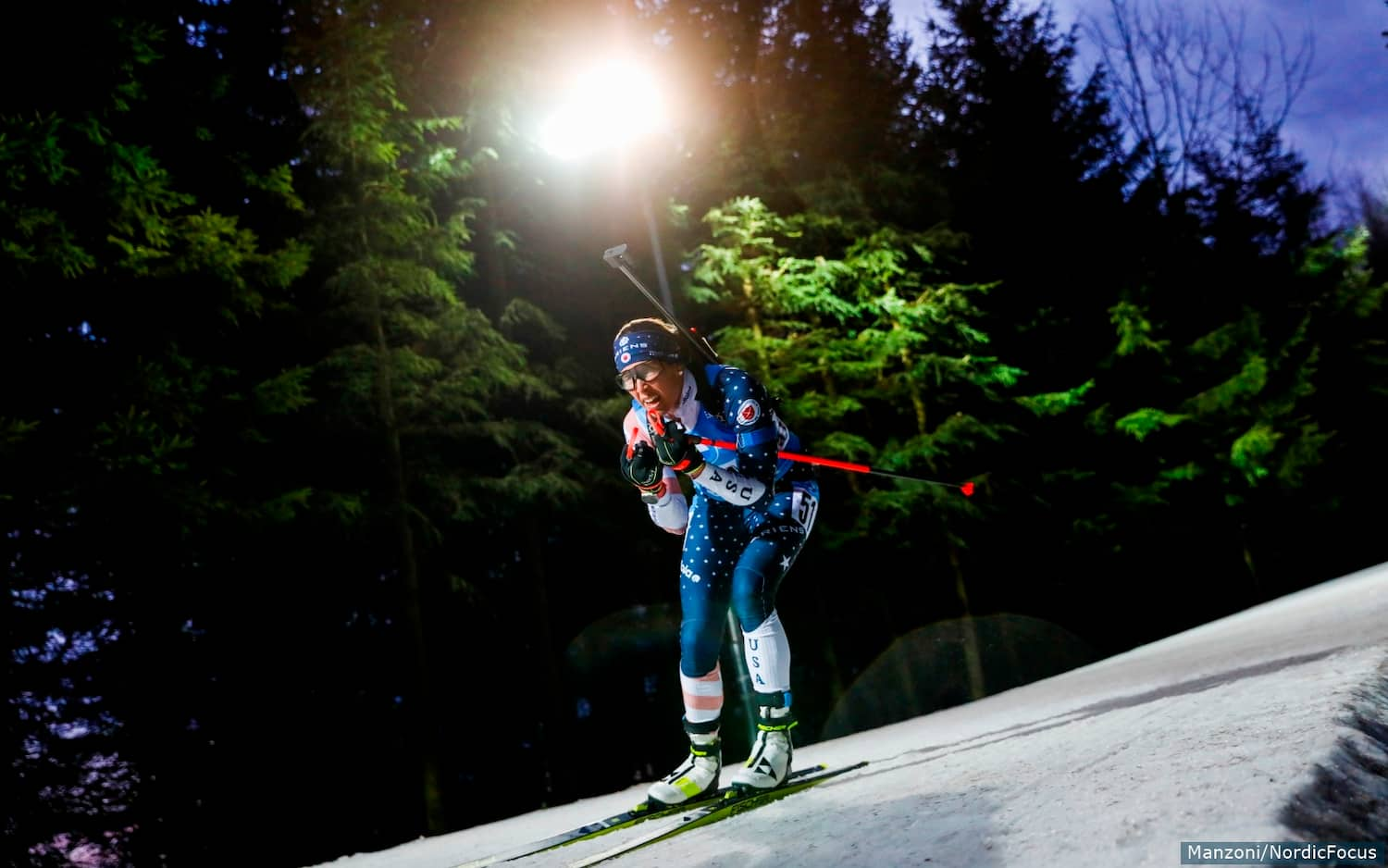 Susan Dunklee races at night during the women's 7.5km sprint on March 12, 2021, at the BMW IBU World Cup in Nove Mesto, Czech Republic (photo by Nordic Focus)

NOVE MESTO, Czech Republic (March 12, 2021) -- American Susan Dunklee (Barton, Vt.) was one of 14 competitors to shoot clean in the 103-woman field during Friday's women's 7.5-kilometer sprint at the BMW IBU World Cup in Nove Mesto. Her marksmanship earned Dunklee her first top-10 finish of the season in an individual race as she stopped the clock 37.2 seconds behind winner Tiril Eckhoff of Norway, who took the gold medal despite a standing penalty on the shooting range.
Just a week removed from finishing 83 places lower -- at the same distance and the same venue -- Dunklee chalks it all up to the uniqueness of biathlon.
"There's a reason biathlon is such a compelling sport to follow," said Dunklee. "It's dramatic and the unpredictability adds to its appeal. We did two identical races one week apart: the same format, the same course, and the same competitors. Last week I placed 91st and this week I placed 8th. I didn't try any less hard last week or approach this week with any more professionalism. Variation is part of the sport. We love it because it is challenging. The highs are that much sweeter after overcoming the lows."
With Friday's performance, Dunklee qualified to race in Saturday's women's 10km pursuit along with teammate Clare Egan (Cape Elizabeth, Maine) who finished under the top-60 pursuit cutoff in 43rd place, 1:34.7 back of Eckhoff with two penalties in standing.
Denise Herrmann of Germany shot clean to claim second place in Friday's sprint, 6.1 seconds back, while the also clean-shooting Dorothea Wierer of Italy finished third, 10.5 seconds behind Eckhoff. Other American finishers were Joanne Reid (Grand Junction, Colo.) in 67th (+2:12.4/+3) and Deedra Irwin (Pulaski, Wis.) in 77th (+2:30.5/+2).
Dunklee and Egan will be joined in the pursuit races by Sean Doherty (Center Conway, N.H.) and Jake Brown (Saint Paul, Minn.) on the men's side. The men's 12.5km race begins at 8:45 a.m. Eastern, with the women's 10km pursuit to follow at 11:30 a.m. Both races will be live on Peacock. Full broadcast schedule.
Women's 7.5km Sprint
Results
| | | |
| --- | --- | --- |
| 1. | Tiril Eckhoff (NOR) | 18:11.1/+1 |
| 2. | Denise Herrmann (GER) | +6.1/+0 |
| 3. | Dorothea Wierer (ITA) | +10.5/+0 |
| 8. | Susan Dunklee (USA) | +37.2/+0 |
| 43. | Clare Egan (USA) | +1:34.7/+2 |
| 67. | Joanne Reid (USA) | +2:12.4/+3 |
| 77. | Deedra Irwin (USA) | +2:30.5/+2 |