U.S. Men Finish 13th in Frigid Beijing Relay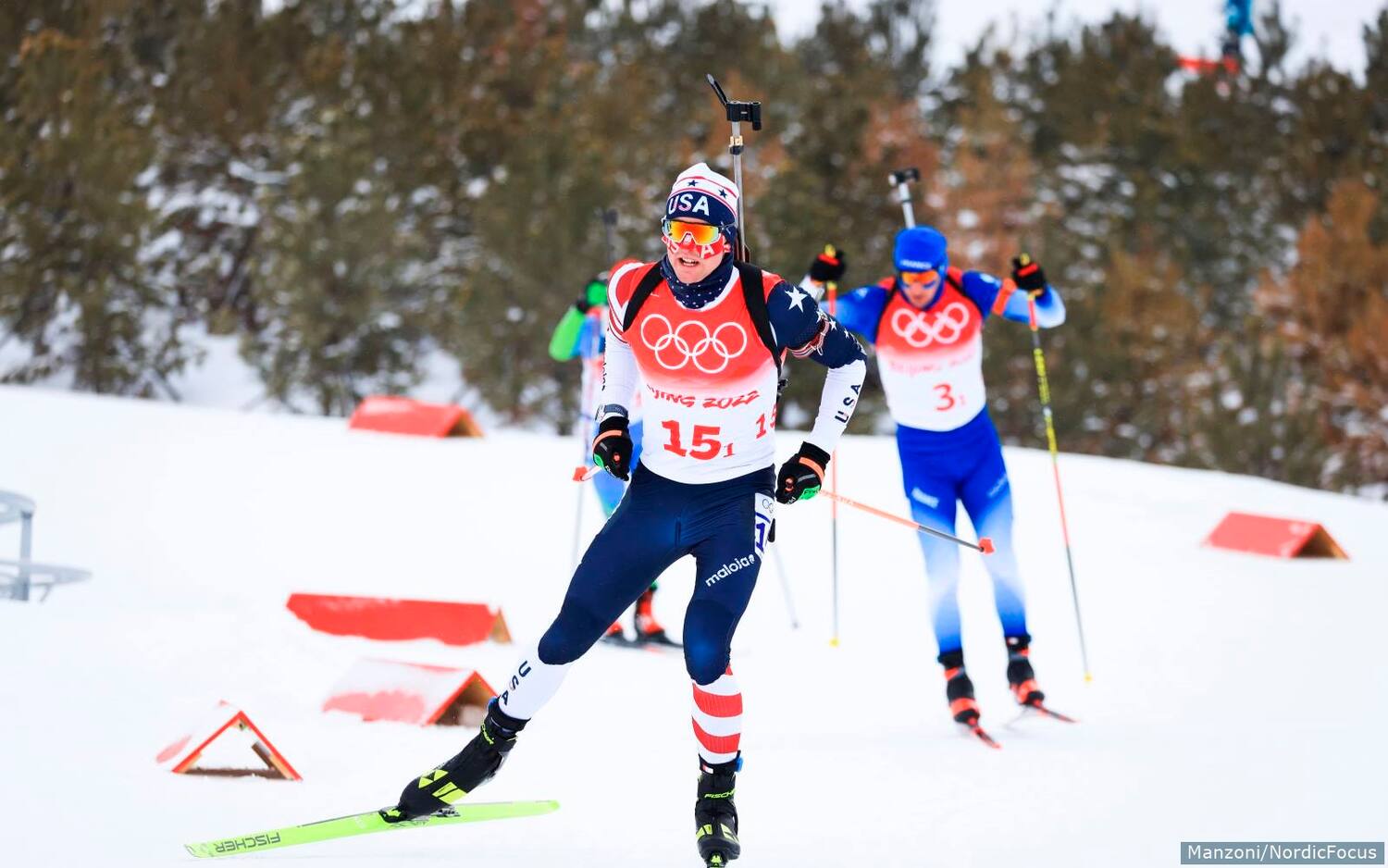 Sean Doherty races the opening leg of the men's relay on Feb. 15, 2022 (photo by Nordic Focus)
BEIJING, China (Feb. 15, 2022) – The U.S. men's team wrapped up their biathlon competition at the Beijing 2022 Winter Games on Tuesday with a 13th-place finish in the 4x7.5-kilometer relay. The lineup of Sean Doherty (Center Conway, N.H./National Guard Biathlon & USBA), Jake Brown (St. Paul, Minn./Craftsbury Green Racing Project & USBA), Paul Schommer (Appleton, Wis./Team Crosscut & USBA) and Leif Nordgren (Hinesburg, Vt./National Guard Biathlon & USBA) crossed the line 5 minutes, 42.8 seconds back with three penalties and 13 spares.
The start of the relay was moved up two and a half hours due to expected cold temperatures and that prediction came true with a thermometer reading of 5 degrees when the gun went off. The frigid temperatures combined with a stiff wind at the shooting range to make life difficult for the relay competitors.
Doherty led off the race for the American team using one spare in prone and needing a penalty lap in standing after using all three spares. Brown cleaned from prone on the second leg of the relay but had similar luck in standing and also had to ski a penalty lap.
The only one to stay out of the penalty loop was Schommer who went clean in prone on the third leg and needed just two spares to complete the standing stage. Nordgren incurred his penalty in prone and used one spare in standing to bring the race home as the anchor leg.
"It's been up and down, that's the nature of biathlon," said Doherty of the team's performance in Beijing. "We've had some great moments as a team. We've had some strong performances and I think we gave it our all and that's something we can be satisfied with. Now we get a little break and refocus for the next World Cups."
For Nordgren, he completes his third and final Olympic Games but leaves Beijing as a new father with his wife having given birth to their first child back home in Vermont on Feb. 6.
"We're going to miss him, that's for sure," Brown said of Nordgren. "It's been fun to have him as a mentor, this year especially, being able to pick his brain on some things knowing he's going to be moving on. He's been able to share so much with us. It's been really valuable to have him around."
The Norwegian team of Sturla Holm Lagreid, Tarjei Boe, Johannes Thingnes Boe and Vetle Sjaastad Christiansen roared back from 43 seconds down to win the gold medal in 1:19:50.s with one penalty and seven spare rounds. France took the silver medal, 27.4 seconds back, while the Russian Olympic Committee won the bronze, 45.3 seconds behind Norway.
The women's 4x6km relay takes center stage at the Beijing Games on Wednesday with the American quartet of Susan Dunklee (Craftsbury, Vt./Craftsbury Green Racing Project & USBA), Clare Egan (Cape Elizabeth, Maine/Craftsbury Green Racing Project & USBA), Deedra Irwin (Pulaski, Wis./National Guard Biathlon & USBA) and Joanne Reid (Grand Junction, Colo.) set to compete.
Men's 4x7.5km relay results
| | | |
| --- | --- | --- |
| 1. | Norway (Laegreid, T. Boe, J.T. Boe, Christiansen) | 1:19:50.2/1+7 |
| 2. | France (Claude, Jacquelin, Desthieux, Fillon Maillet) | +27.4/0+9 |
| 3. | ROC (Khalili, Loginov, Tsvetkov, Latypov) | +45.3/2+6 |
| 13. | USA (Doherty, Brown, Schommer, Nordgren) | +5:42.8/3+13 |
Check out the Watch Olympic Biathlon schedule for viewing options of all the races from Beijing. You can also follow all the action on the IBU app - download it today!
https://apps.apple.com/app/official-ibu-app/id1581415457?l=en
https://play.google.com/store/apps/details?id=at.ibu.app
Biathlon Event Schedule for Beijing 2022 Olympic Games (all times EST)
Saturday, Feb. 5 (RECAP)
4:00 am – Mixed relay
Monday, Feb. 7 (RECAP)
4:00 am – Women's 15km individual
Tuesday, Feb. 8 (RECAP)
3:30 am – Men's 20km individual
Friday, Feb. 11 (RECAP)
4:00 am – Women's 7.5km sprint
Saturday, Feb. 12 (RECAP)
4:00 am – Men's 10km sprint
Sunday, Feb. 13 (RECAP)
4:00 am – Women's 10km pursuit
5:45 am – Men's 12.5km pursuit
Tuesday, Feb. 15
4:00 am – Men's 4x7.5km relay
Wednesday, Feb. 16
2:45 am – Women's 4x6km relay
Friday, Feb. 18
4:00 am – Men's 15km mass start
Saturday, Feb. 19
4:00 am – Women's 12.5km mass start