Egan and Dunklee Conclude Olympic Careers with 11th-Place Relay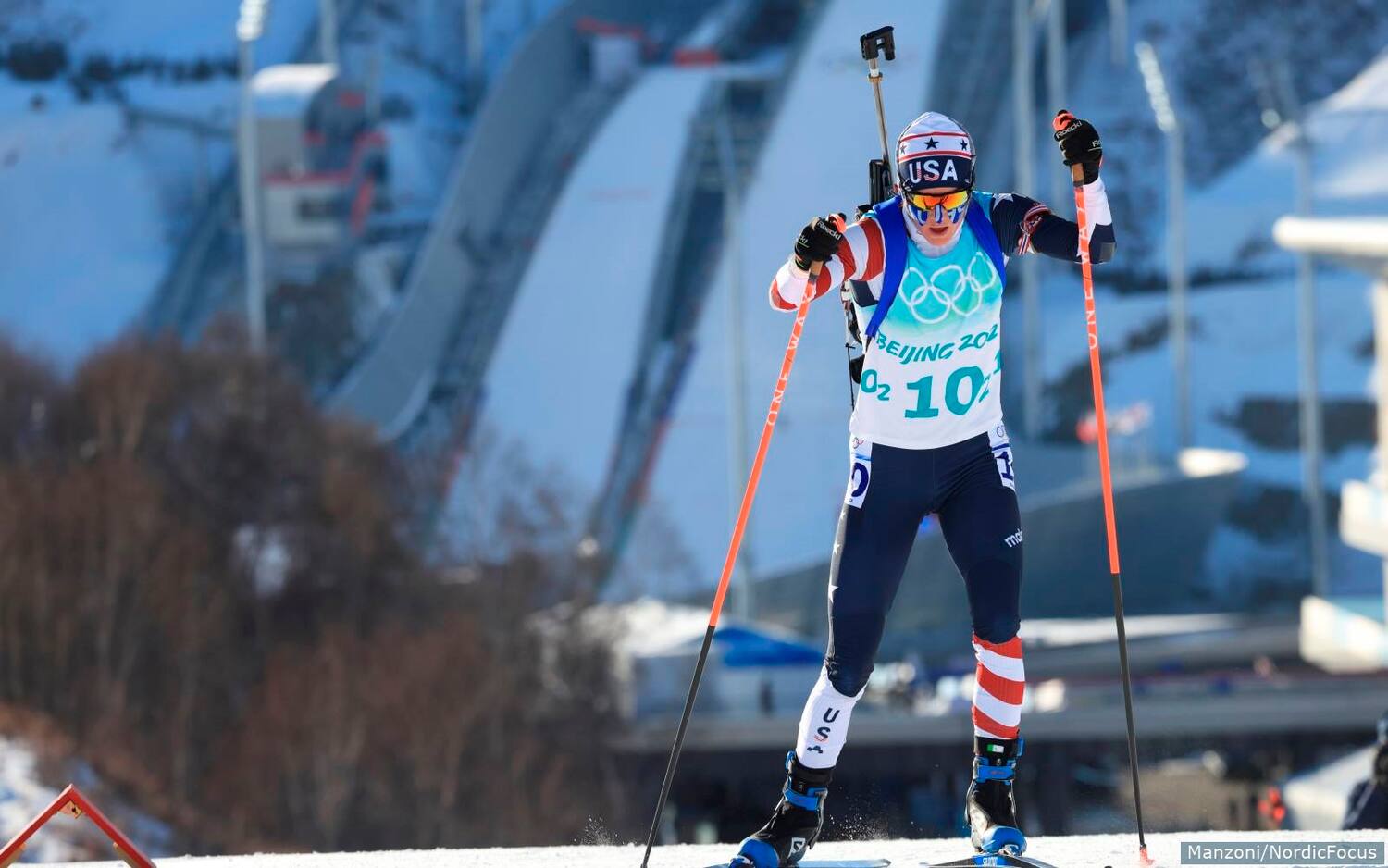 Clare Egan races the second leg of the women's relay on Feb. 16, 2022 (photo by Nordic Focus)
BEIJING, China (Feb. 16, 2022) – In the final Olympic race of their careers, Susan Dunklee (Craftsbury, Vt./Craftsbury Green Racing Project & USBA) and Clare Egan (Cape Elizabeth, Maine/Craftsbury Green Racing Project & USBA) helped guide the U.S. women to an 11th-place finish in Wednesday's 4x6-kilometer relay at the Beijing 2022 Winter Games.
Three-time Olympian Dunklee was first out of the shooting range after prone, having cleaned all five targets. She also cleaned from the standing position but admittedly was sluggish on the skis and made the first exchange with Egan in 18th position.
"It was a beautiful day to be out here skiing and I was really excited for it," said Dunklee. "I had a lot of fun in the first loop and put myself in it like I usually do. I got near the front and tried to play my normal game and shoot fast in prone. I got out first which was really satisfying for the first 100 meters. I did well in standing but the last loop my body just shut down. Today was one of those days. No matter how hard I was trying to force myself to go my body just wouldn't go."
Egan, competing in her second Olympic Games, brought the U.S. team up to 15th place at the midway point despite using five spare rounds and incurring a penalty in standing. She tagged off to first-time Olympian Deedra Irwin (Pulaski, Wis./ National Guard Biathlon & USBA) who cleaned from prone and had a penalty and three spares in standing. Irwin made the final exchange to two-time Olympian Joanne Reid (Grand Junction, Colo.) in 13th position.
Reid turned in a fantastic final leg as she also cleaned prone and used just one spare in standing to move into 11th place at the finish, 4 minutes, 47.4 seconds back of the winning time.
After the race, Irwin spoke about the impact Dunklee and Egan have had on the sport.
"It was really awesome to see Susan clean the race and that was a good motivator," Irwin said. "They're just so inspirational...they're trailblazers in U.S. Biathlon. I just hope to live up to the legacy they've created for this program. They're definitely going to be missed in the future."
Irwin now looks forward to Saturday's mass start where she will toe the line with 29 other women in the 12.5km race, the final biathlon competition of the Beijing Games.
"I'm feeling a little better after how I skied today," added Irwin. "I definitely was a little nervous after not feeling so hot in the sprint and pursuit with my legs, but today skiing felt really awesome and half of my shooting race went pretty well. I'm pretty excited to go into my first mass start ever. It's going to be memorable to have it here and have my entire team out cheering me on."
The Swedish quartet of Elvira and Hanna Oeberg, Mona Brorsson and Linn Persson used just six spare rounds to win the gold medal in 1:11:03.9. The silver medal went to the Russian Olympic Committee with one penalty and seven spares, 12 seconds back. Germany captured the bronze medal with six spare rounds, 37.4 seconds behind Sweden.
Women's 4x6km relay results
| | | |
| --- | --- | --- |
| 1. | Sweden (Persson, Brorsson, H. Oeberg, E. Oeberg) | 1:11:03.9/0+6 |
| 2. | ROC (Kazakevich, Reztsova, Mironova, Nigmatullina) | +12.0/1+7 |
| 3. | Germany (Voigt, Hinz, Preuss, Herrmann) | +37.4/0+6 |
| 11. | USA (Dunklee, Egan, Irwin, Reid) | +4:47.4/2+9 |
Check out the Watch Olympic Biathlon schedule for viewing options of all the races from Beijing. You can also follow all the action on the IBU app - download it today!
https://apps.apple.com/app/official-ibu-app/id1581415457?l=en
https://play.google.com/store/apps/details?id=at.ibu.app
Biathlon Event Schedule for Beijing 2022 Olympic Games (all times EST)
Saturday, Feb. 5 (RECAP)
4:00 am – Mixed relay
Monday, Feb. 7 (RECAP)
4:00 am – Women's 15km individual
Tuesday, Feb. 8 (RECAP)
3:30 am – Men's 20km individual
Friday, Feb. 11 (RECAP)
4:00 am – Women's 7.5km sprint
Saturday, Feb. 12 (RECAP)
4:00 am – Men's 10km sprint
Sunday, Feb. 13 (RECAP)
4:00 am – Women's 10km pursuit
5:45 am – Men's 12.5km pursuit
Tuesday, Feb. 15 (RECAP)
4:00 am – Men's 4x7.5km relay
Wednesday, Feb. 16
2:45 am – Women's 4x6km relay
Friday, Feb. 18
4:00 am – Men's 15km mass start
Saturday, Feb. 19
4:00 am – Women's 12.5km mass start